Sales Have Ended
Ticket sales have ended
Thank you for registering! We look forward to seeing you soon!
Sales Have Ended
Ticket sales have ended
Thank you for registering! We look forward to seeing you soon!
Description
Madison College's Flexible Learning Conference, held on Friday, October 13, 2017, provides an opportunity to learn from leaders in flexible learning environments from various disciplines and with a range of experience levels. Bring your team of faculty and administrators for a day of training, networking and idea-sharing. Participants will learn about best practices for using technology with innovative teaching and support strategies. This year's theme is "Insights and Innovations for Flexible Learning".
October 13, 2017:
(please right-click and selct "view image" to enlarge agenda)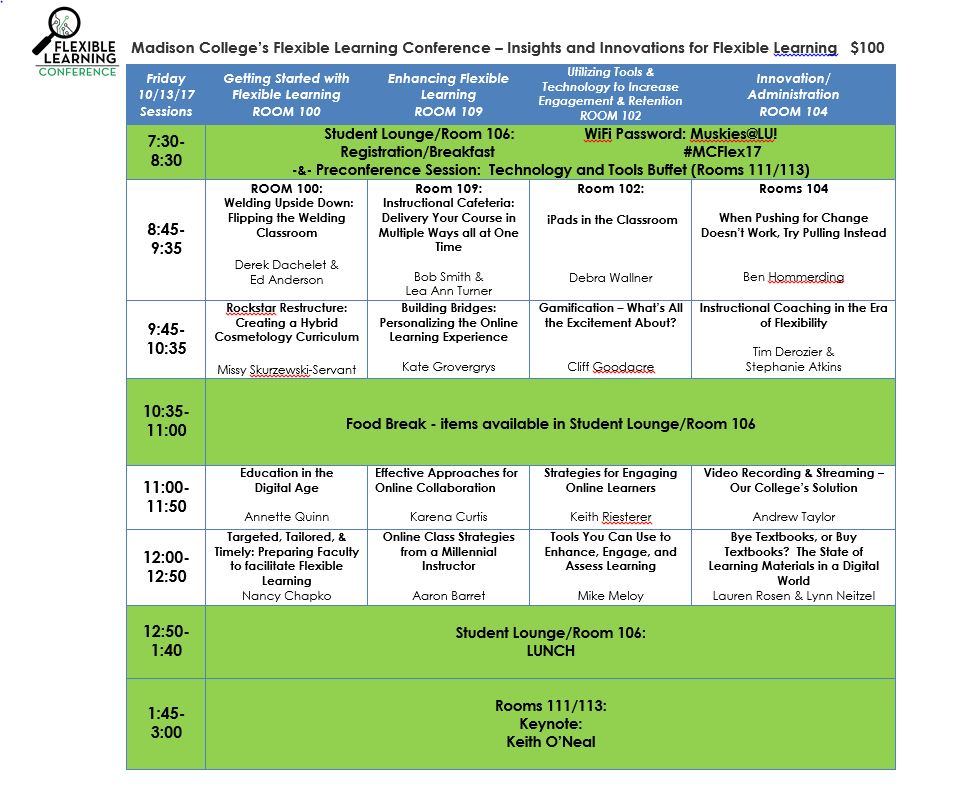 LODGING
Holiday Inn Madison at The American Center
5109 West Terrace Drive
Madison WI 53718
Get directions.
Use this link to reserve a room: www.holidayinn.com/madisonwi Use group code "FLC" in order to reserve a room in the block that is reserved for this conference.
Block rooms will be released on Thursday, September 28, 2017.
Call: (608) 249-4220
KEYNOTE, Keith O'Neal:
ASSESSMENT FOR LEARNING: GIVING STUDENTS OPPORTUNITIES FOR SUCCESS:
An important aspect of cultivating student achievement, in both face to face and online environments, is getting students engaged in the learning experience. This session takes a look at creative (often simple) options for low stakes assessments, why they are important, and how faculty can apply them to their courses. We will discuss how assessment can promote student interest, drive learning, and provide valuable feedback to both the student & the professor. While "Blended Learning" is not the focus of this session, it does apply to those interested in blended learning. Assessment For Learning is a key cog in the Blended Learning concept. Many flipped/blended models need simple, quick, quality ways of assessing students before, during, or after class. This session will highlight ways to quickly assess and be able to provide timely feedback during instructional time.

For more details, please contact Jennifer Zarrinnam(link sends e-mail) at (608) 245-5862.

Tickets non-refundable after Friday, September 22, 2017.