About this Event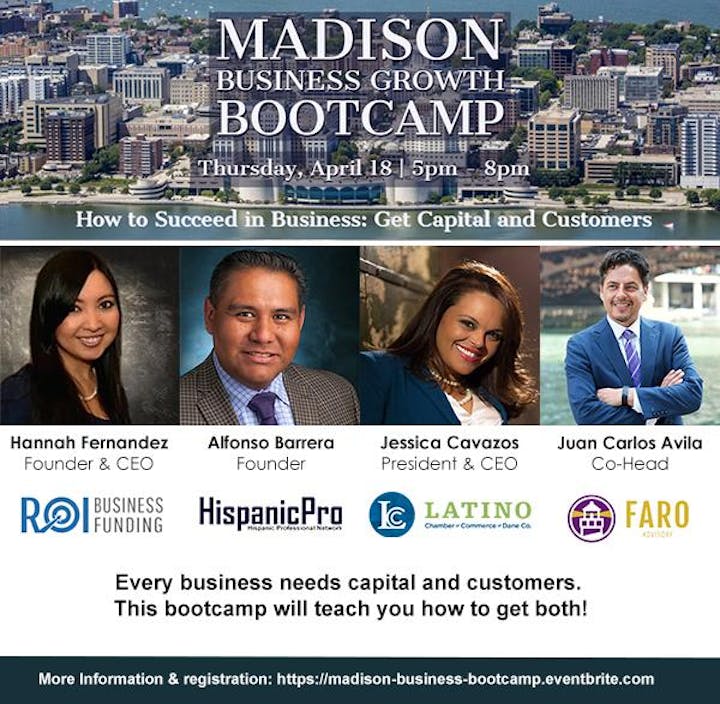 Every business needs capital and customers. This bootcamp will teach you how to get both!
In this presentation, you will get access to experts who will help you understand alternative funding options for small business and learn networking fundamentals to generate leads for sales.
You will leave the workshop with a better understanding of the complete spectrum of funding options that exist for you and learn networking strategies to drive sales and get new customers in the door.
"Show Me the Money"
• Learn the nuts and bolts of what lenders look for
• The spectrum of alternatives to bank funding available for small businesses
• Which funding option is the most appropriate for your business
"Networking for Sales Success"
• Learn effective networking strategies
• Which networking techniques are best for your business
• How to successfully turn networking connections into leads that generate sales
Presenters
Hannah Fernandez is Founder/CEO of ROI Business Funding, a Chicago-based company that helps North American entrepreneurs/small business owners get funding from non-bank alternative sources. A graduate from the University of Chicago, she is a frequent speaker at industry events, and is active in business development organizations including SCORE Chicago (1st Vice Chair), the National Latino Education Institute Business Leadership Council, the State of Illinois Comptroller's Advisory Collective Council, and the City of Chicago Mayoral Business Council.
(https://roibusinessfunding.com)
Alfonso Barrera is the founder of HispanicPro - the Hispanic Professional Network. HispanicPro is the largest network of Hispanic professionals in the state of Illinois and fastest growing in Wisconsin. HispanicPro exists to promote business networking and employment opportunities for diverse professionals.
Alfonso is a highly visible advocate for Latino entrepreneurship, corporate diversity and a proud supporter of some of Chicago's most prominent philanthropic organizations. Alfonso has been recognized throughout the years with awards for numerous leadership and volunteerism achievements.
He is presently Vice Chair of Diversity on the executive board of Score Chicago and Chair Emeritus of the National Latino Education Institute (NLEI) Emerging Leaders Board.
Jessica Cavazos is the President & CEO of the Latino Chamber of Commerce of Dane County (LCC). Jessica is a highly visible community advocate and business leader in Wisconsin. She is dedicated to creating successful partnerships to advance communities with a growing Latino population and increase business ownership in Wisconsin.
Jessica has extensive experience in government relations, policy, community engagement and business development.
Founded in 2003, the Latino Chamber of Commerce of Dane County is a non-profit organization that represents the Latino and non-Latino business community in the greater Madison area. The Chamber assists and promotes the interests of its members and community through advocacy and programs that make an overall impact on Dane County's economic growth.
Juan Carlos Avila, is co-Head of FARO Advisory, a division of Toroso Investments. He provides investment advisory and retirement plan advisory services to clients that include high net worth individuals, business owners, public and private corporations, public sector entities, and not-for-profit entities and foundations. Juan Carlos has 27 years of financial services experience providing financial advice and solutions to individuals, businesses and nonprofits.
Juan Carlos serves as Board Emeritus for the Hispanic Alliance for Career Enhancement (HACE), Trustee for the Chicago Community Catalyst Fund, Trustee for the Illinois Children's Healthcare Foundation (ILCHF), Board Member of the West Loop Community Organization and a Trustee for National Louis University. He received his bachelor of science degree in economics from the University of Wisconsin at Madison, and his masters in business administration degree from Northwestern University Kellogg School of Management.
Juan Carlos also is President and Founder of FARO Associates, which is a W/MBE providing business consulting, insurance, benefits and payroll services, CEO and Founder of HappiLyfe, an early stage app focused around wellness and community, and lead singer and songwriter for rock super group GOOEY, who has opened for Los Lobos and Julieta Venegas.