Description
PRIZES, BIKING, RIDES, PARTIES AND MORE!
"Bike Bingo is a celebration of Madison by bike." The game runs from June 15-July 31, 2019. Pick up your bingo card for $3 at a business listed below. In the 1.5 month time frame, bike to places on the card, show your Bike Benefits helmet sticker* and request a stamp on your bingo card.
With every "bingo" you get, or 5 in a row, you are entitled to one of the row prizes listed on the card (max. 5); redeemable at the listed locations. If you fill out your card, you can redeem row prizes and full card prizes. All trips and visits to participating locations, events and opportunities must be done by bike. You are NOT required to make a purchase BUT may be asked to do a challenge etc. Please spread the love on your bike bingo adventure and remember...this game is made possible by all of these magical places that are making Bike Bingo possible.
Bingo kicks off with a free ice cream cone at Chocolate Shoppe Ice Cream on Atwood Avenue from noon-4 pm on June 15.
Madison Bike Bingo cards are available for $3 at Lazy Janes, Rockhound Brewing, SERRV Store, Colectivo Coffee (all Madison locations), Crossroads Coffeehouse, Anthology, Aldo Leopold, Cafe Domestique, Alt Brew, Short Stack, Orange Tree Imports, Ian's Pizza, EVP Coffee, Parched Eagle, Freewheel, Mystery to Me, State Line Distillery, Brasserie V, Gail Ambrosius, Manna Cafe, Gibs Bar, Nutkrack, Earthwise Pet Supply, Cargo Bike Shop, Cafe Domestique, Wine & Hop Shop, Fitchburg Family Pharmacy and the UW Bookstore on State Street.
Pick up bingo cards for all of your co-workers, family, friends and play together! Bingo isn't meant to be played alone! All trips, including prize redemptions must be done by bike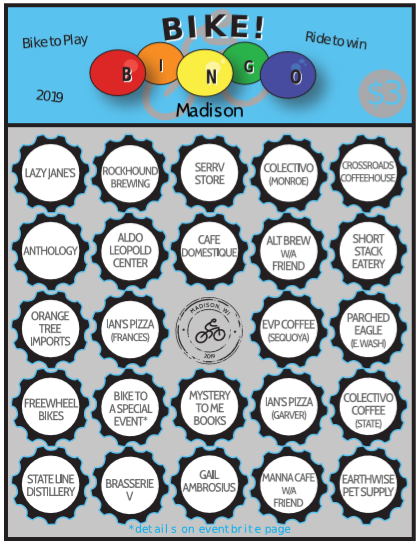 Post pictures, bring a great attitude (or surprises) to employees during your bingo adventure and show your love to all these amazing places who make Bike Bingo & Bicycle Benefits possible. If you need a Bicycle Benefits helmet sticker, you can pick it up at one of the participating places for $5 (this is a requirement/prerequisite for participation).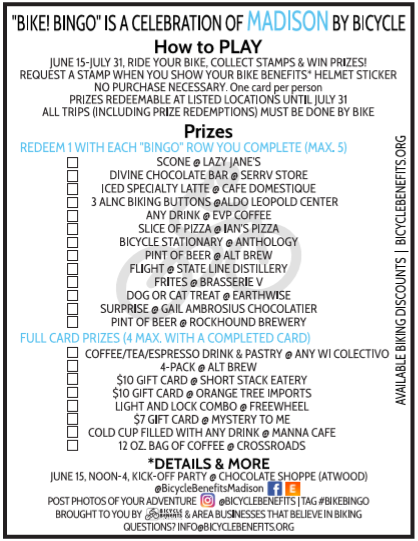 The "BIKE TO A SPECIAL EVENT" opportunities will be added weekly and listed here:

June 15-16, Tour de Colectivo 5-6 pm registration/packet pick-up @ Monroe Street Colectivo https://colectivocoffee.com/tour-de-colectivo-wisconsin-bike-ride/
June 22, Tour de Donut 9 am- noon https://www.eventbrite.com/e/madison-tour-de-donut-2019-tickets-62963937833
July 9, Madison Social Ride. Meets at State Street corner of the Capitol building at 5:45pm and ride out at 6pm. They usually do 7-15 miles with plenty of stops. https://www.facebook.com/events/1049351828595635/