Description
Join the MADE Maven community for the inaugural MADEMaven Masterclasses Brunch N' Learn Series presented by Cheryl Grace, Founder of Powerful Penny, LLC! Over three weeks, we will explore actionable strategies and tools for career advancement across professional sectors, relationship-building in life and business, and empowerment for personal growth.
The series includes:
3 transformational sessions focused on life and career on September 23rd, September 30th and October 7th

12 discussion topics over 3 weeks including personal development, dating and relationships, leadership and team-building, success and wealth building and more!

Light brunch and coffee sponsored by Chicago French Press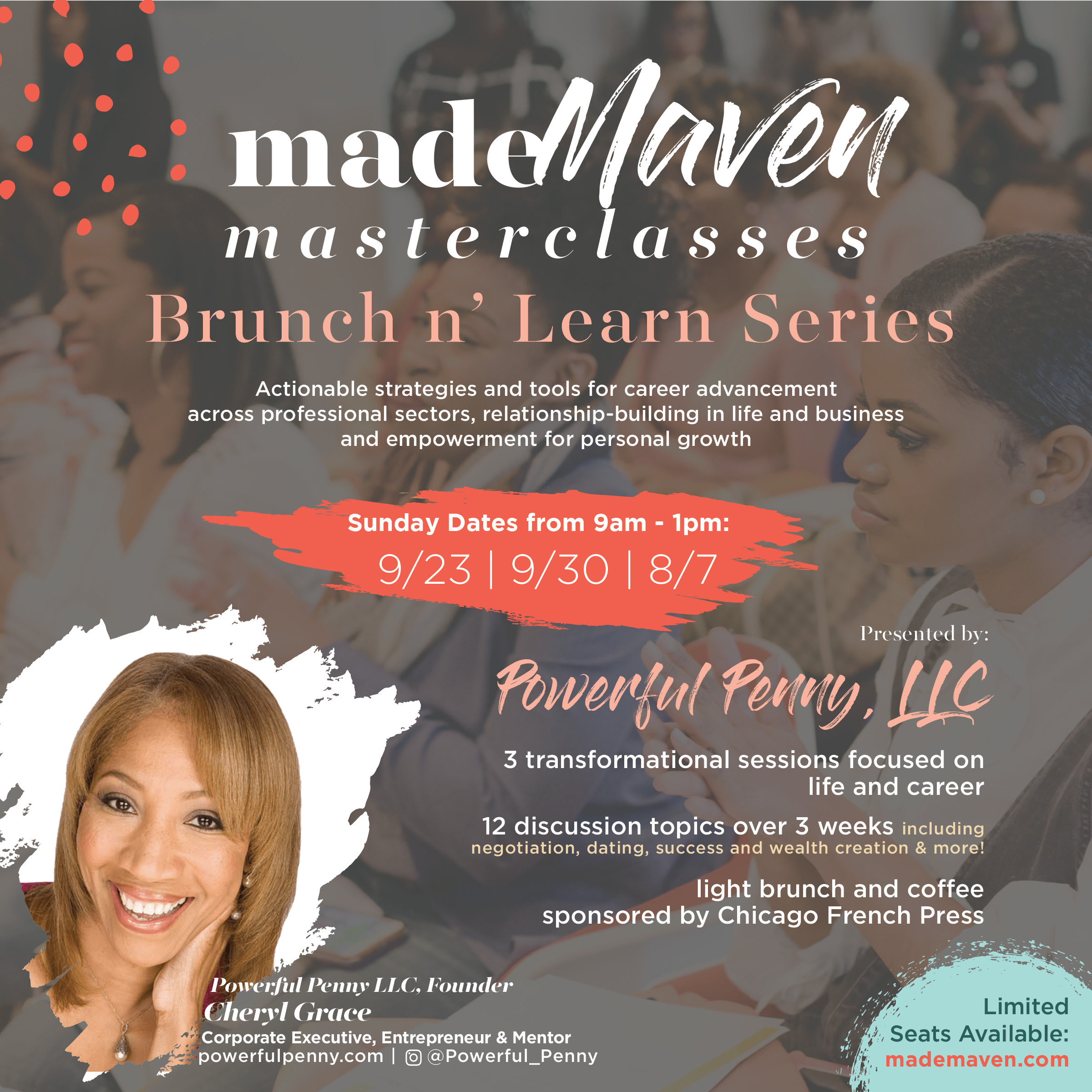 About MADE Maven Master Classes:
MADEMaven Masterclasses consists of three transformational courses centered around personal and professional development designed for aspirational women of color seeking to ascend to their next level. Beginning on Sunday, September 23rd, each masterclass will be led by Corporate executive, Entrepreneur and Mentor, Cheryl Grace. Each masterclass is composed of three sessions:
Week 1: 3 Ways to Recharge Your Life
Self-Care Is Not Selfish
Show Me Your Mindset. What's Your Daily Routine? Who's Zooming YOU? You Are What You Eat, Read & Drink. What Are You Passionate About?
Cheryl Grace discusses how to harness your power daily by leveraging your innate passion and energy to reach your highest level of productivity. She reveals ways to recharge as a rising professional on-the-go.
Know Your Numbers

What's Your Credit Score? How Much Do You Really NEED to Be Happy? How Many Streams Of Revenue Are You Reaping? How to Live A DivaLuxe Life on a Budgetnista's Income!

Cheryl Grace candidly unpacks how to strengthen and maximize your current income to work towards achieving your ultimate luxurious lifestyle goals.
Level Up to Settle Down
What is the Law of Attraction Sending Your Way? What's Your Flirt Style? Boo Don't Work For You! Why BadAsses Should Be Submissive Too!
Cheryl Grace shares tools to attract the type of partner you want, strategies to sustain your relationship as you rise as a professional and tips to secure the ultimate life you deserve.
Week 2: 3 Ways to Super Charge Your Career
First: Hop in the Driver's Seat

What's Your Vision? Who Knows About It? How Risk Adverse Are You? Who's On Your Posse? If Employers Are Buying Your Badass "Cow" What Are They Getting In Exchange?
Cheryl Grace will share key insights on how to best communicate with your boss and collagues, and how to delegate, set and manage expectations to power your agenda as a leader.
If You Don't Ask, You Don't Get
What's Your Walk Away Number? Your Job's Value? For The Industry / Geography/Years Of Experience? Do You Act Like a BadAss?
Cheryl Grace will serve her top negotiation tips and confidence-building strategies to ask for what you want and to get just that.
Make Your Network Your Networth.

Relationships = Everything! Networking Doesn't Have to Be Formal. How Haters Can Help You. Navigating Office Politics. Ditch Your Bad Habits.
Cheryl Grace shares networking tips that will build relationships to heighten your career as well as explore strategies on managing office politics, peer advocacy and navigating mentor relationships.
Week 3: 4 Ways to Balance It All.
Living Your Best: Lie or Life?
Begin With Clarity & Intention. Believe It Before You Can Be It! Small Bites Go A Long Way! How Are You Presenting Yourself to the World?
Cheryl Grace shares how to create and live the framework for success in both your life and careers.
Align Your Life Wheels
What Does Balance Feel Like? What Are Your Vibrations Telling You?
Cheryl Grace shares her perspectives on aligning yourself with your purpose and ways to strategically pursue your passions while managing a demanding life and career.
From Institutionalization to Freedom
Admit You Like Institutionalization! How Much Can You Make? Humble Yourself! How To Know When You're Ready To Jump the Broom With Your Own Gig.
Cheryl Grace discusses ways to navigate a new career change, pivot and transition from Corporate to entrepreneurship.
You Really Can Have It All
But Maybe Not At the Same Time? Define Your Priorities IRT? How's Your Side Hustle Co-Habitating With Your Boo? Career Before Marriage And Beyond.
Cheryl Grace will share tactics on obtaining a balanced life at home and career.
___
For more on MADE Maven Masterclasses, follow MADE Maven on Instagram at @MADEMaven.