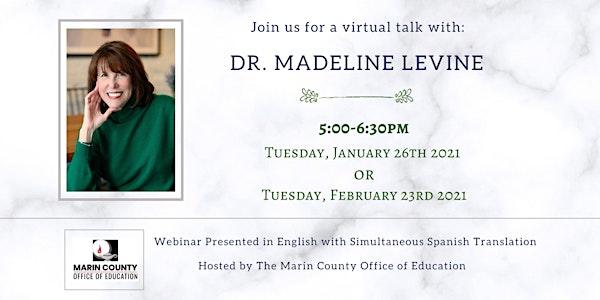 Madeline Levine
Madeline Levine Ph.D., New York Times Best Selling Author, will deliver a talk on her most recent book, Ready or Not.
About this event
Madeline Levine returns to Marin County to offer deeply researched thoughts and practices to alleviate anxiety which grips many parents, students, families, and our country.
Psychologist, educator, co-founder of The Stanford Graduate School of Education's Challenge Success, and New Your Times Best Selling author, Madeline Levine will discuss her most recent book, Ready or Not: Preparing Our Kids to Thrive in an Uncertain World.
Presented via Webinar from 5:00-6:30pm
Tuesday, January 26th 2021 --or-- Tuesday, February 23rd 2021
This webinar will include Q&A session for participants.
This event is brought to you by the Marin County Office of Education
Presented in English with Simultaneous Spanish Translation available.
More about the book Ready or Not : Using the latest developments in neuroscience and epigenetics (the intersection of genetics and environment), as well as extensive research gleaned from captains of industry, entrepreneurs, military leaders, scientists, academics, and futurists, Levine identifies the skills that children need to succeed in a tumultuous future: adaptability, mental agility, curiosity, collaboration, tolerance for failure, resilience, and optimism. Most important, Levine offers day-to-day solutions parents can use to raise kids who are prepared, enthusiastic, and ready to face an unknown future with confidence and optimism.
More about Dr. Levine: Dr. Levine graduated Phi Beta Kappa from the State University of New York at Buffalo with a B.A. in English and an M.A. in Education. She began her career as an elementary and junior high school teacher in the South Bronx of New York before moving to California and earning her M.A. and Ph.D. in psychology. She has had a large clinical practice with an emphasis on child and adolescent problems and parenting issues, and has taught Child Development classes to graduate students at the University of California San Francisco Medical Center. For many years, Dr. Levine has been a consultant to various schools, from preschool through high school, public as well as private, throughout the country. Dr. Levine is highly sought after as a lecturer and keynote speaker for parents, educators and business leaders both nationally and internationally. She is frequently the go-to person on issues of parenting for both print media and radio. Currently she spends most of her time speaking to parents, educators, students and business leaders as well as consulting with major corporations and high net worth individuals.