Description

I Can Top That! at the Petersham Bowlo
John Knowles returns in 2019 with a new season of 'I Can Top That!' on the 2nd Wednesday of each month. Hosting a live episode of his regular ABC702 Afternoons with James Valentine segment 'I Can Top That!', John and three special guest comedians tell completely true - totally unprepared stories inspired by random topics suggested by you the audience.
Feb 13th Guests:
Oliver Burton is a NIDA graduate, actor. MC and producer with Sport for Jove Shakespeare company. Oliver is a regular face on Sydney's improvised comedy scene, having founded impro company, The Post-Haste Players, for whom he continues to direct and play in the long-form improvised Shakespeare show, Bard to the Bone and tonight's ROME SWEET ROME.
Madeleine Culp is a an actress, comedian, writer and radio presenter. She's One half of the comedy duo Cloud Girls can be seen on screen in the Fresh Blood Pilot Season of Mother in Line and in the TV series Aunty Plop Plop's Useless Shop. Madeleine return for her third go at 'I Can Top That!'
Vincent Parfitt is a professionaL actor and magician working in film and theatre. He is fondly remembered for his stunning portrayal as the Thunderbird Don on the Enmore stage in 2007. Vincent is currently in the midst of the second feature film for a series of G K Chesterton novels brought to life by director - Elvis Joseph.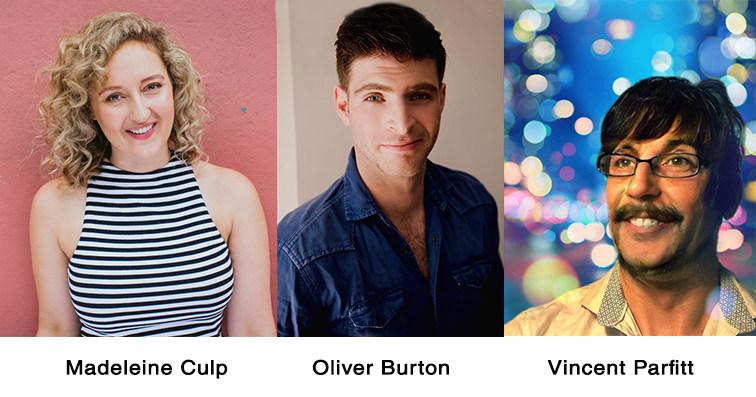 Plus, in the first half...

The Post Haste Players, who brought you Romeo & Juliet Improvised, The Post Haste Histories & Bard To The Bone, unleash their latest creation…
ROME SWEET ROME - An Epically Funny Roman Epic
A 1-hour whirlwind Improvised Shakespearean Epic, set amidst the politics & bloodshed of Ancient Rome, featuring Gladiatorial Gore, Despotic Dictators, Political Plotting, Terrible Togas, Godawful Gods, Ridiculous Roman Names, and much more.
Old-school Roman style, the audience gets to choose life (thumbs up), or death (thumbs down) for our characters.
Cast: Oliver Burton, Ewan Campbell, Michael Gregory, Bryce Halliday, Marko Mustac, Linette Voller.
Beware The Ides of February!
TICKETS for this fantastic double-header of ROME SWEET ROME & I CAN TOP THAT! on Wed 13th February are available through this Eventbrite event page.
---

AND in OTHER BIG NEWS...
on SAT 23rd February & SAT 2nd March, witness The Reserection of
GODS COWBOYS!
Returning for 2 special nights only as a Fundraising event***
Born out of an act of God, a holy trinity of cabaret evangelists named GODS COWBOYS roamed the comedy plains of Australia from1992-96. Slim, the snake oiled preacher; Buck,the desperado deacon; and Billy, the free range altar boy, cowboy preachers who spread their love-thy-neighbour and eat beef doctrine to thousands of believers. Originators of the #MeatToo Movement, these irreverent angels of anarchy took their travelling 'Cowbaret' show to festivals, Catholic Universities and car parks across the country. converting everything in thier path as they brought the steeple to the people.
After a long radical sabbatical, the boys are putting the furry chaps back on for two very special performances only.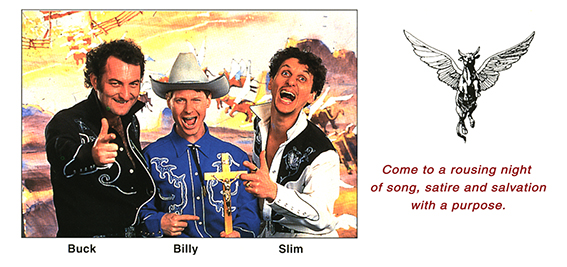 Gods Cowboys are George Catsi, David Delves and John Knowles.
Pamela Payne SMH 1993 said: "Gods Cowboys are assured, dynamic performers with a wicked sense of irony ... They play it straight from the holster with diabolical accuracy ... images of damnation are wonderfully observed .... these three performers create riotous comedy...they demolish without mercy all that their outward pose supports. Their method is ironic; they preach a method of sharp comic conception. They take the stage by storm!"
Newcastle Herald 1994 said it with conviction: "...quick delivery of one liners that recalls the Marx Brothers.
Watch some archival footage and reminisce back to the days before HD and 16:9 www.Youtube.com/GodsCowboys
*** "All proceeds from this event are being donated to the family of John Knowles (Billy in Gods Cowboys). John's wife Ronelle has a malignant cancer that is incurable, meaning lot's of uncertainty up ahead. We are donating the funds so they and their 4 children (aged 8 to 13) can have some resources to find time to create some joy together", George Catsi & David Delves
TICKETS for the two GODS COWBOYS performances
can ONLY be purchased by clicking this link below that will take you to a specific Eventbrite page:


If you have read this far without hitting unsubscribe, I am truly grateful.
Cheers!
John