Sales Have Ended
Registrations are closed
See you at the MADE Maven Leadership Summit!
Sales Have Ended
Registrations are closed
See you at the MADE Maven Leadership Summit!
Description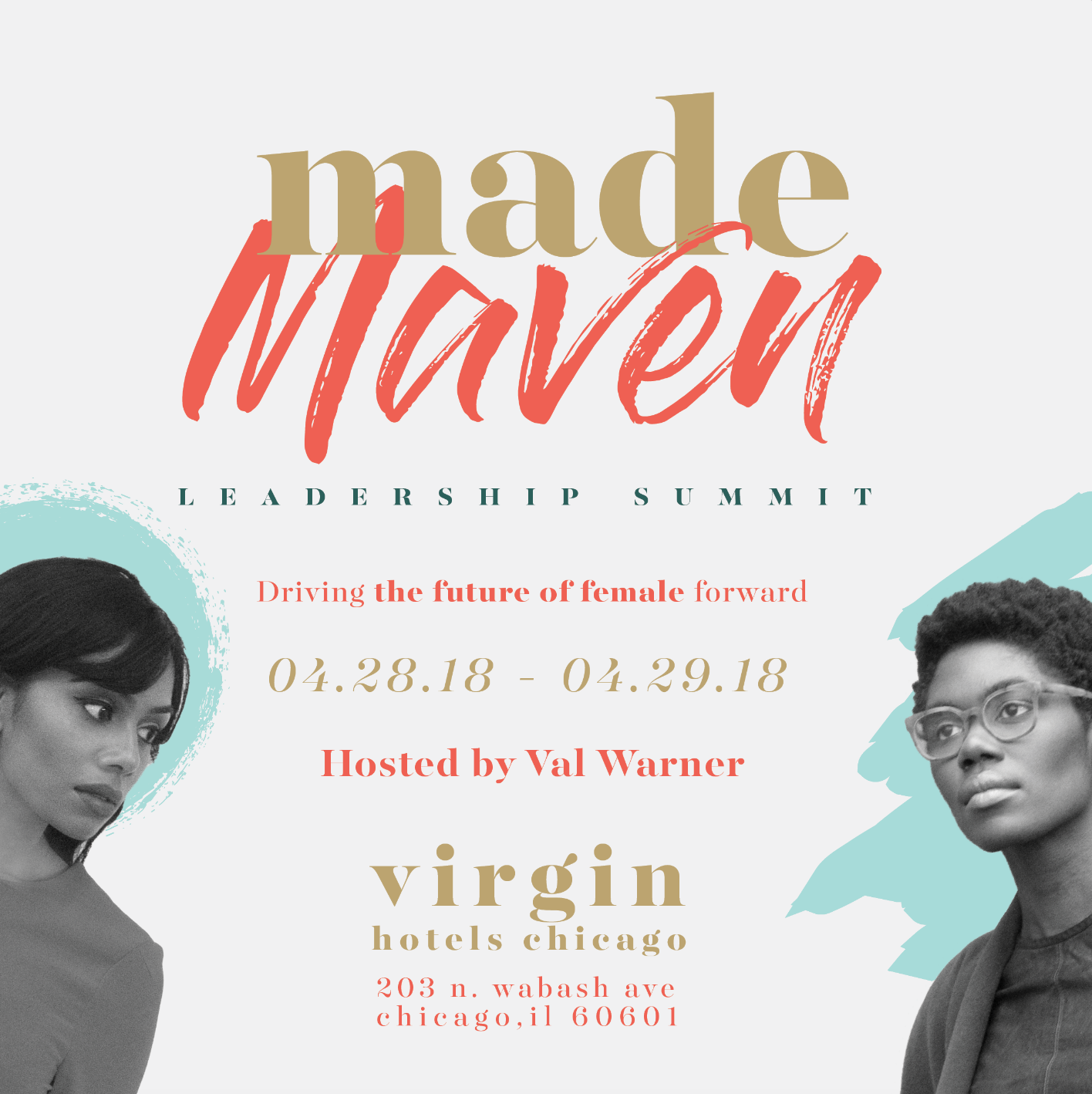 Calling all ambitious women entrepreneurs, freelancers, nonprofit and corporate professionals! We've curated a personal and professional development experience like none you've witnessed before!
Hosted by television personality, Val Warner, the MADE Maven Leadership Summit is a weekend long career-changing experience designed to inspire, cultivate and position young women for leadership roles in the business, philanthropy and professional sectors. Through intentional programming, ticketholders will receive:
WEEKEND PASS TICKETS ONLY: Assigned onsite mentor one-on-one chats based on your area of interests, industry and profession

High impact industry and workshop sessions powered by national influential professionals and corporate executives

Dynamic professional tools and resources needed to amplify your career

Targeted job and freelance opportunities available onsite for career advancement
Enjoy an action-packed weekend full of inspiring women held inside of the chic Virgin Hotels. The weekend includes:
April 28, 2018 (6pm - 9pm) MADE Maven Pre-Summit Party at Miss Ricky's hosted by Television host, Felicia Lawrence
The weekend kicks off at Miss Ricky's, Virgin Hotel's quirky diner destination which presents the ideal atmosphere for connection and exhilaration. The evening will serve as a celebratory springboard for the action-packed day to come.
April 29, 2018 (10am - 11am) Connection Breakfast led by Motivational Speaker and Author, Robin Ayers
Day two will begin with a motivational and inspired fireside chat over breakfast with empowerment speaker and author, Robin Ayers and Born Again Virgin producer, Ranada Shepard. Guests of the "Stay Winning" Breakfast will experience an inspiring and interactive kickoff with continental breakfast and a swag bag full of sponsored professional materials to prepare for the day.
April 29, 2018 (12pm - 4pm) Professional workshop sessions led by CEOs, Executives and Seasoned Professionals
Designed to target specific careers, each workshop ticketholder will select four workshop sessions guided by industry leaders who will lead interactive workshops. Each session (held in classrooms throughout the hotel) will be immersed with an enriched curriculum to fuel the passions of our attendees.
April 29, 2018 (4pm - 5pm) Industry panel moderated by Val Warner
The industry panel will feature fresh perspectives from seasoned female entrepreneurs, executives and organizational leaders. This transparent discussion will share insight on harnessing your power as a woman in business and on perspectives on achieving success.
April 29, 2018: (5pm - 7pm) "MADE to Win" Accelerated networking event at Cerise Roofop
Commenced on the Virgin Hotel's Rooftop, this accelerated networking experience will provide the opportunity for attendees to connect with peer mentors and sponsors who can directly help them grow professionally. With the mission of paying it forward, this one-on-one connection will expand conversations and ideas beyond the walls of the Summit.
______
More ticket info:
All tickets are non-refundable. One ticket designated per person.
Only ticketholders with a Weekend Pass Only is assigned onsite mentor based on your areas of interest, industry and profession.
Ticket Options: SPLIT PAYMENTS FOR WEEKEND PASSES ONLY ARE AVAILABLE HERE!
Early bird tickets end on March 23rd, 2018.
For sponsor inquires, email magazine@fame-enterprises.com with the subject line: "MADE Maven Summit Sponsorship".
For more information, visit mademaven.com.
Jetta Bates

Twist Global

Managing Director

Vanessa Abron




Public Relations Pro

Veronica Appleton

Journey to Appleville

Published Author

Robin Ayers

Unspoken Languages

Author & Motivational Speaker

Taylar Barrington

Cliquish

CEO

Dr. Isfahan Chambers-Harris

Founder

Alodia Hair Care

Kris Christian

FAME Enterprises

CEO

Quinetha Frasier

Social Impact Advisor

Funding Strategist

Chrishon Lampley

Love Cork Screw

Founder

Felicia Lawrence

The Jam TV Show

Television Host

Aaja Corinne Magee

ACTB

Brand Strategist

Halleemah Nash

The Academy Group

Chief Partnerships Officer

Karleen Roy

The Vanity Group

Experience Curator

Ranada Shepard




Television Producer & Writer

Donnie Smith

Executive Director

Donda's House

Angela Stevens

Hair

Author

Val Warner

Windy City Live

Television Host
Organizer of MADE Maven Leadership Summit