Made in NY: Austin
When and where
Location
AMOA-Arthouse - #FEED powered by Twitter 700 Congress Avenue Austin, TX 78701
Description
Join us on Saturday, March 9, 2013 at Made in NY: Austin – a full-day showcase of the growing NYC tech community and the supporting ecosystem that allows start-ups to grow and flourish in the city. Join luminaries, entrepreneurs, makers and builders from New York and around the world to connect, explore, and party...New York style.
Presented by

Classes sponsored by

Classes powered by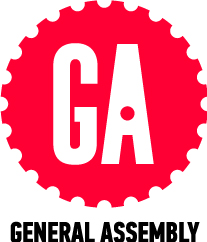 Programming is divided into three sections: Morning, Day, and @NIGHT. There are three separate places to register for the three sections.
For Morning acitivies powered by Flavorpill full schedule & RSVP here.
For Day activities – RSVP on this page (the one you're on): http://minyaustin.eventbrite.com
For the @NIGHT afterparty RSVP here.
All programming takes place at #FEED powered by Twitter at the AMOA-Arthouse, 700 Congress Avenue, Austin, TX
No SXSW badge required. Please note that registering for an event does not guarantee admission - admission is on a first come, first served basis to those who have RSVP'd. Schedule subject to change.
MORNING
9 a.m. to 3 p.m. - Flavorpill presents the mind+body+tech sanctuary on the roof - full schedule & RSVP here
DAY
((10 a.m.))
Master Class: Intro to the NYC Startup Community with Matt Brimer - Lead by Matt Brimer, co-founder of General Assembly, this is an orientation to help newcomers to the startup scene get acquainted with the exciting world of tech in NYC. We will give you the inside scoop on key events/meetups to attend, people, companies, VCs, blogs, incubators, programs, hot issues, and more.
((11 a.m.))
Master Class: We Are 'Made in NY' - A Conversation Led by NYC Chief Digital Officer, Rachel Haot - New York City is home to more than 900 tech companies, and growing. Hear from some of the best on why they chose to start their companies in NYC and how the city has become a global hub for innovation.
((12 p.m.))
Main Gallery & Startup Showcase Opens - featuring throughout the day:
///Over 40 New York tech companies and artists with experiential installations and interactive exhibits, including Shapeways, MakerBot, Popular Mechanics, Foursquare, Tekserve, Vook, Voicebunny, Sherpaa, Songza, AHALife, and others like Microsoft and Mouser. (full list of companies participating and sponsors below)
///Mini Meetup Series: Hosted by HD MADE - Stop by the Made in NY: Austin coffee bar and network with people from the exciting world of NYC tech. Not currently a New Yorker? Join us and get acquainted! Have the opportunity to meet entrepreneurs, VCs and thought leaders looking to mingle with people interested in various topics. (exact schedule to be announced soon)
((12 p.m.))
Master Class: Fireside Chat with Dave Gilboa, co-founder of Warby Parker. Come hear from Warby Parker co-founder, Dave Gilboa, on how they created boutique-quality, classically crafted eyewear at a revolutionary price point.
Meetup: Women in Tech. Join fellow women in tech for a casual meetup around the coffee bar. Powered by HD Made.
((1 p.m.))
Roundtable: Pitching your company to corporate VC's – Hosted by Harshul Sanghi of Amex Ventures Need a shot of funding to take your business to the next level? Thinking about including potential strategic partners in the round? Join this candid discussion on raising money from corporate VCs and get first-hand tips from all sides of the venture ecosystem. You'll hear from entrepreneurs, VCs and CVCs on what to look for in a partner, what to look out for and how to position your business for not only a successful investment and, but also a fruitful ongoing relationship.
Master Class: Useful Resources for Startups in New York with NYC Chief Digital Officer, Rachel Haot. Rachel Haot, New York City's Chief Digital Officer, will discuss the wide array of grants, programs, and resources designed to help make it easier to start companies in New York.
Meetup: Sports & Tech. Join companies like Seat Geek, ESPN, and Fox Sports, along with fellow sports & tech enthusiasts for a casual meetup around the coffee bar. Powered by HD Made.
((2 p.m.))
Master Class: The Future of Education: Rethinking the Role of Technology in Education with Diana Stepner. The education landscape has changed rapidly over the past few years. Diana will highlight a few of the significant changes and what they mean for the Future of Education. By way of an introduction, Diana shall describe the premise and focus of Pearson's Future Technologies team - including how they are helping Pearson to prepare for the future.
Meetup: NYC Funders. Join New York VCs, angels, and others powering the New York tech community for a casual meetup around the coffee bar. Powered by HD Made.
((2:30 p.m.))
Roundtable: Growing Small Business from Big Ideas. American Express' OPEN Forum, an online community committed to enabling entrepreneurs to achieve success, will host a discussion on accelerating small business growth. Join other inspiring entrepreneurs, including Toby Daniels, CEO & Co-Founder of Crowdcentric, for a Q&A sessions about the realities of building a business from the ground up. OPEN Forum representatives will also be available for one-on-one "Office Hours."
((3 p.m.))
Master Class: Raising Startup Capital in New York with Arie Abecassis. One of the most critical issues facing entrepreneurs is deciding if and when it makes sense to raise outside capital. Access to capital cannot only help accelerate product development and sales, but in many cases, partnering with the right investors can influence the trajectory of a business. Arie Abecassis will talk about how entrepreneurs should think about the funding decision, become more aware of their options and be ready to develop a course of action.
Meetup: Big Companies + Startups. Join companies like GE, Pepsico and Gust, for a casual meetup around the coffee bar. Powered by HD Made.
((4 p.m.))
Master Class: How Startups Can Work With Large Companies - Moderated by Anand Chopra-McGowan, of General Assembly and featuring Josh Karpf from PepsiCo, Diana Stepner from Pearson, and Elisabeth Yarbrough from American Express. For young startups, partnerships with large companies can be crucial to success, helping prove a business model, vet a product, and gain visibility. Join us for an interactive discussion with leaders from some of the most recognized brands in the world, to hear how they evaluate ideas and pitches, work with startups, and build relationships.
Meetup: Designers and Geeks. Join fellow Designers and Geeks (www.designersandgeeks.com) for a casual meetup around the coffee bar. Powered by HD Made.
((4:30 p.m.))
Roundtable: Innovating for Financial Empowerment. For a growing number of Americans, personal financial stability seems beyond their reach. Underserved consumers find themselves lacking access to their funds and trapped in viscous cycles of fees. During this session, attendees will be joined by creative thinkers who will lead rapid fire creative exercises focused on breaking through barriers and empowering people to take control of their finances.
Storyteller Matchmaker with IFP Made in New York Media Center Got a story to tell? Or the technology to make it happen? Join like-minded innovators, dreamers, disruptors, and connectors at IFP's new Made in New York Media Center Storyteller Matchmaker reception. Opening Fall 2013, the Media Center will be a hub for digital storytellers of all kinds, promoting collaboration between entertainment, advertising, and new media industries. It will offer educational programs to support the next generation of innovators, and also features a transmedia incubator program, as well as a co-working space, screening room, media arts gallery, café, and daily classes - http://mediacenter.ifp.org/
((5 p.m.))
SXSW MBA Startup Competition The Columbia Entrepreneurs Organization and New York Tech Meetup is proud to host the 2013 MBA Startup Competition. Each top Business School has a startup representing entrepreneurship at their school. This year, we have companies from Columbia, Harvard, Stanford, Wharton, Chicago, and others - all competing for up to a variety of prizes. Each company will have 5 minutes to present, and another 5 minutes for questions. Join us to witness the top startups across the nation duke it out at SXSW.
Sponsored by BUZZtheBar and Travefy - BUZZtheBar is a free smartphone app that lets you order and pay for drinks on your phone, then get a buzz when your drinks are ready at the bar. No more fighting for the bartender's attention, and no more forgotten credit cards! Visit btbapp.com to download for iPhone or Android today!
Meetup: NYC Makers and Builders. Join key members of the NY tech community who are helping the NY tech ecosystem grow for a casual meetup around the coffee bar. Powered by HD Made.

((6 p.m.))
Sunset Cocktails on the Roof, hosted by American Express and NY Tech Meetup
@NIGHT
((9 p.m. to 2 a.m.)) - @NIGHT - Made in NY: Austin's official afterparty. An interactive experience across three floors of beautiful art gallery space, featuring experiential art and tech installations, a rooftop film screening and interactive performance hosted by IFP, and world-class DJs powering a massive dance party. RSVP here.
Organizers and Sponsors
Organized by:
NY Tech Meetup, the City of New York, and Gust
In collaboration with:
Control Group, HD Made, and Learned Evolution
Presented by:
American Express
Made in NY: Classroom
Sponsored by Pearson
Powered by General Assembly
Media Partner
Popular Mechanics
Empire State Sponsors
Shapeways & Wilson Sonsini
Chrysler Sponsors
GE, Sherpaa, Mouser
Woolworth Sponsors
Foursquare, Tumblr, Microsoft BizSpark, AHALife, Downtown Alliance, Pixable, Shutterstock, Vook
Startup Partners
10gen (The MongoDB Company), Engine Advocacy, Etsy, Flavorpill, Holler, IFP, Joios!, Kleverbeast, MakerBot, MiMedia, Moveline, OneTok, Pixable, Pond5, Prollie, Songza, Stash, Tekserve, Updater, VoiceBunny, Zeel, Citia, Social Bicycles, Cookbook Create, Shelby.tv
Note: By registering for this event, you are also opting in to receive communication from the nice folks at NY Tech Meetup, General Assembly, and American Express. Don't worry - they won't send too much, or share your information with others, and they'll give you an easy unsubscribe so that you can opt out quickly if you choose to.