Made In Japan Exhibition 2019 Team A
Enjoy Artworks by our JCAT Japanese artist's , Live painting performance and Japanese painting Workshop !!
When and where
Location
Noho M55 Gallery 530 West 25th Street #408 New York, NY 10001
About this event
Team A Opening Party (Thurs.) Dec. 19
Ticket is sold out !
Feel free to get the opening party ticket for the 2nd week of the Made in Japan 2019 exhibition.
Team B Opening Party (Thurs.) Dec. 26
Free ticket is here ↓
https://www.eventbrite.com/e/made-in-japan-exhibition-2019-team-b-tickets-82658326279
------------------------------------------------------------------------------------------
Team A on view: December 17th (Tue) to 21st (Sat) ,2019 at 12pm - 18:00pm
Opening Party : December 19th (Thur) 2019 at 5pm - 7:30pm
Attendees: please show your phone ticket at the door.
Visitors are welcome. Please stop by and provide your name and email address at the door.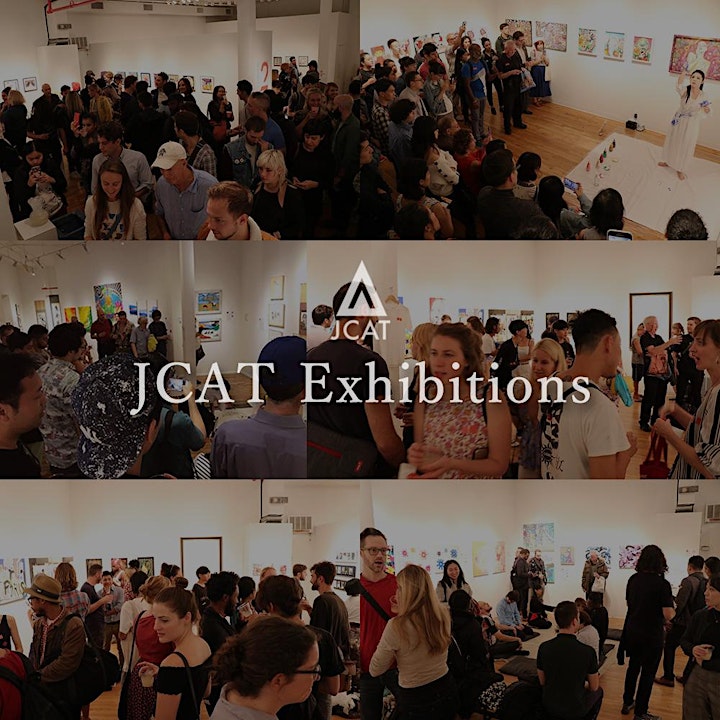 Made in Japan Exhibition
The Japanese Contemporary Artists Team (JCAT) is delighted to announce that we will hold the Made in Japan Exhibition 2019 at Noho M55 Gallery (530 West 25th Street between 10th & 11th Ave)in Chelsea, New York, from December 17th to December 28th in 2019. The opening party will be at 5pm - 7:30pm on December 19th(Thu) and 26th(Thu) . The 47 artists from JCAT will exhibit their artwork under the theme of 'Made in Japan'.
Familiar at the past JCAT exhibitions, The JCAT Artist "Colorhythm Risa"(Dance & Paint)will show her live painting performance at the opening party of the first-week Team A .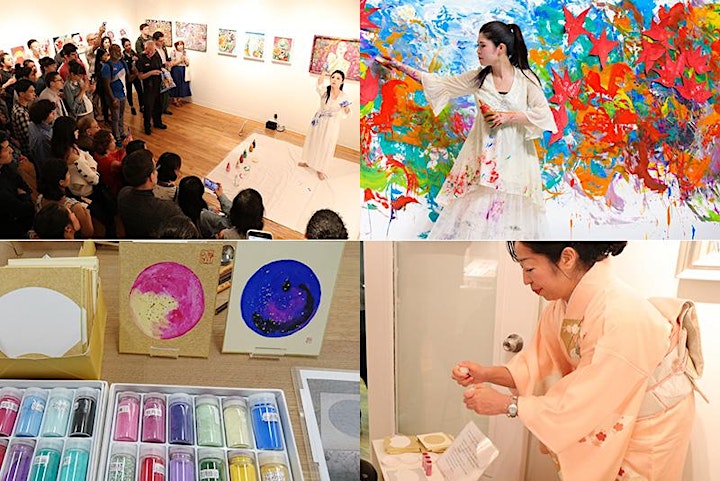 Also, at the workshop, Nobuyo Sakakibara will show you how to use mineral pigments and metal foils, and you will paint your own images of a starry sky or the universe on small square poetry cards.Japanese painting uses very traditional Japanese art materials. She paints with Japanese paper, glue, and water using natural ore and colored glass, that is,mineral pigments made by crushing gems, stones, shells and the like.
This will be the first time many of the participating artists will exhibit their work in New York. This exhibition will be a good opportunity for you to get to know these new Japanese artists.
Most of the JCAT artists are painters, illustrators, calligraphers, photographers, sculptors, mixed media, etc. More than 200 people currently belong to JCAT (Japanese Contemporary Artists Team). https://www.jcatny.com/
-------------------------------------------------------------------------------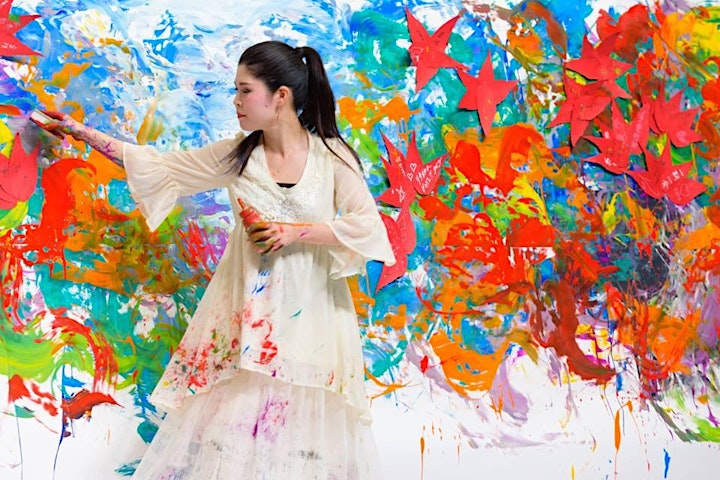 Live Painting Performance JCAT Artist
Colorhythm Risa (Mixed Media)https://www.jcatny.com/colorhythmrisa
Not only in Japan but also in the United States, Britain, Korea, and elsewhere overseas, Colorhythm Risa attracts audiences with her distinctive painting techniques that incorporate the movement of dance.
Her uses of vibrant colors bring power, and her movements that freely incorporate dances of various genres also give color to her performances, captivating and exciting audiences.
Colorhythm Risa uses her hands, sponges – sometimes her entire body – to apply color across the canvas from end-to-end. Her physical and facial expressions of various human emotions and feelings add further layers of depth to her performances.
Hers is a style that, through colors, movements, expressions, and the like, and always without using words, gives exciting performances that are deeply moving to people all over the world, regardless of age or sex, race or nationality. And by presenting an impressive experience of "showing the process of drawing," she all the more strongly delivers her messages to the viewer.
Through her works, Colorhythm Risa wants to connect people and societies, and to make art more accessible to the world while expanding its potential to be more fun and more familiar.
-------------------------------------------------------------------------------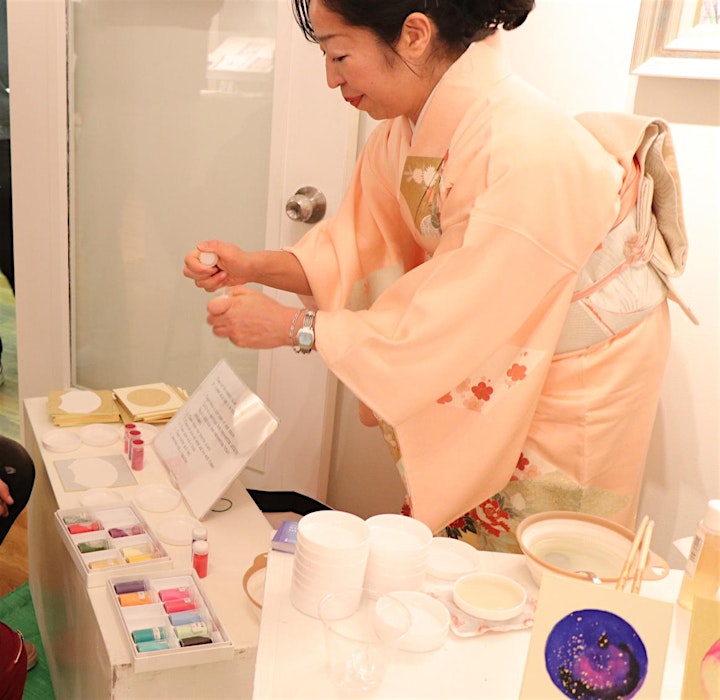 Japanese Painting Workshop by Nobuyo Sakakibara (Painter)
Nobuyo Sakakibara is a Japanese painter living in Aichi Prefecture.
Her paintings are characterized by expressions of color and a graceful style that make use of her experience of growing up in a land rich in nature.
Nobuyo graduated from Nagoya Institute of Art and Design where she majored in Japanese painting. She has been making Japanese paintings for over 30 years. Since 1988 she has presented at numerous solo exhibitions, group exhibitions, and public exhibitions.
Her work has been recognized by her peers, beginning with the 2004 Toyohashi Citizens' Exhibition Grand Prix, and most recently in 2018, receiving the Matsumoto Seitarou Award for excellent work. A member of the Aichi Art and Culture Association and of other art groups as well, she is also a jury member for art exhibitions.
Her Japanese paintings use ancient, time-honored Japanese art materials – mineral pigments made by crushing natural ore and colored glass, gemstones, used with Japanese paper, glue and water.
Nobuyo paints love and beauty. Her paintings are colorfully expressed by borrowing the figures of flowers and people.
From her paintings, one can feel a connection with the unwavering force from ancient times, the flow of time, and the expanse of space.
Nobuyo's unique Japanese paintings have charmed and delighted people from all over the world.
-------------------------------------------------------------------------------

JCAT
JCAT is a unique, creative team based in New York. Our mission is to represent talented Japanese artists from around the world and to assist these artists on the path to successful careers. We scout talented artists of all disciplines, spread the word about their talent through our online database and through yearly exhibitions, and open doors of opportunity so each of our artists can pursue their passion and make a living with their talent. We believe that every artist deserves to create a career from what they love to do, and JCAT is here to make that a reality.

More information about JCAT
JCAT Facebook: https://www.facebook.com/JCAT-日本人現代アーティストチーム-1439654406294724
JCAT on Twitter: https://twitter.com/JCAT_NY
JCAT on Instagram: https://www.instagram.com/
JCAT : https://www.jcatny.com/
-------------------------------------------------------------------------------