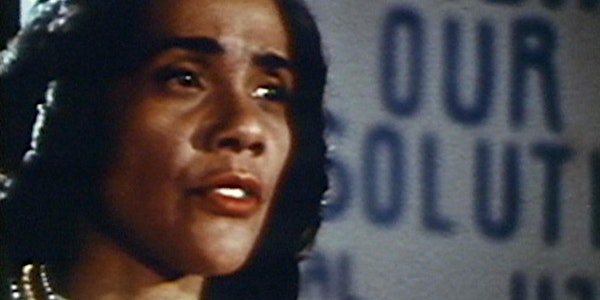 Made in Harlem: Films of Madeline Anderson and her speaking!
Location
City College of New York
259 Convent Avenue
Shepard Hall Room 290/291
New York, NY 10031
Description
Pioneering filmmaker Madeline Anderson is often credited as the first Black woman to produce & direct a televised documentary, the first to produce & direct a syndicated TV show, the first Black employee at WNET, and one of the first Black women to join the film editor's union. Join us for three of her highly acclaimed films and - Madeline Anderson herself will be speaking!

Part of the Made in Harlem: Class of '68 series. Cosponsored by the Documentary Forum at CCNY,Third World Newsreel and Maysles Cinema in celebration of Women's History Month. Presented with support from the West Harlem Development Corporation.
Integration Report 1
Madeline Anderson, 1960, 21 min
Examines the struggle for black equality in Montgomery, Alabama, Brooklyn, New York, and Washington, D.C. Includes footage from Maysles Documentary Center founder, and documentary legend Albert Maysles, as well as Ricky Leacock, protest songs sung by Maya Angelou, and a speech by Martin Luther King, Jr.

A Tribute to Malcolm X
Madeline Anderson,1967, 14 min
Features fascinating archival footage as well as an interview with Malcolm X's widow Dr. Betty Shabazz, conducted two years after his 1965 assassination. Made for television broadcast on the William Greaves-produced WNET program Black Journal.

I Am Somebody
Madeline Anderson, 1970, 30 min
In 1969, black female hospital workers in Charleston, South Carolina went on strike for union recognition and a wage increase, only to find themselves in a confrontation with the state government and the National Guard. Featuring Andrew Young, Charles Abernathy, and Coretta Scott King and produced by Local 1199, New York's hospital and health workers union, I Am Somebody is a crucial document in the struggle for labor rights.

Q&A to follow screening with speakers to be announced.

Made In Harlem: Class of '68
Fall 2018- Spring 2019
In the wake of the assassination of Martin Luther King (April 4th, 1968) and the subsequent riots throughout America's tapestry of urban centers – a fruitful reformer's zeal possessed the U.S. which lead in part to the dawn of Black and Ethnic Studies programs, and the first community colleges. More locally in Harlem the Studio Museum was founded, as well as the National Black Theater, and El Museo del Barrio. As well in 1968, galvanized by the assassination of MLK, the New York City Ballet's first African American star Arthur Mitchell (1934-2018) began teaching at the Harlem School of the Arts, and formed what would become the Dance Theater of Harlem in 1969.

Made in Harlem: Class of '68 unpacks and explores the period before, during, and after the birth of these key cultural institutions in Harlem, as well as their impact, a period where Black Power, the Civil Rights Era, and Black Arts Movement coalesced and helped forge new aesthetics, politics, understandings and philosophies – the legacy of which is found everywhere throughout the planet in the early 21st century.

As Harlem, the United States, and the planet goes through rapid transformation there is hunger and yearning for context, understanding and literacy of our shared, and often erased history. This is an opportunity to quench that thirst. Made in Harlem is programmed by Jessica Green.

This series is supported by the West Harlem Development Corporation.