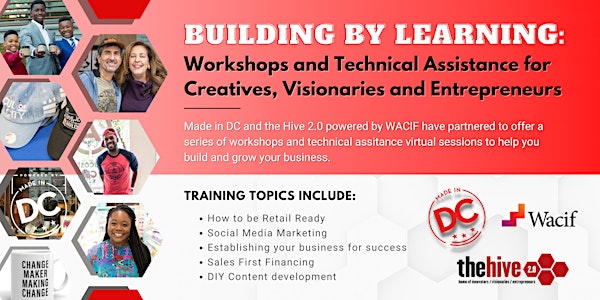 Made in DC: Building by Learning Series
Workshops and Technical Assistance for Creatives, Visionaries, and Entrepreneurs
About this event
Made in DC and the Hive 2.0 powered by WACIF have partnered to offer the Building By Learning Series: Workshops and Technical Assistance for Creatives, Visionaries, and Entrepreneurs. This series will provide workshops, one on one support, and resources to help you build and grow your business.
Made in DC is a program of the DC Department of Small and Local Business Development (DSLBD) which aims to support and promote businesses that design, make, produce, and/or assemble products in the District of Columbia. Made in DC functions as a citywide campaign and platform to create opportunity for maker businesses.
The HIVE 2.0 powered by WACIF, with the vision of driving new investments and assistance for small businesses located in Historic Anacostia, and the greater Washington, D.C. community. Actively supporting the local art economy and culture.
Workshops Topics:
June 2nd – Introduction to DSLBD and The Hive 2.0
June 16th – DIY Content Development
June 30th—Establishing your Business for Success
July 14th—Social Media Marketing
July 28th—Sales First Financing
Questions? Feel free to reach out to Made.indc@dc.gov You can also find us on Instagram at @thisismadeindc!