Location
Institute of Hispanic Culture of Houston
3315 Sul Ross Street
Houston, TX 77098
Sales Have Ended
Registrations are closed
Planifique su visita a IHCH, por favor lea todas nuestras indicaciones. Si tiene alguna pregunta, comuníquese con Mariela G. Domínguez a mdominguez@ihch.org //Plan your visit to IHCH, please read all of our indications. If you have any question please contact Mariela G. Domínguez at mdominguez@ihch.org Whatsapp: 832 423 2595
Book your appointment by choosing a date // Reserve su cita eligiendo una fecha
About this event
Through three different artistic disciplines, such as fiber art, sculpture and painting, Nela Garzón questions the mercantile and disposable paradigm of objects in conflict with cultural identities.
"The body of work produced for this project inquires about the wide effects of consumerism and mass production and comments on the loss of cultural identity in the hands of globalization and industrialization. This global problem supported by us (consumers), besides devastating the environment, affects everyone but mostly minorities who have been maintaining the cultural heritage and diversity of the world alive."
The exhibition corresponds to the Open Call 2020-2021, a project of Institute of Hispanic Culture of Houston (IHCH) coordinated by Mariela G. Domínguez. This year the selection of the exhibition proposals was juried by the artist Betirri Bengtson.
About the artist:
Nela Garzón is a multidisciplinary visual artist of Colombian origin, currently living in Houston, Texas, USA, since 2010. Her artistic work is focused on her interest in exploring different mediums inspired by traditional crafts and cultures from around the world.
Visit: November 2, 2020 thru January 3, 2021 - Free admission / By appointment only
A través tres disciplinas artísticas como el textil, escultura y pintura, Nela Garzón cuestiona el paradigma mercantilista y desechable de objetos en conflicto con las identidades culturales.
"El cuerpo de trabajo realizado para todo este proyecto indaga sobre los amplios efectos del consumismo y la producción en masa y comenta sobre la pérdida de identidad cultural en manos de la globalización y la industrialización. Este problema global apoyado por nosotros (consumidores), además de devastar el medio ambiente, afecta a todos, pero principalmente a las minorías que han mantenido vivo el patrimonio cultural y la diversidad del mundo."
La exposición corresponde al proyecto Open Call 2020-2021 del @IHCHouston coordinado por Mariela G. Domínguez. Este año la selección de las propuestas expositivas estuvo jurada por el artista Betirri Bengtson.
Sobre el Artista:
Nela Garzón es una artista visual multidisciplinaria de origen colombiano y radicada en Houston, Texas, USA, desde 2010.
Su trabajo artístico está centrado en su interés en explorar diferentes medios inspirados en artesanías y culturas tradicionales de todo el mundo.
Visitas: 2 de noviembre, 2020 hasta 3 de enero, 2021 - Entrada gratuita / Exclusivamente con reserva de cita previa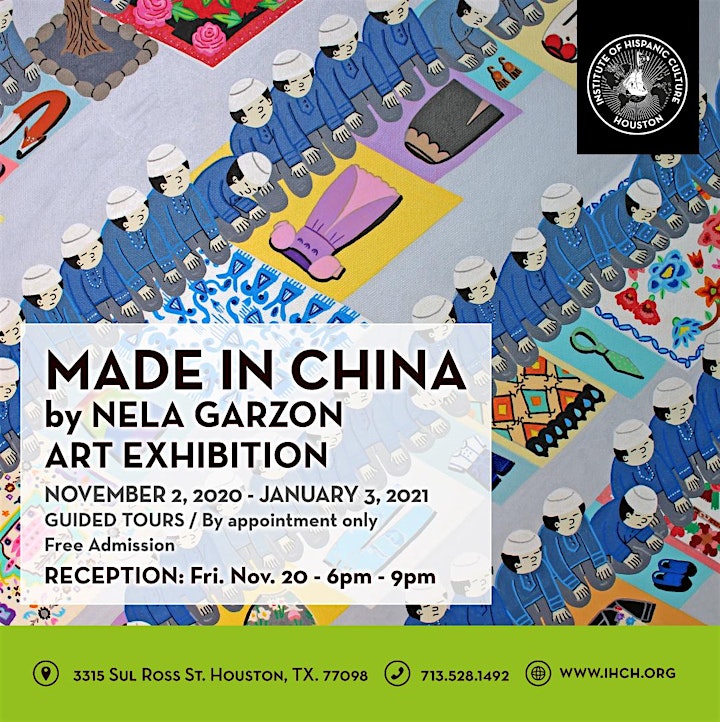 HELP US AND RESPECT THE FOLLOWING GUIDELINES IN ORDER THAT WE CONTINUE OUR ACTIVITIES:
Entry allowed only for people with prior reservation.
Please do not attend if you have symptoms.
Visitor should Wear Face Coverings / Face Masks.
Temperature Check Procedure.
Maintain adequate social distance at all times and take precautions.
All instructions from IHCH staff must be followed.
The IHCH follows CDC guidance on the recommended size of social gatherings.
AYÚDENOS Y RESPETE LAS SIGUIENTES PAUTAS PARA PODER CONTINUAR CON NUESTRAS ACTIVIDADES:
Únicamente se permite el ingreso de personas con reserva previa.
Por favor, no asista si presenta síntomas.
Visitas deben usar mascarilla facial / cubrebocas.
Procedimiento de verificación de temperatura.
Mantenga un distanciamiento social adecuado en todo momento y tome precauciones.
Se deben cumplir todas las instrucciones del personal del IHCH.
El IHCH sigue la guía del CDC sobre el tamaño recomendado de las reuniones sociales.