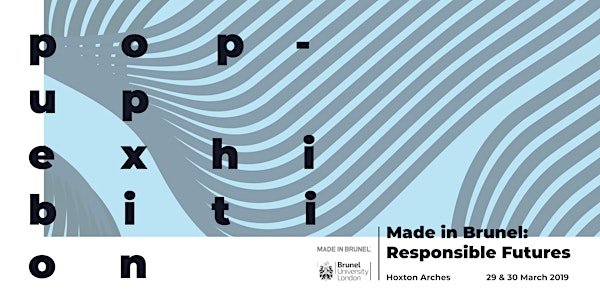 Made in Brunel: Responsible Futures
Date and time
Friday, March 29, 2019 · 6 - 9pm GMT
Location
Hoxton Arches Arch 402 Cremer Street London E2 8HD United Kingdom
Description
We proudly invite you to Responsible Futures - this year's pop-up exhibition for final year Design students at Brunel University London.
The annual pop-up acts as an interim show for our year group but is also a platform to present our individual brand to both industry and the public. From Sketch Café (2016) and Ideas Factory (2018) encouraging creativity, to A Private View (2017) at the brand-new Design Museum venue, the pop-up is our chance to show the world who we are ahead of the final graduate showcase in June.
This year our Level 3 students are looking ahead to how we can effect positive change through our work as designers. Our undergraduates are in a position to influence lifestyles as well as perceptions; we are no longer prepared to accept business-as-usual.
We therefore invite you to our pop-up from 29th-30th March at Hoxton Arches to look at some of our projects, think about how attitudes are shifting the world over and explore our role within the future of design. We would love for you to join us from 6 - 9pm onwards on Friday 29th March for a private view, including some student work and interactive exhibitions. We will be open to the public on the 30th March from 10am - 5pm.
The future of design is fast approaching; we hope to see you there.
About the organizer
Made in Brunel is the student organised final year design show for Brunel University.