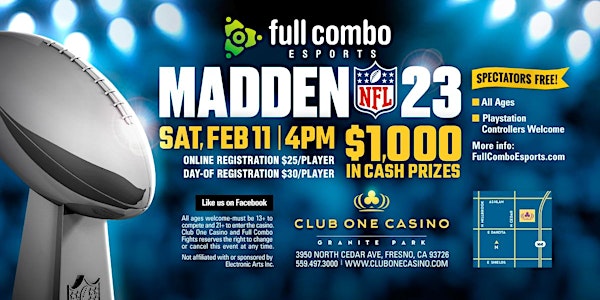 Madden 23 Tournament (Feb 11)
Join us Saturday, Feb 11 for a $1,000 Madden 23 tournament at Club One Casino!
When and where
Location
3950 N Cedar Ave 3950 North Cedar Avenue Fresno, CA 93726
Refund Policy
Contact the organizer to request a refund.
Eventbrite's fee is nonrefundable.
About this event
Whether you're a casual player, aspiring pro, or just love football, you're invited out Saturday, Feb 11th @ 4PM at Club One Casino in Fresno, CA!
PRIZE PAYOUTS
Madden NFL 23 - $1000 Prize Pool
1st Place: $500
2nd Place: $250
3rd Place: $150
4th Place: $100
ENTRY PRICES
Early Signup: $25 Per Player
Day-of Signup: $30 Per Player
Spectators: FREE
SCHEDULE
Doors Open at 3pm
Registration Ends at 3:45pm
Tournament Starts at 4pm
RULES:
Single Elimination: Losing players will be eliminated from the bracket.
Reporting for Matches: Players will have 10 minutes to report for a match once announced. Failure to appear results in a disqualification.
Seeding: Players will be randomly seeded at the close of registration.
MADDEN SETTINGS:
Fatigue: On
Injuries: Off
Even Teams: Off
Quarter Length: 5 Minutes
Game Skill: All-Madden
Accelerated Clock: 20 Sec
Weather: On + Clear
Games will be played in "Exhibition" -> "Online Head to Head" -> "Play a Friend" mode against other players at the event.
EQUIPMENT:
Each player will use a provided console and monitor during their matches. Players will NOT be on the same screen.
All games will be played on Xbox Series X consoles, on provided setups that consist of:
Xbox Series X console
Standard Xbox Series X controller
ASUS 23" monitor
Converter for home-brought Playstation controller
INFO ABOUT PLAYSTATION CONVERTERS:
We will provide Brooks brand controller converters for anyone who prefers to use their home-brought PS4/PS5 controller for this competition.
Converters are the only current method of utilizing PS4 controllers with X1 consoles.
Controller functionality varies based on controller model.
Visual Feedback:
Players may change the Play Call Button Layout at any time.
Default: Y-X-A
Playstation Players: Y = "Triangle" / X = "Square" / A = "X"
Other Madden Rules:
- TEAMS / PLAYBOOKS -
Players are allowed to mirror-match (use the same teams).
Players may use any of the 32 NFL team's playbooks with their selected team. Custom playbooks are not permitted.
-21-POINT MERCY RULE -
A player that leads their opponent by 21 points or more will automatically be deemed the winner of a match if the other player fails to score on their next possession immediately following the lead being established.
- 4TH DOWN ATTEMPTS -
Players can go for it on 4th down anytime.
- OFFSIDES -
Abuse of offsides is not permitted. Excessive uses of offsides to delay game clock will be looked at in a case-by-case basis.
- ONSIDE KICKS -
Players may only onside kick in the second half.
- AUDIBLES -
Players cannot audible out of the QB Kneel, Wildcat, Field Goal, or Punt formations.
- GLITCHES / BANNED PLAYS -
All glitches are prohibited; if you are caught abusing a glitch, you will either be automatically eliminated, or given a warning, depending on whether the glitch was deemed intentional; subsequent violations will result in being eliminated.
Plays that are deemed faulty or "glitched" and result in gameplay outside the normal bounds of real-life football, whether in regards to player movement, ball movement, breaking of standard NFL rules, etc, are not allowed.
Use of these plays will be looked at on a case-by-case basis; if you feel your opponent used a "glitched" play or exploits the game in some way, please use the Xbox recording feature (Home button on controller -> "X" button) to record the last minute of gameplay, pause the game, and tournament staff will review the gameplay.
*Details Subject to change*
Check out our socials: