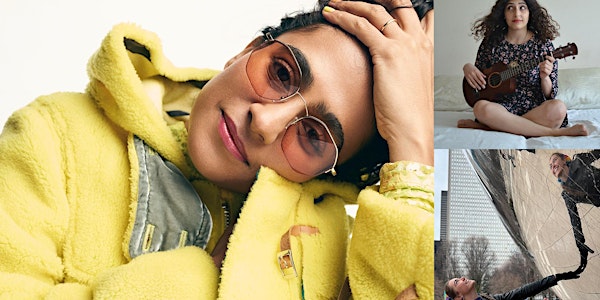 Madame Gandhi | Joudi Nox | Elena Sword
Join us for an evening of musical showcasing from CCRMA artists Elena Sword, Joudi Nox, and Madame Gandhi.
When and where
Location
CCRMA Stanford Center for Computer Research in Music and Acoustics 660 Lomita Dr Stanford, CA 94305
About this event
6:45-7:00pm: Elena Sword
7:10-7:35pm: Joudi Nox
7:45-8:30pm: Madame Gandhi
__________________________
Free and Open to the Public
Registration required for in-person attendance in the CCRMA Courtyard
Livestream: https://ccrma.stanford.edu/live
__________________________
Madame Gandhi is an LA-based artist and activist known for her uplifting, percussive electronic music and positive message about gender liberation and personal power. She began producing music in 2015, after her story running the London Marathon free-bleeding to combat menstrual stigma went viral around the world. She has been listed as Forbes 30 Under 30 in Music, and her 2020 TED Talk about conscious music consumption has been viewed over a million times. "Waiting For Me," shot in Mumbai, India, won the Music Video Jury Award at SXSW Film Festival in 2021 and her seasonal merch drops have been featured in fashion outlets like The New York Times, Vogue and GQ India. Her third studio album, Vibrations, is slated for release in 2022, following the release of her previous albums Voices (2016) and Visions (2019).
https://www.madamegandhi.com
(Photo Credit Bret Hartman)
__________________________
Joudi Nox is a singer songwriter who writes in detail everything in her life. She loves storytelling lyrics that you could either relate to or enjoy learning about. So be aware of the lyrics and what they could mean, but also enjoy the music.
__________________________
Elena Stalnaker (artist name: Elena Sword, pronouns: she/her) is a "super-junior" (formerly class of '22, now '23) from Bloomington, Indiana, majoring in Music, Science, and Technology. She is involved with opera and musical theater singing on campus and is a member of the Stanford Chamber Chorale. She has been songwriting for 4 years and learning to record and produce while at CCRMA. She is currently working on a concept album about her experiences living with chronic illness, which she has gotten a Major Grant to finish over the summer. Find her on SoundCloud and Spotify as Elena Sword!