Madam Money's FREE "Minimizing College Expenses for Parents" Call

Wednesday, January 9, 2013 from 8:00 PM to 8:30 PM (EST)
Event Details
Parents, do you have children IN or about to enroll in College?
Parents, are you concerned about your students' college expenses?
This Financial Educational Call is for you. Tameka Williamson of Will Power Success, is the featured expert to share helpful Tips for Parents about how to Minimize College Expenses.
You won't want to miss this call!!!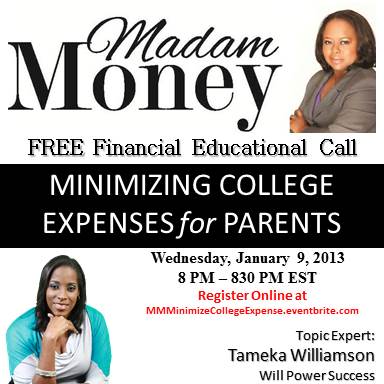 Tameka Williamson, Will Power Success Coach.
Tameka Williamson, The WILL Power Success Coach, is the leading authority on teaching people how to use the WILLs to Win in every aspect of life.  As a Six Sigma Blackbelt in Lean and Process Improvement, she analyzes and creates systems for change.  Being a certified speaker and coach for the John Maxwell Team, she has developed programs around the 6 WILLs that bring positive, sustainable changes in people's lives, businesses, and education.  Winning Intentionally at Leading Life (WILL) is modeled around establishing a vision, creating a plan of action, and then executing it. Having successfully overcome several life changing events and a successful corporate career of driving change for over 15 years in Fortune 100 Companies, Tameka is maximizing her experiences to equip others with the tools to either avoid the same mistakes or bounce back quicker and stronger on their journey to fulfill their purpose.
Organizer
Tarra Jackson aka Madam Money
Tarra Jackson, known as Ms. Madam Money, is an energetic & charismatic speaker that shares real life experiences to help educate her audience about personal finance, including budgeting, saving, investing, credit, insurance, and business start up.  Tarra has over 20 years of financial industry experience and is a national and international keynote speaker, facilitator and educator.  Tarra's passion is to help people through information and education. .
What is Madam Money Class?  
Madam Money Class provides practical strategies to help people succeed in the areas of:
Personal Finance
Wealth Creation & Protection
Business Owner Success Strategies
Monetizing Social Media
Brand Exposure
Stay tuned for upcoming Madam Money Class (MMC) via Facebook LIVE.
Contact Tarra Jackson at www.MadamMoney.com by emailing Info@MadamMoney.com.