| | |
| --- | --- |
| Madam Money Financial Boot Camp Webinar Sponsorship | |
Event Details
Greetings,
 "Madam Money's Financial Boot Camp Webinar" is a fun, engaging, and entertaining virtual learning experience about Money and Credit Management. The Financial Boot Camp Webinar will run from January 21 – 24, 2013, each evening from 8:00 PM to 10:00 PM EST. Participants will receive practical tips and instruction from financial experts to establish action plans for a stronger financial foundation. Participants will learn:
Budget Development & Management
Savings & Investment Strategies
Credit Strategies to improve Credit Scores
Homeownership Strategies (Prospective & Existing Homeowners)
Tax Strategies for Individuals & Couples
Tax Strategies for Small Business Owners
The Truth about Bankruptcy
In order to execute a successful online seminar for a nominal registration fee or for FREE to consumers who really need it, we need the support of sponsors. We invite you to become sponsor and partner for this webinar.
Click here for the Sponsorship Packet.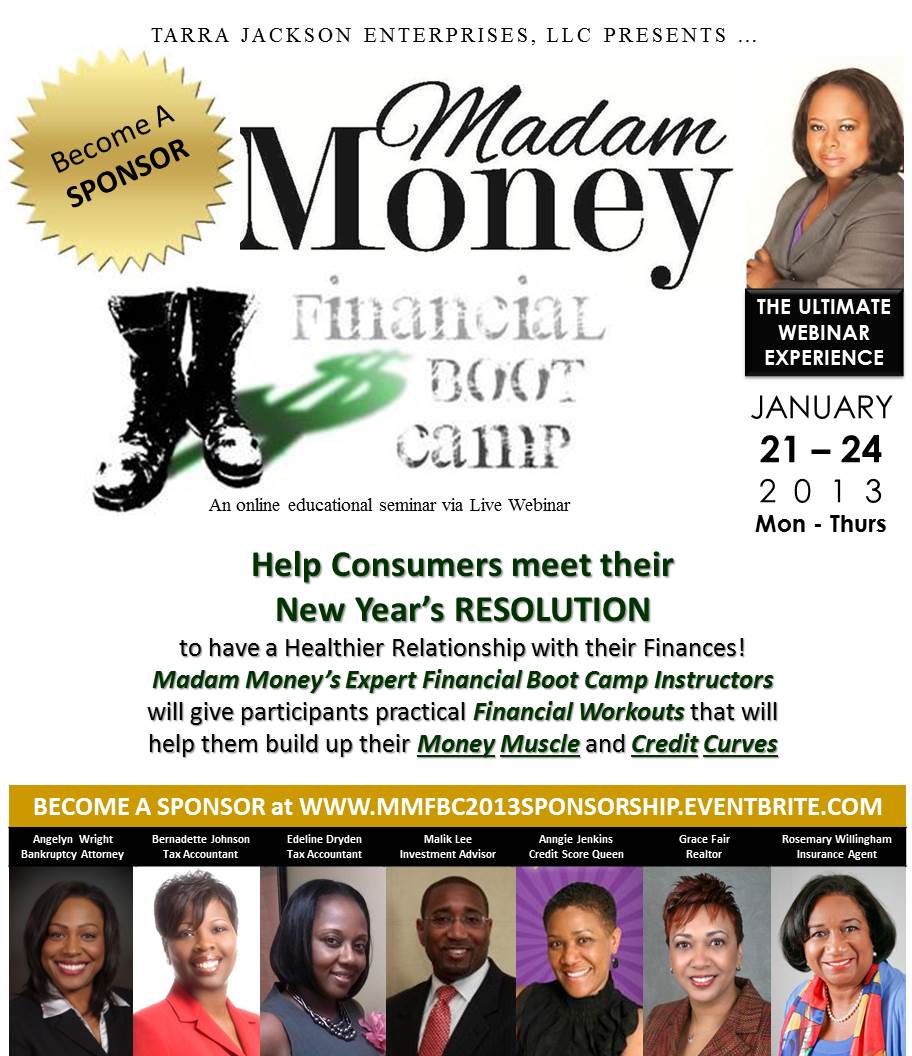 Contact us at Info@TarraJackson.com or (404) 852-6295 for additional information.
Thank you for your consideration and support!
Organizer
Tarra Jackson aka Madam Money
Tarra Jackson, known as Ms. Madam Money, is an energetic & charismatic speaker that shares real life experiences to help educate her audience about personal finance, including budgeting, saving, investing, credit, insurance, and business start up.  Tarra has over 20 years of financial industry experience and is a national and international keynote speaker, facilitator and educator.  Tarra's passion is to help people through information and education. .
What is Madam Money Class?  
Madam Money Class provides practical strategies to help people succeed in the areas of:
Personal Finance
Wealth Creation & Protection
Business Owner Success Strategies
Monetizing Social Media
Brand Exposure
Stay tuned for upcoming Madam Money Class (MMC) via Facebook LIVE.
Contact Tarra Jackson at www.MadamMoney.com by emailing Info@MadamMoney.com.