About this Event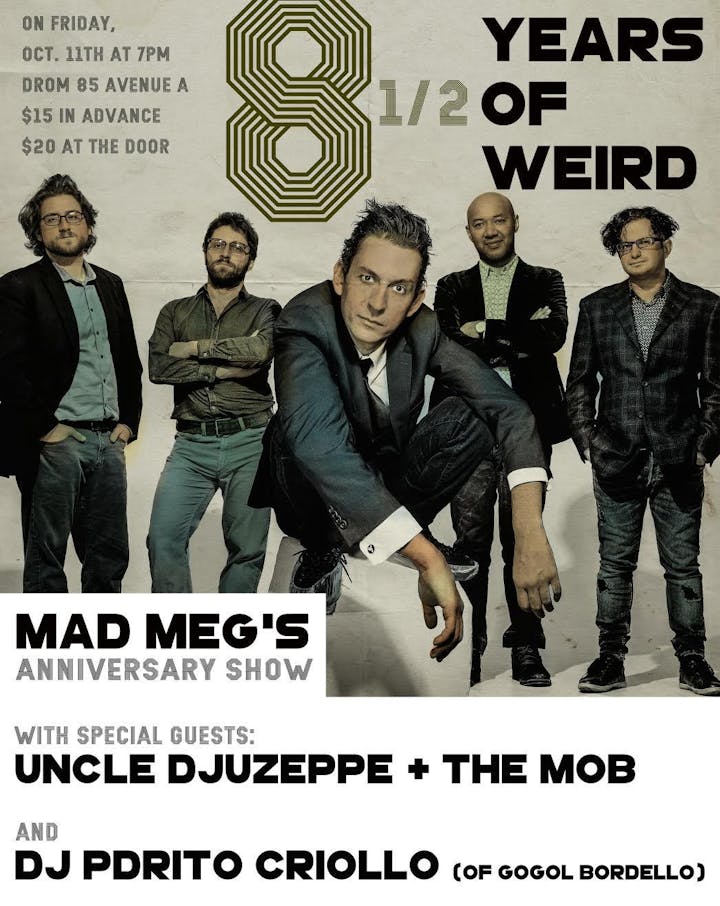 Mad Meg
Mad Meg is celebrating its 8 1/2 years of existence.
Through constant change in line-ups, trials, tribulations and creative adventures, the band has grown from a timid rock trio to an eccentric, heavily touring, prolific gang of performers who play in an eclectic style they themselves haphazardly identify as "Punk-Chanson-Noir".
"Mad Meg's killer album mashes up elegant art-rock and creepy phantasmagoria" NEW YORK MUSIC DAILY
"Mad Meg, a band who treat it as their personal mission to get your hips swaying." SONGWRITING MAGAZINE
"An exotic, enchanting record of rollicking, eclectic anthems." IMPULSE MAGAZINE
Uncle Djuzeppe and The Mob
Uncle Djuzeppe and the Mob is a raw and blazing new ska-punk band from NYC. Bridging backgrounds from Eastern Europe to the American Midwest, UD&TM is taking over the world with a unique sound and pure energy.For a short time they had play a lot of shows with well know bands like Strawberry Fist Cake,Some Kind of Nightmare,One Way System Transfer,Ladrones etc.Fresh and original sound to your ears!
DJ Pdrito Criollo
of Gogol Bordello