| | |
| --- | --- |
| MAD MARCH ON CANCER Virtual 5K & Half Marathon to benefit the Leukemia and Lymphoma Society MARCH 15 - 24, 2013 | |
Event Details
REGISTRATION IS VERY LIMITED!!!  
WE EXPECT TO SELL OUT TODAY - Feburary 4th!!!   SIGN UP NOW!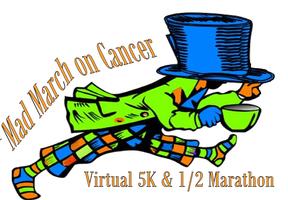 Put on your wildest hat, get your Mad Hatter on and run (or walk) either a 5k or a half marathon! You choose the location, you choose your pace. You can even do it at once or split it up over a few days. We just ask that you finish your run between March 15-24.
Training for another event or doing a 5k or half during that week? Those miles count, too!
Cost is $30/person and includes a personalized bib
and an awesome professionally made, finisher's medal. Suitable for display and qualifies for bragging rights. As an extra bonus, we'll throw in the warm, fuzzy feeling you'll get knowing that the proceeds from this event will be donated to the Leukemia and Lymphoma Society.

When you have completed the run, be sure to post your time, a picture, a "done!" or similar note in a comment on our facebook event page or email the organizer from this page, and that glorious medal will be yours! Photos of you sporting your bib while you take on your personal race would make our hearts go pitter-pat, so please post or send those too!
 REGISTER EARLY!!!
MEDALS AND BIBS CANNOT BE GUARANTEED FOR
REGISTRATIONS AFTER FEBRUARY 4, 2013.
   Visit our event page on Facebook 
To make an additional donation, just click the Cancer Crushers Logo.

This event is not sponsored by or in anyway affiliated with Facebook.  Facebook has no liability for this event.

Where

Chart your own course!




Organizer
ABOUT TEAM IN TRAINING: Founded in 1988, The Leukemia & Lymphoma Society's (LLS) Team In Training (TNT), has grown to be the world's largest and most successful endurance sports charity training program. Since its inception, when a team of 38 runners trained together for the New York City Marathon and raised $320,000, TNT has prepared more than 500,000 people to achieve their dream of completing a marathon, half marathon, triathlon, 100-mile (century) bicycle ride or hike adventure. Those participants have raised nearly  $1 billion to support blood cancer research and patient services.
The money raised by TNT participants has enabled LLS to fund millions of dollars of research to help advance new treatments and cures for leukemia, lymphoma and myeloma, and provide critical education and support to cancer patients and their families.
Nearly 50% of all cancer drugs approved by the FDA during the past decade were for blood cancers. And they are helping other patients as well. Five of those drugs have been approved for patients with solid tumors and others are being tested for other indications.
Survival rates for children with leukemia have improved from 3% forty years ago to 90% today. Hodgkin lymphoma patient survival rates have more than doubled to 88% since the 1960s. And the survival rate for myeloma patients tripled in past decade.
ABOUT THE LEUKEMIA & LYMPHOMA SOCIETY: The Leukemia & Lymphoma Society's (LLS's) roots stretch back to 1949, when the de Villiers family experienced the devastation of leukemia with the death of their 16-year-old son, Robert Roesler de Villiers. Family members and friends declared war on the disease by creating The Robert Roesler de Villiers Foundation, funding research to find a cure. The foundation later became The Leukemia & Lymphoma Society.
Today the mission continues: Cure leukemia, lymphoma, Hodgkin's disease and myeloma, and improve the quality of life of patients and their families.
The Leukemia & Lymphoma Society®  (LLS) is the world's largest voluntary health agency dedicated to blood cancer. The LLS mission: Cure leukemia, lymphoma, Hodgkin's disease and myeloma, and improve the quality of life of patients and their families. LLS funds lifesaving blood cancer research around the world and provides free information and support services.
 LLS is headquartered in White Plains, NY, LLS has chapters throughout the United States and Canada.
CANCER CRUSHERS: The Cancer Crushers are a team of twenty or so women who for various reasons found their way to Team in Training and are so dedicated to finding a cure for blood and other cancers, that they keep re-upping, season after season.  This season we will train together for the inaugural Nike Woman's Half Marathon in Washington, DC on April 28, 2013 and The Puerto Rico Marathon and Half Marathon on May 5, 2013.  Fundraising and training for a marathon is not easy but chemotherapy is worse.  This season our challenge is clear, we want to raise $100,000 to support the mission of the Leukemia and Lymphoma society.  This marathon is just one way we will be raising those funds. Thank you for participating.
This event is brought to you by the dynamic duo of Shari and Laura aka Virtually Awesome Races!