Description
Sessions is excited to host two of the most sought after small batch craft breweries for a beer dinner. We'll be pairing a beer from each brewery with 5 courses of hand crafted dishes from Executive Chef Michael Bilger.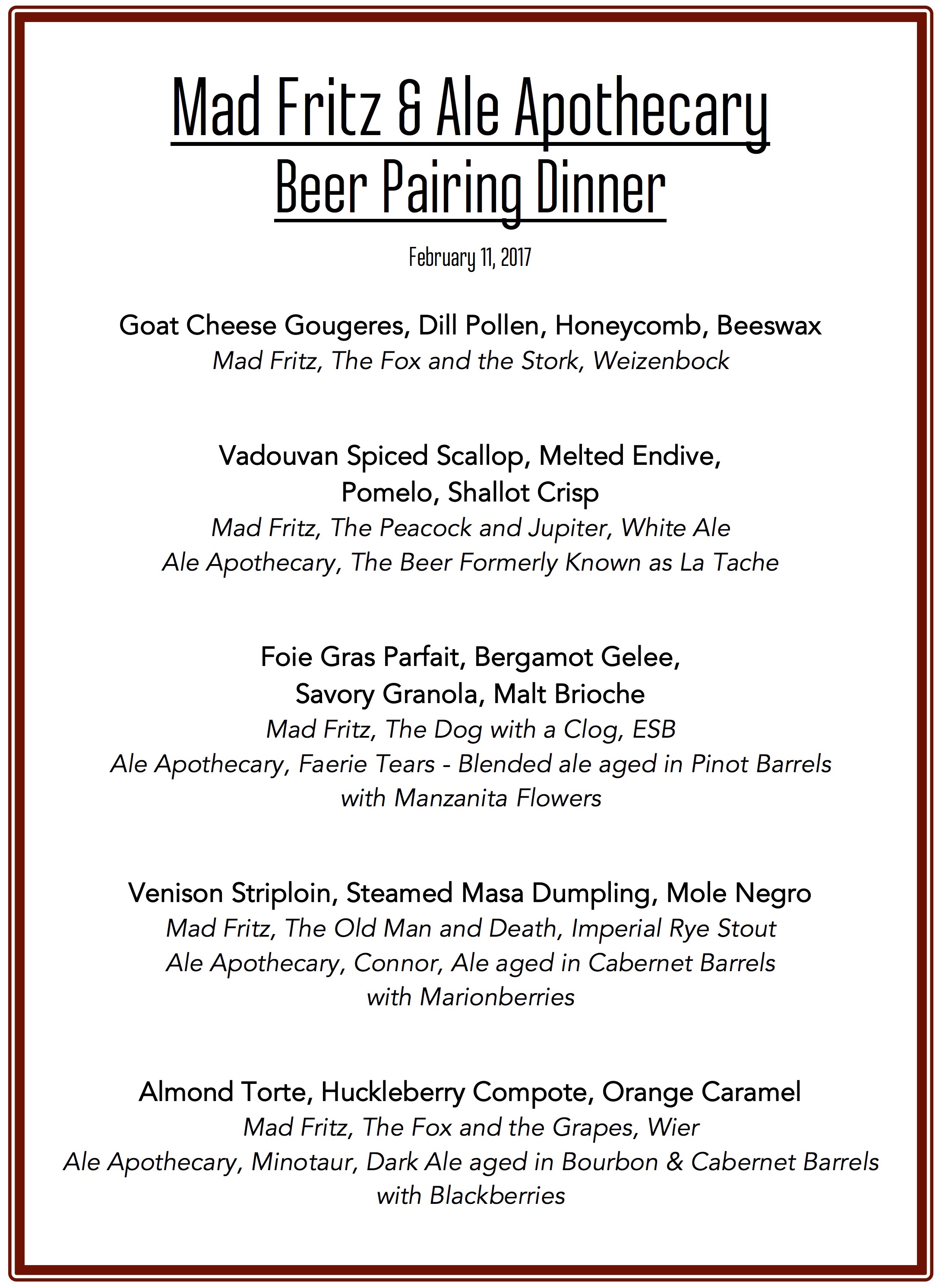 About Mad Fritz:
We craft ales and lagers with an emphasis on controlling the raw materials furthering the expression of a time, place and the people that make it happen. The best beers are always crafted while including the community. The Napa Valley is an incredible place that inspires us to grow, ferment and create: wine, food and beer! We have an endless number of skilled farmers, viticulturists, and just fun people to work with that love the dirt. At the end of the day, beer is kind of like people...we are distinctive, complex, diversified, and prone to be interpreted in many different ways.
HOW WE DO IT
Napa Valley sourced waters from artesian springs and aquifers
We use only Single variety barleys that are craft-malted to our specs
Locally grown hops that are farmed using organic and biodynamic principles
Our knowledge of fermentation and aging in barrels (elevage) to express nuance rather than overt styling.
Our combined experience in winemaking and brewing offers a unique landscape from where we can grow, malt, brew and age beers with a sense of place and personality.
About Ale Apothecary:
With pride, we fabricate beers from only the essential raw materials in order to allow time and mystery, two of our favorite ingredients, to provide maximize complexity and intrigue.
There are absolutely no additives, processing aids, mineral salts, stabilizers, or artificial CO2 added to our beer at any time during production. In an era of hop madness, we use only one hop, the Cascade hop grown by Goschie Family Farms in Silverton, OR.