Mad Classic Cocktails

Saturday, May 19, 2012 at 12:00 PM

-

Saturday, June 16, 2012 at 2:00 PM (PDT)
Event Details
"Prohibition [...] if it really prohibits, is the most tremendous 'eugenics law' ever passed in the world's history, because it will profoundly influence the health, sanity, and stamina of generations yet unborn." (Wiggam, 1924)
What does the word mixology mean? To some it's a word that is symbolic of an era - not of old - but one that is vibrant and new.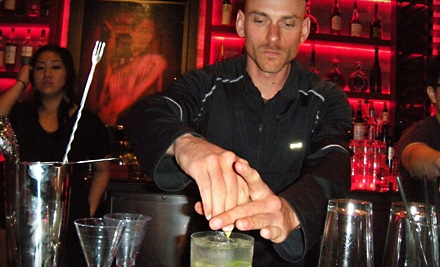 It is a resurgent cocktail movement that embodies an art form that was lost during the roaring 20s, where a country angry with alcohol, was no longer tolerant of its potency. 
In this class explore the new renaissance of classic cocktails, tasting the bittered slings of the early 1800s, the original martinis of pre-prohibition America, and the revival of fresh ingredients in the tiki movement of the mid 20th century.
This 2 hour course will teach you the history of the modern American cocktail.  Taste why gin died after prohibition. Learn how a 90 year old law still affects our palates today. You're going to gain a new love for the classics and understand what the word mixology means to you. 
Organizer
Welcome to SF Mixology, 
We are the premier destination for all things cocktail and cocktail culture in San Francisco. We provide interesting, interactive cocktail classes, tastings, and unique team building parties. Our deep industry ties to the San Francisco cocktail community make our events unforgettable!
Please check out sfmixology.com or email info@sfmixology.com for more information.