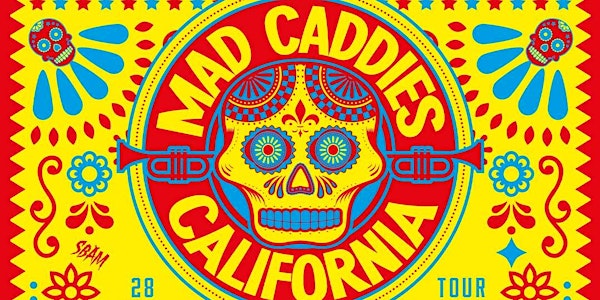 Mad Caddies
ALL AGES
Celebrating 28 years with Buck-O-Nine
Doors 7:00pm
Date and time
Saturday, August 19 · 7 - 11pm PDT.
Location
The Glass House 200 West 2nd St Pomona, CA 91766
Performers
Headliners
More Performers
Buck-O-Nine
Chase Long Beach
Respite!
About this event
The Mad Caddies are a ska punk band from Solvang, California, United States. The band formed in 1995 and has released seven full-length albums, one live album, and two EPs. To date, Mad Caddies have sold over 500,000 albums worldwide.
The Mad Caddies sound has influences from broad ranging genres including ska (especially ska 3rd wave), punk rock, hardcore punk, reggae, dixieland jazz, Latin music, polka, even cowpunk ("Crew Cut Chuck") and sea shanties ("Weird Beard").
The Mad Caddies have released 6 studio albums, 2 EPs and a live album. They've also toured extensively throughout their career including tours across the USA, Europe, Japan, Canada, Mexico, South Africa, Australia, New Zealand and South America. Their most recent full-length release, Punk Rocksteady, was released on June 15th 2018 and was produced by Fat Mike. In 2020 the Caddies released a 5 song EP titled "House on Fire" on Fat Wreck Chords.
Don't call it a comeback because Buck-O-Nine never left us. Since forming in San Diego nearly three decades ago, the celebrated ska-punk septet have continued to consistently perform live to fans both old and new. In that spirit FunDayMental, their first album in 12 years, proves that time has only made their songwriting skills stronger. The band's sixth full-length sees them once again combining elements of reggae, rocksteady, rock and punk into a unique amalgam of music that the act has pioneered since 1991. Amazingly, their lineup also features six out of seven founding members and their "newest" musician, bassist Andy Platfoot, has been in the band for 19 years. That sort of history makes Buck-O-Nine less of a band than they are a family and that dynamic is evident on all 14 songs on FunDayMental, which includes the band's new material alongside reworked versions of fan favorites "My Town" and "Irish Drinking Song."
Although frontman Jon Pebsworth and guitarist Jonas Kleiner had kicked around the idea of recording a follow-up to 2007's Sustain for years, the real catalyst for FunDayMental was when Cleopatra Records asked the band to contribute a song for their 2017 compilation, Punk Rock Halloween: Loud, Fast & Scary. "When we sent in the song, the label was really excited about it and asked if we'd want to do an entire album and it just felt like the right time," Pebsworth explains. (A re-recorded version of that song, "Don't Be Afraid," is also included on the album.) However the process of writing and recording wasn't quite as straightforward as many of the members of Buck-O-Nine—which also features trombonist Dan Albert, trumpet player Tony Curry, drummer Steve Bauer and saxophonist Craig Yarnold—are currently spread out across the country. However thanks to modern technology, the band members were able to email files and song ideas to each other, which allowed these songs to take form without them needing to physically be in the same room.
"It was pretty wild because each guy had guy a little spot set up in their house where we could each record and we would all spend a lot of late nights, texting and talking and hashing out song ideas while our families were asleep," Pebsworth explains. Even more fortuitous is the fact Curry is now a tech support expert, so he was able to produce the album from his own home studio and handle all of the technical issues that arose during the process. Finally for the final recording Bauer and Pebsworth traveled to San Diego to record their tracks with Curry, mindful to maintain the adventurous spirit of the demos. "What was cool about having someone from the band produce the album instead of someone from the outside is the fact that we've been together for so long that if one of us says they don't like an idea or they think it could be better, I'm going to be less defensive because I trust them and they're my boys," Pebsworth adds.
That spirit of trust and camaraderie is present all over FunDayMental. From the distorted guitars and syncopated drums that kick off the energetic opener "Paint The Night Red" to the downbeat reggae vibe of the harmony-rich "In My Room" and the infectious feel-good grove of "Tuff Rudeboy," FunDayMental sees Buck-O-Nine once again showcasing their innate ability to combine genres with ease while still maintaining their distinctive sonic identity. "We've always been considered part of the '90s third-wave ska category but we've always wanted to push ourselves and do new things that are fun," Pebsworth explains, adding that this evolution is already obvious to fans of their difficult-to-categorize albums such as 1997's Twenty-Eight Teeth and 1999's Libido. "Ultimately we are seven different guys who all listen to very different types of music and I think that diversity really comes through on this album."
Pebsworth also stretched out on the album and used some of the tricks he learned making solo recordings under the name PEBS to take his writing and and impassioned vocal stylings to the next level. "Everyone in the band is getting up there in age and one of the cool things about that is as you get older you start to feel a little more comfortable in the world and less worried about things," he explains when asked about how he approached the album lyrically. "You start to find a little bit more comfort in yourself and I think I was in a much better place when I was writing these lyrics than I've been in the past." Correspondingly FunDayMental contains its share of love songs, including the album closer "Dust It Off," which is about being mature enough to admit your mistakes and not let pride dictate your behaviors. "That song is really special to me because it's very personal and centers around the idea of struggling when love is on the rocks and someone decides to leave and then they come back. You've got to dust yourself off and figure out how to make things right."
From the inspired re-recording of their 1997 breakthrough hit "My Town" to FunDayMental's anthemic title track, there truly is something for everyone on the album—and you'd be hard-pressed to find a band who have a better time making music together. "These are the people I've spent the best years of my life alongside, so the opportunity to collaborate in the studio again and reconnect in that way was so rewarding for all of us," Pebsworth explains. There aren't many bands that can maintain a consistent lineup for 28 years, let alone make a new album that sounds as inspired as the band did during their heyday. Thankfully, Buck-O-Nine have never been the type of band who follow conventions and their steadfast dedication to creativity is what makes FunDayMental such a satisfying listen.
Chase Long Beach was formed in 2002 by Karen Roberts (vocals) and Patrick Fitzgerald (bass/vocals) in Long Beach, CA. This globetrotting SoCal based ska-punk band debuted its first EP "Attack of the Fuzzy Things" in 2004, followed by a second EP "Chase Long Beach Hosts a Molotov Cocktail Party" in 2006. Then in 2007, they released their full-length debut, "LeBeC", produced by Reel Big Fish front-man, Aaron Barrett. Chase Long Beach has songs that follow the traditional 3rd wave ska, high-energy template in the likes of The Mighty Mighty Bosstones, Less Than Jake and Save Ferris. However, they also interrupt the notoriously sunny, major-key happy genre by infusing darker sounds, minor keys and lyrics about anxiety, depression and suicide; especially so in their sophomore album "Gravity Is What You Make It". In February 2009, Chase Long Beach signed with Victory Records. Later, in June 2009, their second full-length album "Gravity Is What You Make It" was released on Victory with great acclaim. Chase Long Beach disbanded in 2010, a year after lead singer Karen Roberts had left the band.
In September of 2022, Chase Long Beach reunited for their 20th Anniversary. The band is currently active and creating new music again. Their anxiously awaited first single in over 10 years, "Mammoth", was released in May 2023 with great acclaim.
Respite! is a primarily ska punk band with influences from other genres. Consisting of Madison Jones (singer/rhythm guitar), Bella McClure (lead guitar), Zoe Anderson (bass/backing vocals) and Aidyn "Woobie Man" Scurlock (drums), we formed in 2021 during the midst of the COVID-19 pandemic. The band was our own "respite" and we've enjoyed making music and playing shows all around SoCal!