Macular Degeneration Awareness Program Ft. Myers, FL

Saturday, December 7, 2013 from 8:00 AM to 12:00 PM (EST)
Event Details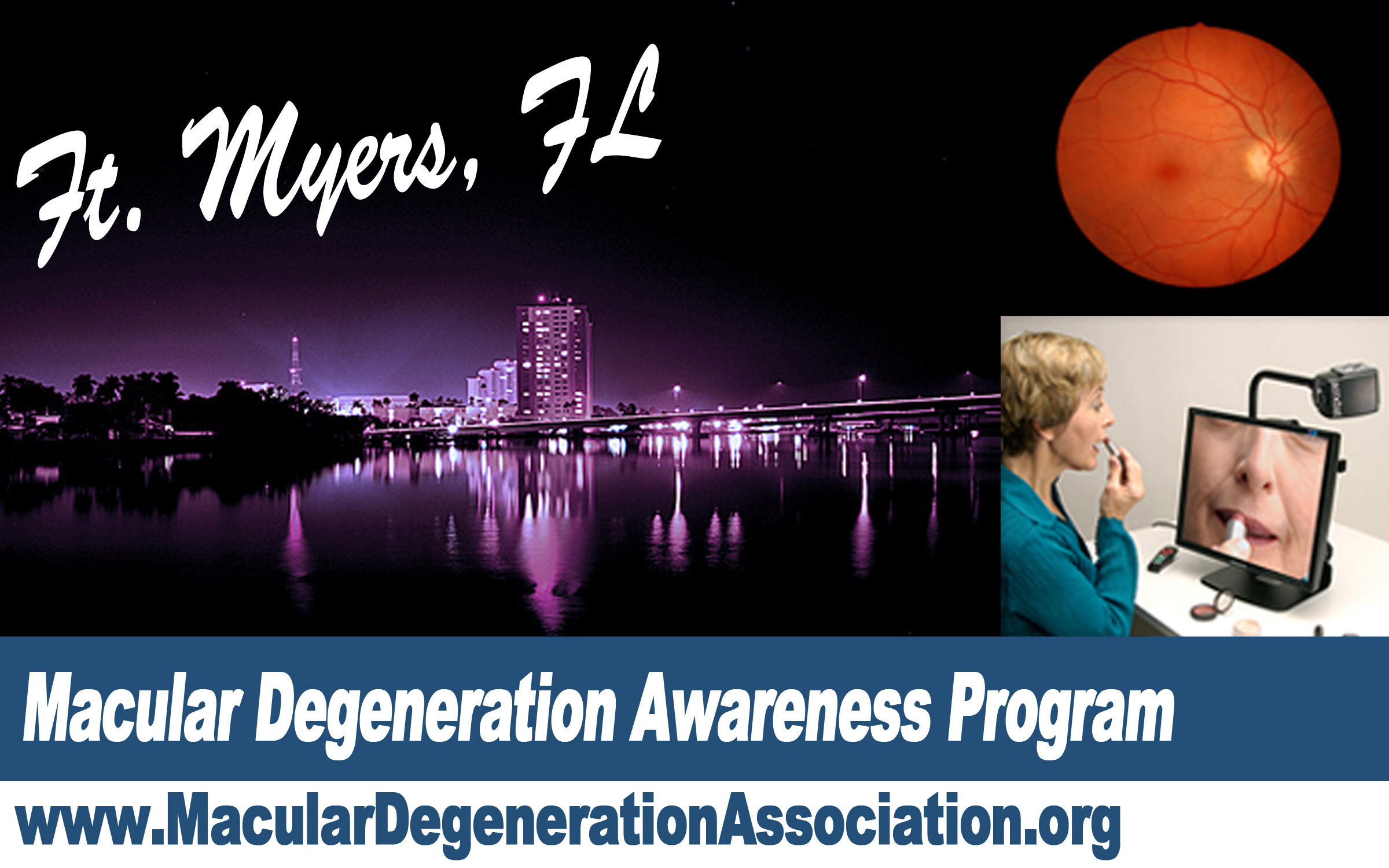 On Saturday, December 7th, 2013 the Macular Degeneration Association(MDA)will host a unique awareness program in Ft. Myer,FL. The event is designed to give an overview of age-related macular degeneration(AMD), including the progression of the disease and the dangers of vision loss as a result. The symposium will also cover precautionary methods that may delay the onset of AMD and reduce retinal damage.
Event attendees will learn the latest treatment advances evolving in the macular field. In addition you will hear from a patient that has macular degeneration, their journey and tips on handling this disease.
Exhibitors and featured event speakers will offer participants many opportunities to learn about the latest advances in macular degeneration research, precautionary methods,medications, treatments, and low vision therapies.
MDA's awareness program in Ft. Myers will provide attendees with a unique opportunity to interact with macular experts, local doctors, fellow patients and caregivers in an open forum.
Registration starts at 8:00 am with Exhibitions. The lectures will begin promptly at 8:30 am. Mid morning refreshments will be provided. At the end of the program you will be able to participate in question and answer session.
Seating is limited: Registration is FREE but required. Register by phone toll free at 1-800-253-0985, by email danielle@maculardegenerationassociation.org or you can register here
When & Where

Crowne Plaza 13051 Bell Tower Dr.

Fort Myers, FL 33907


Saturday, December 7, 2013 from 8:00 AM to 12:00 PM (EST)
Add to my calendar
Organizer
The Macular Degeneration Association is a nonprofit health organization providing macular research, information and advocacy. MDA is an IRS recognized 501(c)3 organization and contributions are tax-deductible to the extent permitted by law.


The mission of the organization is to cure macular degeneration and to improve the lives of all people affected by the disease.
To fulfill this mission, the MDA will fund research, publish scientific findings, provide funding for education, information and other services to people with macular degeneration, their families, healthcare professionals and the public. The foundation advocates for the increase in funding for scientific research and for the rights of people with macular degeneration.
The money raised by the foundation funds research,education, information programs and advocacy and awareness efforts that will support the over 9.1 million people with macular degeneration in communities across America.
//