Macular Degeneration Awareness Program Cleveland, OH

Saturday, April 6, 2013 from 8:30 AM to 11:45 AM (EDT)
Event Details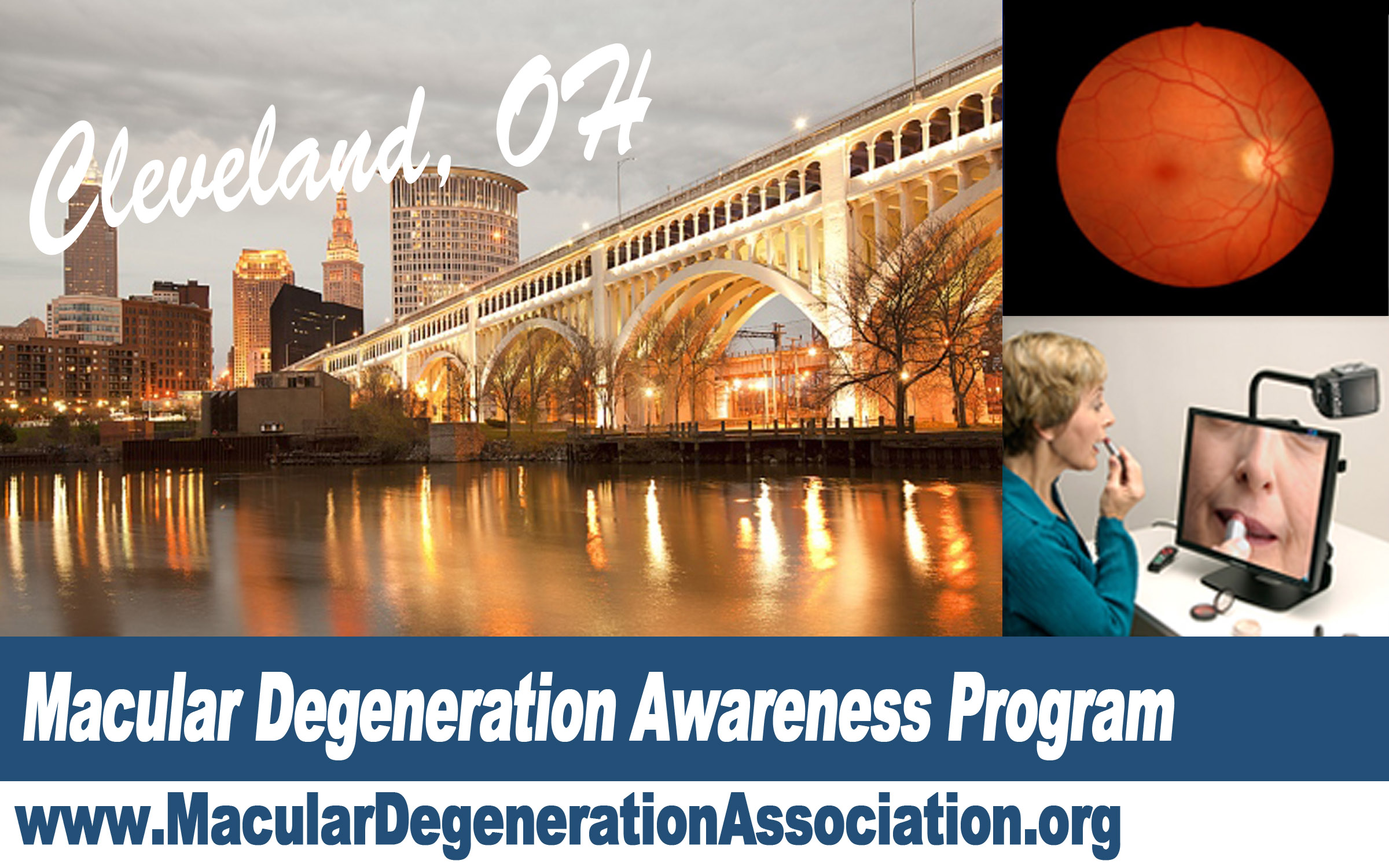 Cleveland Airport Marriott
4277 W 150th St
Cleveland, OH 44135
Saturday, April 6, 2013 from 8:30 AM to 11:45 AM (EDT)
Registration starts at 8:00 am with Exhibitions. The lectures will begin promptly at 8:30 am. Mid morning refreshments will be provided. At the end of the program you will be able toparticipate in question and answer session.
Seating is limited: Registration is FREE but required. Register  by phone toll free at 1-800-253-0985, by email danielle@maculardegenerationassociation.org or you can register directly below.

On Saturday, April 6, 2013 the Macular Degeneration Association(MDA)will host a unique educational symposium in Cleveland, OH. The event is designed to give an overview of age-related macular degeneration(AMD), including the progression of the disease and the dangers of vision loss as a result. The symposium will also cover precautionary methods that may delay the onset of AMD and reduce retinal damage.
Event attendees will learn the latest treatment advances evolving in the macular field. In addition you will hear from a patient that has macular degeneration, their journey and tips on handling this disease.
Exhibitors and featured event speakers will offer participants many opportunities to learn about the latest advances in macular degeneration research, precautionary methods,medications, treatments, and low vision therapies.
MDA's educational symposium in Cleveland will provide attendees with a unique opportunity to interact with macular experts, local doctors, fellow patients and caregivers in an open forum.
 

Larry Hoffheimer- Chairman Macular Degeneration Associati

Mr. Hoffheimer practiced healthcare law in Washington, DC for 35 years. Prior to that, he served   as a federal prosecutor with the United States Department of Justice. During the course of his law career, he represented numerous voluntary health agencies and healthcare professionals. Mr. Hoffheimer formed and led the advocacy effort that resulted in the Congressional Resolution and Presidential Proclamation declaring the 1990s as the Decade of the Brain. He founded the National Foundation for Brain Research, which provided enhanced visibility for neurological disorders. In 2003, Mr. Hoffheimer formed the Macular Degeneration Association (MDA) and moved to Sarasota, Florida where he currently chairs the MDA, including the comprehensive MDA educational initiatives.

 

 

 

 

Adrienne Raimo, RD, LD, CHHP

Adrienne Raimo is a Registered Dietitian and a Certified Holistic Health Practitioner with a private practice in Columbus. She has received her degrees from The Ohio State University and additional certification from Cornell University, Columbia University, and the Institute for Integrative Nutrition. The combination of her training gives you the most comprehensive guidance and education to achieve your goals. Since 2006, Adrienne has been delivering nutrition lectures, teaching cooking classes, providing individual nutrition consultations, and guest speaking for corporate clients and the medical community.

 

 

 

Michael Wells, MD

Ohio State – Wexner Medical Center
Dr. Wells has had a very active clinic and surgical practice since joining the Havener Eye Institute.  He regularly mentors medical students, residents, and fellows.  His educational efforts extend to the resident clinics, the operating room, and formal lectures.  He lectures to the residents and fellows covering not only topics on retinal disease and management, but also general surgical techniques. 
When & Where

Cleveland Airport Marriott
4277 W 150th St
Cleveland, OH 44135


Saturday, April 6, 2013 from 8:30 AM to 11:45 AM (EDT)
Add to my calendar
Organizer
Macular Degeneration Association
The Macular Degeneration Association is a nonprofit health organization providing macular research, information and advocacy. MDA is an IRS recognized 501(c)3 organization and contributions are tax-deductible to the extent permitted by law.


The mission of the organization is to cure macular degeneration and to improve the lives of all people affected by the disease.
To fulfill this mission, the MDA will fund research, publish scientific findings, provide funding for education, information and other services to people with macular degeneration, their families, healthcare professionals and the public. The foundation advocates for the increase in funding for scientific research and for the rights of people with macular degeneration.
The money raised by the foundation funds research,education, information programs and advocacy and awareness efforts that will support the over 9.1 million people with macular degeneration in communities across America.
//
Macular Degeneration Awareness Program Cleveland, OH