Macroeconomic Challenges in Latin America to 2020
Description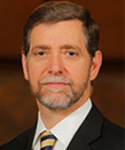 "Macroeconomic Challenges in Latin America to 2020"

Date: Wednesday, November 6, 2013
Time: 5:00 - 6:30pm
Location: UC San Diego, The Great Hall
Open to: Public

Speaker: Joaquín Vial, Board Member, Central Bank of Chile

In his public talk, Dr. Vial will discuss the issues created by demographic transitions, dependence on commodity exports and the challenges for macroeconomic policy in the region.
Joaquín Vial is a member of the Board of the Central Bank of Chile and was appointed in 2012. He holds a Bachelor's degree, has a Master's degree in economics from the Universidad de Chile and a PhD in economics from the University of Pennsylvania (1988). Before his appointment, Vial was with the Research Department of Banco Bilbao Vizcaya Argentaria, BBVA, where he was Head Economist for South America (2008-2011), Head of Global Trends Unit (2006-2008) and Head Economist for Chile (2004-2006).
-------------------------------------------------------------------------------------------
Light refreshments will be provided. Please contact Lisa Lee for event information.

Special thanks to the International Affairs Group for co-sponsoring this event.