Description
The 2nd Macrobiotic Online Winter Conference, featuring leaders of the global macrobiotic movement, will be held January 20th thru the 27th, 2019.
The Macrobiotic Online Winter Conference is bringing together the Macrobiotic Community, as well as bringing enrichment, study, development and fun right into your home.
Hosted by Bettina Zumdick, and Alex Jack
Opening Session on Sunday, January, 20th: 2 pm - 3:30 pm - free of charge to anyone who wishes to participate.
Welcome and Intro with Bettina Zumdick, Alex Jack and Edward Esko
Closing Session on Saturday, January 26th 12 noon - 1:30 pm free of charge to anyone who wishes to participate.
*Subject to change • Presentations are 1 hour + with 15-30 minutes of Q&A and discussion
All sessions are recorded for convenient playback and will be available for up to 6 weeks after the conference.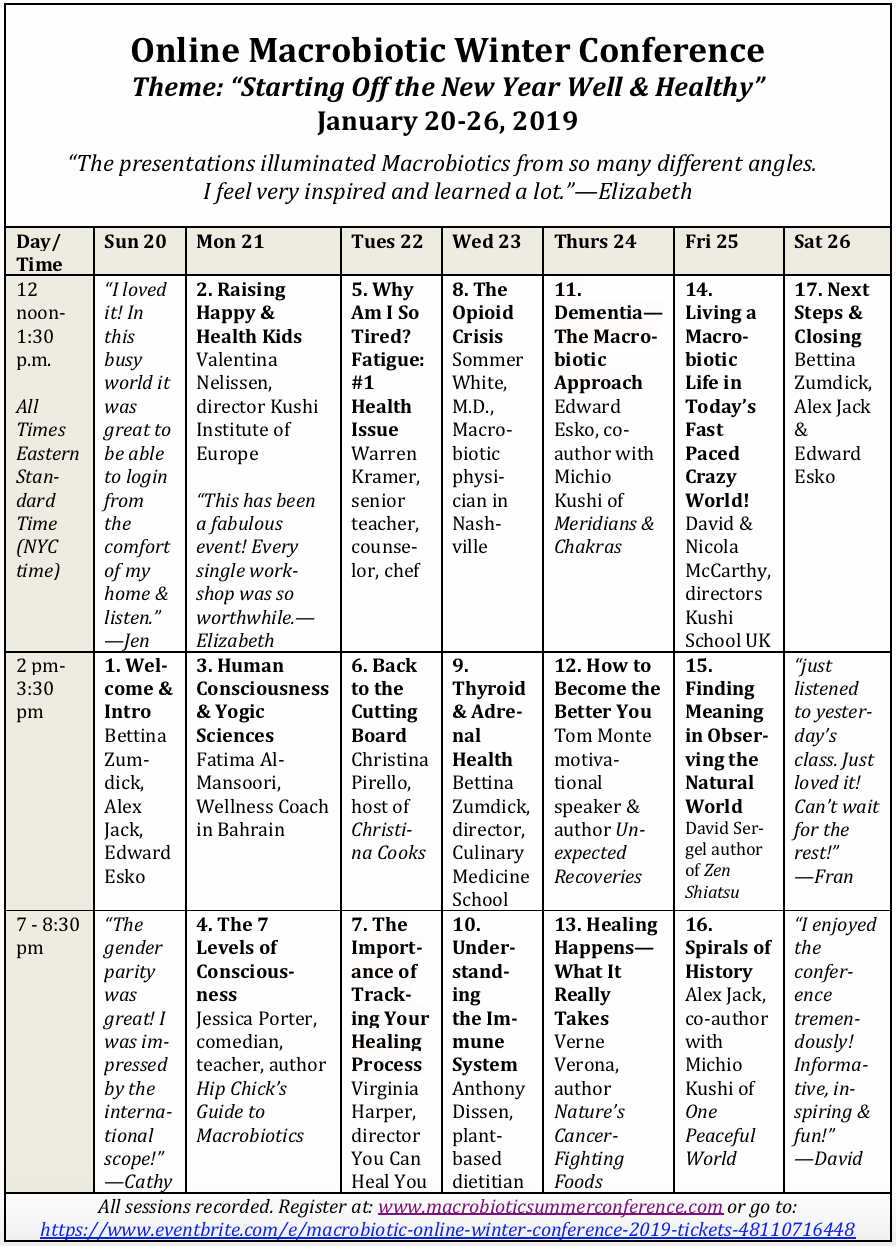 Testimonials from last year's conference participants:
"This conference helped me recommit to macrobiotics and my awareness of what and how I am eating,"
"Thank you so much for this gift! My motivation has increased and my actions are following already."
"I really enjoyed all the presentations,"
"Great idea to have the conference online. Also, loved that there were so many female presenters."
"Thank you so much for everything! Fabulous conference!"
"I enjoyed the ease of attending a Macro conference via the Webinar because I could watch in my jammies if I wanted,"
"I had the ease of my kitchen without juggling life in a motel room or eating out, and many etceteras."
"The most amazing and informative conference I've ever had the privilege of attending!"