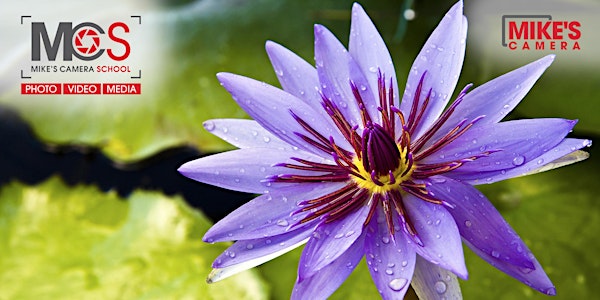 Macro Photography- 3-Part Workshop with Denver Botanic Gardens
Take your macro photography to higher levels with this three-part macro photography workshop with photo shoot at Denver Botanic Gardens. Wor
When and where
Location
Denver Botanic Gardens 1007 York Street Denver, CO 80206
About this event
Take your macro photography to higher levels with this three-part macro photography workshop with photo shoot at Denver Botanic Gardens.
Workshop includes an evening of instruction in our Virtual Classroom, followed by a Sunday morning instructional walking tour at Denver Botanic Gardens, and culminates with a virtual follow-up critique/review session.
What You'll Learn
The difference between lenses that can focus close and true macro lenses
How magnification relates to focal length and "working distance" explained
Tips for illuminating your close-up subject
How aperture affects depth-of-field when focusing closely
Composition and exposure tips as they relate to macro photography
Dates, Times & Locations
Evening Webinar: Tuesday September 6, 2022 from 6:30PM – 8:30PM
Photographing Session at Denver Botanic Gardens: Sunday September 11 2022 from 7:30AM – 10:30AM
Critique & Review: Wednesday September 14, 2022 from 6:30PM – 8:30PM
More Info
Evening Webinar  includes guidelines and tips for making great pictures at Denver Botanic Gardens. We'll cover some tools and accessories that will help you in your quest to make stunning macro images. We'll also cover composition, exposure value and will answer all your questions.
Shooting Workshop at Denver Botanic Gardens is led by Mike's Camera's Joe Klocek and Scott Dougherty. Working with Joe and Scott, you'll have the opportunity to photograph irises, roses, lilies, herbs, vegetables,  beehives, birds and much more! The Mike's Camera staff will always be nearby to assist you with technical questions and provide hands-on instruction to ensure you execute best practices and capture the best shots possible.
Follow up Critique  wraps up the workshop with a fun and rewarding critique. We'll review your best and not-so-great images from the day at Denver Botanic Gardens and share techniques that really worked, and those that were not as useful. You'll be astonished by the immense variety of images that will have been captured and spend some time giving and receiving positive and informative feedback.
Denver Botanic Gardens workshops are limited to 30 photographers, 12 years and older. Children under the age of 16 must be accompanied by a paying adult 18 years or older.
What to Bring
Camera(s) with an extra memory and extra battery
Variety of lenses– this will be discussed in the evening lecture
Auxiliary flash & or pocket reflector
Tripod or monopod
Sun hat, sun screen
Click to see our full listing of classes for at all locations
Subscribe to our Newsletter to stay informed about new Mike's Camera School programs!