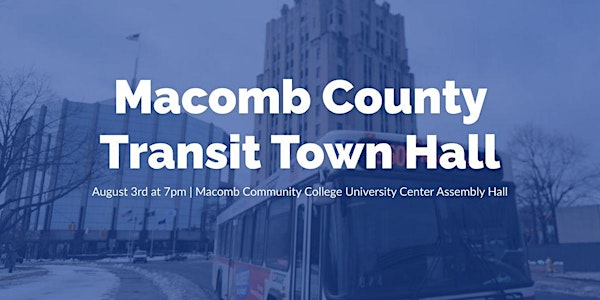 Macomb County Public Transit Town Hall
Join your neighbors and community leaders for a Town Hall discussion on Macomb transit options and the value of transit for our community.
When and where
Location
Macomb Community College - Center Campus 44575 Garfield Road Clinton Township, MI 48038
About this event
What's new with public transit in Macomb County?
What services does SMART provide to Macomb residents?
What's on the horizon for the future?
Hosted by Transportation Riders United in partnership with Macomb Community College and Henry Ford Health.
Speakers will include:
John Paul Rea, Macomb County Deputy Executive
Bonnie McInerney, SMART Macomb Ombudsperson
Barbara Rossmann, president and CEO, Henry Ford Macomb Hospital
Kristen Briggs, Sterling Senior Center Director
Megan Owens, Director of Transportation Riders United
Everyone is welcome! Doors open at 6:30pm. Refreshments provided!
The event will be held in the Macomb Community College University Center's Assembly Hall. Parking is available in University Center Lots 3 and 5B; transit access via SMART Route 550 and Flex.
This event is for educational purposes and is not intended as an endorsement of any ballot proposal, political party or candidate for public office.