MACHINEMADE ME DO IT...

Thursday, May 15, 2014 from 6:00 PM to 10:00 PM (PDT)
Ticket Information
This event is invite-only
You need an invitation to register for this event.
Contact the host
to find out more.
Event Details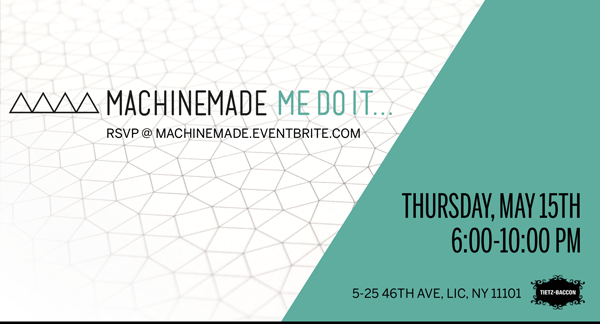 Come check out the new MACHINEMADE workshop and studio on Thursday, May 15.  We'll be bringing together architects, designers, entrepreneurs, media, clients, and friends...and we hope you can be there to celebrate with us.
While we raise a glass and fire up the grill, Ty Cole, one of PDN's 2013 "30 Emerging Photographers to Watch," is going to be shooting portraits. 
Invitation only. RSVP required. Space limited. Camera shy be warned.

http://tycole.com

http://rockawaybrewco.com

http://www.finbackbrewery.com

http://songza.com
Have a song request? Tweet #MachinemadeMusic and Songza's DJs will mix it in 

http://uber.com/NYC

 
Don't waste time worrying about a safe and reliable ride to our EVENT. The team at Uber has taken care of us - with FREE rides!
Sign up for Uber with the promo code MM30 and your first ride is FREE up to $30 (new users only, not valid on uberT). Once your account is created, simply download the free Uber app and login with the account information you created.
Already using Uber? Apply promo code MM10 for 10% off your ride (up to $10, not valid on uberT).
Organizer
DuPont (NYSE: DD) has been bringing world-class science and engineering to the global marketplace in the form of innovative products, materials, and services since 1802. The company believes that by collaborating with customers, governments, NGOs, and thought leaders we can help find solutions to such global challenges as providing enough healthy food for people everywhere, decreasing dependence on fossil fuels, and protecting life and the environment.