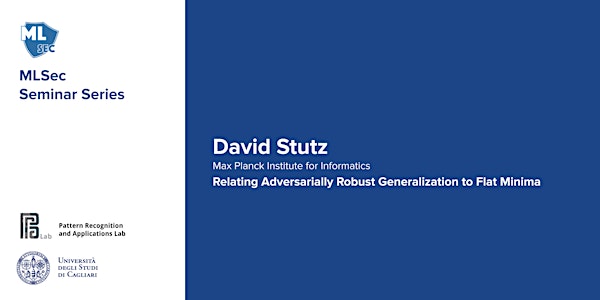 Machine Learning Security Seminar Series - David Stutz
Invited talk by David Stutz (Max Planck Institute for Informatics).
About this event
Our first seminar event on Machine Learning Security will be hosting David Stutz (Max Planck Institute for Informatics), to present the paper "Relating Adversarially Robust Generalization to Flat Minima", recently accepted at the IEEE International Conference on Computer Vision (ICCV) 2021.
David Stutz is a final-year PhD student at the Max Planck Institute for Informatics supervised by Prof. Bernt Schiele and co-supervised by Prof. Matthias Hein from the University of Tübingen. He obtained his bachelor and master degrees in computer science from RWTH Aachen University. During his studies, he completed an exchange program with the Georgia Institute of Technology as well as several internships at Microsoft, Fyusion and Hyundai MOBIS, among others. He wrote his master thesis at the Max Planck Institute for Intelligent Systems supervised by Prof. Andreas Geiger. His PhD research focuses on obtaining robust deep neural networks, considering adversarial examples, corrupted examples or out-of-distribution examples. In a collaboration with IBM Research, subsequent work improves robustness against bit errors in (quantized) weights to enable energy-efficient and secure accelerators. This work was awarded an outstanding paper award at the CVPR CV-AML Workshop 2021. More recently, during an internship at DeepMind, he used conformal prediction for uncertainty estimation in medical diagnosis. He received several awards and scholarships including the Qualcomm Innovation Fellowship, RWTH Aachen University's Springorum Denkmünze and the STEM Award IT sponsored by ZF Friedrichshafen. His work has been published at top venues in computer vision and machine learning including ICCV, CVPR, IJCV, ICML and MLSys. More information can be found at www.davidstutz.de.
Abstract:
Adversarial training (AT) has become the de-facto standard to obtain models robust against adversarial examples. However, AT exhibits severe robust overfitting. In practice, this leads to poor robust generalization, i.e., adversarial robustness does not generalize well to new examples. In this talk, I want to present our work on the relationship between robust generalization and flatness of the robust loss landscape in weight space. I will propose average- and worst-case metrics to measure flatness in the robust loss landscape and show a correlation between good robust generalization and flatness. For example, throughout training, flatness reduces significantly during overfitting such that early stopping effectively finds flatter minima in the robust loss landscape. Similarly, AT variants achieving higher adversarial robustness also correspond to flatter minima. This holds for many popular choices, e.g., AT-AWP, TRADES, MART, AT with self-supervision or additional unlabeled examples, as well as simple regularization techniques, e.g., AutoAugment, weight decay or label noise.
Organizer of Machine Learning Security Seminar Series - David Stutz
MLSec Seminars Series
MLSec Seminars is a periodic event on Machine Learning Security that will invite international experts to talk about their work on this topic.
The objective of these events is to bring together experts on the topic to share their knowledge with interested students and researchers by discussing relevant papers and research findings.
The seminars will be in English. Open (Free) participation to students and researchers interested in the topic. Registration is mandatory for participating in the meeting through Zoom. Otherwise, interested participants can watch the live stream on YouTube on this channel.
Organization
These events are managed by the Adversarial Machine Learning unit of the PRALab group https://pralab.diee.unica.it (University of Cagliari).