Machine Learning & IoT Bootcamp- Introduction and Hands-on

Saturday, February 10, 2018 from 9:30 AM to 5:00 PM (Singapore Standard Time Singapore Time)
Event Details
Have you ever wondered how self-driving cars are running on roads or how Netflix recommends the movies which you may like or how Amazon recommends you products or how Google search gives you such an accurate results or how speech recognition in your smartphone works or how the world champion was beaten at the game of Go?
Machine learning is behind these innovations. In the recent times, it has been proven that Machine Learning approach to solving a problem gives far better accuracy than other approaches. This has led to a Tsunami in the area of Machine Learning.
AllThingsConnected & IoTSG in Collaboration with CloudxLab is organizing a weekend Machine Learning & IoT Bootcamp.
This is a highly focused bootcamp. As our commitment to the IoT ecosystem, we have decided to keep this session at No-Cost to all participants.  Please RSVP only if you are serious about joning the session to avoid waste of seats.
WHAT WILL BE COVERED?
In this workshop, you will learn how to apply various Machine Learning techniques for everyday business problems and IoT use cases.
An exposure to Machine Learning using Python to analyze, draw intelligence and build powerful models using real-world datasets. You'll also gain the insights to apply data processing and Machine Learning techniques in real time. After completing this workshop, you will be able to build and optimize your own automated classifier to extract insights from real-world data sets.
This session would broadly cover the following:
Overview of Machine Learning

Manipulation and plotting data

Preprocessing and exploring data

Training a binary classifier

Measuring Performance
BOOTCAMP EXPERT: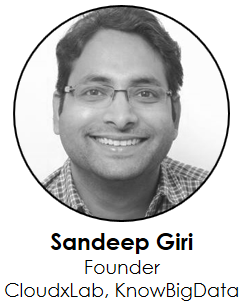 For last 14+ years, Sandeep has been building products and churning large amounts of data for various product firms. He has an all-around experience of software development and big data analysis. Apart from digging data and technologies, Sandeep enjoys conducting interviews and explaining difficult concepts in simple ways. Prior to founding CloudxLab and KnowBigData he worked at Amazon.com, InMobi.com, and D.E.Shaw. He graduated from Indian Institute of Technology, Roorkee in Chemical Engineering. 
************************************************************************************************
DATE: Saturday, Feb 10, 2018
TIME: 9.30 am – 1.30 pm: Presentation and Demo, 2.30 pm – 5.00 pm: Hands-on
PLACE: NUS Enterprise, #02-01, 71 Ayer Rajah Crescent, Singapore
ECOSYSTEM & VENUE PARTNER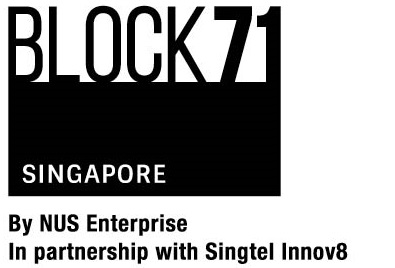 Seats are limited so reserve your place asap!
PRE-REQUISTES: Participants are requested to bring their own laptops with Anaconda installed in order to follow the hands-on during the second session.
Follow the blog post to get step-by-step instruction to setup Anaconda for machine learning exercise and downloading the MNIST dataset: Python Setup Using Anaconda For Machine Learning and Data Science Tools
For more information please write to: connect@athingsc.com
Join IoTSG Validated network, fill in your details.
________________________________________________________________________________________________
About AllThingsConnected
AllThingsConnected is a project organization based in Singapore. ATC focuses on Digital Strategy, Solutions Architecture and Program Management of ConnectedSoluions (IoT/DigitalTransformation) projects in Industrial/Manufacturing, Built Environment, Agriculture & Energy. 
About IoTSG
IoTSG is the largest IoT focused initiative in SEA, empowering and enabling professionals, and hence the organizations by helping them understand true value and approach of IoT as Business & Solutions. IoTSG has hosted and supported 56+ IoT focused events/conference (regional and international). We have over 2.5K professionals in our network in the region. Our aim is to enable a collaborative IoT ecosystem among organizations, government agencies, and professionals to accelerate initiatives such as Smart Cities, Agriculture, Building, Healthcare and so on.
About CloudxLab
CloudxLab is a leader in the domain of Big Data, Artificial Intelligence, Deep Learning, Machine Learning and related technologies. The company provides consulting, training, solutions and products related to above-mentioned technologies.
Have questions about Machine Learning & IoT Bootcamp- Introduction and Hands-on ?
Contact IOTSG
When & Where

NUS Enterprise @ BLK71- 02-#01
71 Ayer Rajah Crescent
139951
Singapore

Saturday, February 10, 2018 from 9:30 AM to 5:00 PM (Singapore Standard Time Singapore Time)
Add to my calendar
Organizer
An Open Adaptive Ecosystem Initiative, IoTSG is addressing the challenges & gaps of the ecosystem, and assisting business leaders, customers with knowledge, network and collaboration in their digital journey.
We enable thought leadership with actionable objectives.
  Our Vision:
 1.Raising digital solutions awareness, knowledge among professionals & organisations.
 2.Validating & identifying IoT solutions partners across skills set, & industry verticals.
 3.Enabling startups/SMEs to collaborate with bigger organization for solutions projects.
Our Mission:
Be the best DeepTech ecosystem in the region to address challenges of business leaders.
Join us on www.iotsg.org, Follow us on Twitter & LinkedIn