About this Event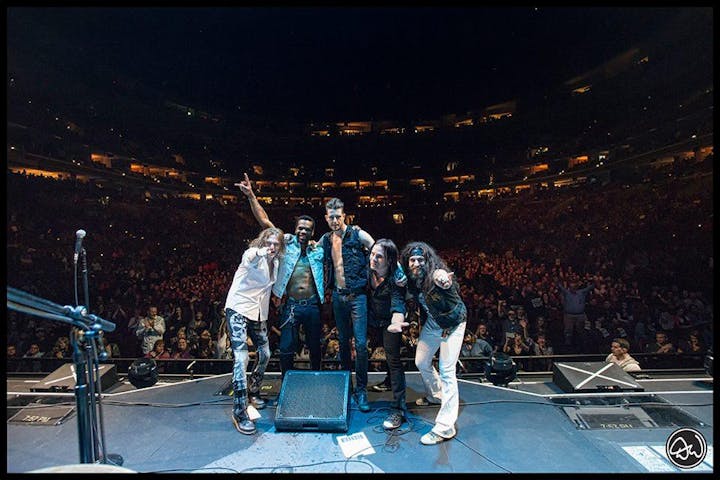 As the name implies, MACH22's rise is set to mach speed, with no turning back. Their presence, attitude, and sound, are winning audiences over at every show.
MACH22 is as authentic as you can get in a pure rock and roll band. Their songs span the emotional spectrum, capturing that classic feel with a modern rock edge. With their killer riffs, bluesy rhythms, and soulful delivery, they keep their audiences hooked for the entire set. The MACH22 sound echoes the tone of classic rock but imprints a style all their own.
They may be young, but they've already racked up some impressive credentials: Most recently opening for Bon Jovi, Guns 'N Roses on the "Not in This Lifetime… Tour", Jay Z, Linkin Park, Kid Rock, Slayer, Five Finger Death Punch, Godsmack, Stained, Slash, Halestorm, Black Label Society, Steel Panther, and many, many more. They have also made their mark at such events as the Made in America Festival, as well as repeat appearances at Rocklahoma.
When MACH22 hits the stage, they perform and sound like seasoned professionals. Each member has a remarkable history in music that makes this possible. Lamont Caldwell is an all-around musical force, with several instruments and bands under his belt. In 2001 he was asked to join the band of soul singer Bilal Oliver as a saxophonist. That was quickly followed by tours with Erykah Badu, Common, Kirk Franklin, Dave Matthews Band, The Roots, and most recently Jay-Z. Sebastian LaBar was born into a life of Rock and Roll. As the son of legendary guitarist Jeff LaBar, of Cinderella fame, he was personally trained by his father and soon after broke out on his own as he toured the east coast. Ric Haas being the youngest member, plays guitar with more season than his age reveals, and recently worked on new music for Dee Snider. Jaron Gulino anchors the MACH22 sound with thunderous bass tone and unique grooves. Jaron grew up touring in thrash and death metal bands before fronting and releasing three records with the metal trio On Top. He has also filled in for Baltimore rockers' Charm City Devils, and performed in the studio with other notable acts. Music has been in Damian's life for as long as he can remember. Multi-talented, he has performed on all parts of the stage, opening for many multi-platinum acts. Before joining MACH22, Damian fronted and played guitar in many bands, as well as self-producing three full-length albums and one EP.
An alt-country band with punk roots, Vandoliers formed in 2015, bringing together a group of Dallas-Fort Worth musicians led by frontman Joshua Fleming.
Fiercely proud of their homeland, Vandoliers put their own spin on the Texas country tradition with 2016's Ameri-Kinda, a debut album that mixed honky-tonk twang with hard-edged, rock & roll stomp. The band's follow-up release, The Native, arrives less than one year, doubling down on Vandoliers' modern approach to traditional influences. Rounded out by bassist Mark Moncrieff, drummer Guyton Sanders, fiddler Travis Curry, electric guitarist Dustin Fleming, and multi-instrumentalist Cory Graves, the group fills The Native's 10 songs with barreling guitar solos, train beats, anthemic melodies, mariachi horns, and the autobiographical details of Fleming's own travels.
"I grew up in Texas," the singer says, "and I wanted to write about why I loved it. I wanted to use myself as a character for my own songs. The Native goes through all our favorite styles of Texas music, and tells my story along the way."
A tribute to the band's Texas homeland, The Native takes its listener through a swirl of East Dallas dive bars, Pantego pool halls, small towns, big cities, and the rolling ribbon of bluebonnet-covered highway that stretches throughout the state. Along the way, Fleming sings about getting drunk, getting arrested, and getting it on. Behind him, the band kicks up a storm of Western swing, electric blues, roadhouse rock & roll, Tejano, cowboy country, and twangy punk, saluting everyone from fellow Texans Bob Wills to ZZ Top in the process. There are songs about leaving town. Songs about coming home. Songs about the short-lived romances that spark, burn, and fade in roadside bars, and songs about the lasting relationships that await back at home. It's a full cycle — a detailed exploration of what it means to truly belong somewhere.
"I was born September 1st in a little town outside Fort Worth," goes the first line of the album's kickoff track, "Bluebonnet Highway." If The Native unfolds like a coming-of-age movie, then "Blue-bonnet Highway" is the opening scene: a fast-moving montage of clips from Fleming's home, filled with neighborhood girls, traffic lights and the state flowers that bloom every spring. From there, Fleming and company hit the highway with "Rolling Out," a fiddle-fueled, horn-filled salute to the road, and wax nostalgic with the epic, driving "Endless Summer." By the album's end, they're back in Dallas-Ft. Worth, spilling all the details of their journey to a friend in "Welcome Home."
For Fleming, the real journey started years ago, when his sister took him to a Bad Religion con-cert. That night left a permanent impression on the young teen, who left the show inspired to make his own music. Years later, he earned his first audience as the frontman of the Phuss, a rowdy punk band that toured nationally. Business was good, but Fleming's personal life was heading south, with songs like "I Don't Feel Good" hinting at a troubled mind. After bottoming out, he resurfaced by meeting his future wife, falling in love, swapping his electric guitar for an acoustic, and writing a batch of songs that his country-loving partner might enjoy. Vandoliers were born, with many of those new songs filling the tracklist on the band's Ameri-Kinda debut.
Recorded in the same studio where Willie Nelson made Red Headed Stranger, The Native was tracked to tape by producer John Pedigo. The album was finished in four days, capturing the spark and spunk of a live band whose tour dates have included shows with the Jayhawks, Old 97's and Reverend Horton Heat. Released on the heels of Ameri-Kinda, The Native isn't just a story about where Vandoliers have been. It's a sign of where they're going. It's twang and tattoos, grit and guitars, honky-tonk and horns, Tejano and Telecasters. It's Vandoliers.
Performers
Date and Time
Location
Refund Policy