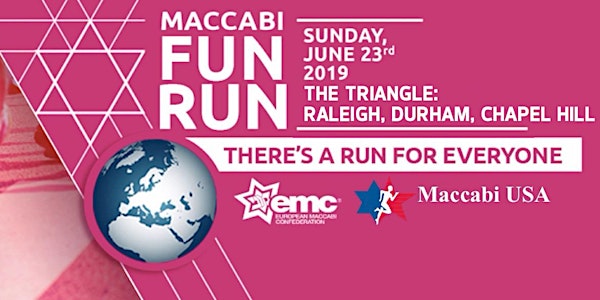 Maccabi FunRun- The Triangle: Raleigh Durham Chapel Hill
You're invited to the first-ever, Maccabi FunRun in the Triangle Region, on June 23, 2019!
When and where
Location
Bond Park Drive Bond Park Drive Cary, NC 27513
Refund Policy
Contact the organizer to request a refund.
About this event
*** PLEASE NOTE: ONLINE REGISTRATION IS NOW CLOSED. ON-SITE REGISTRATION WILL BE AVAILABLE ON A FIRST-COME, FIRST-SERVED, WITH T-SHIRTS AND MEDALS BASED ON AVAILABILITY.
WE STILL ENCOURAGE YOU TO COME OUT FOR WHAT WILL BE AN AWESOME EVENT WITH GREAT PEOPLE - AND EVERYONE WILL DEFINITELY GET SNACKS AND WATER!
ANY QUESTIONS, PLEASE CALL STEPHANIE @ (561) 271-3204. ***
Maccabi USA Raleigh FLF (Future Leaders Forum) invites Maccabi USA Alumni, Athletes, family members and all our friends in the greater North Carolina area, to join our first Maccabi FunRun in Raleigh, to bring together the Jewish community for a day of sports and fundraising for local Jewish and Israeli charities, and the Global Maccabi Movement.
WHAT IS A MACCABI FUNRUN?
Check out this video from Maccabi FunsRuns in 2018! https://vimeo.com/312683482
FUNRUN DETAILS:
DATE: Sunday, June 23, 2019
WHAT: 5K and 1K(Run or Walk)
TIME: 9am-12pm
MEETING SPOT: Near Boat House in Bond Park
AREA FOR FUNRUN: Start at TBC location near Boat House in Bond Park with registration, a pre-party, and warm-ups. The FunRun will be mapped out for each K. Return to our start location for medals, snacks, after-party and athlete send-off!
TICKETS BEFORE EVENT*: $20 TICKETS DAY-OF: $25
*General Tickets include: T-shirt, water, snacks, swag and official Maccabi FunRun medal after the finish line. Proceeds cover overhead. Processing fee added at check-out. (**Refund policy below.**)
All are welcome to participate in the FunRun and/or join to cheer and hang out with friends, followed by a post-FunRun, After-Party & Athlete Send-Off, for our Maccabi USA athletes, coaches and other team members going to Mexico City and Budapest this summer for the 2019 European and PanAm Maccabi Games!
THANK YOU TO OUR NON-PROFIT PARTNERS! You can contribute to our partners via the RSVP link. Maccabi USA will collect and disseminate all contributions to the local organizations. Contributions above $180 will receive a tax-receipt from Maccabi USA.
THANK YOU TO OUR SPONSORS!
This summer, Maccabi USA FLF - Future Leaders Forum is excited to host our first team of "Maccabi FunRuns" across the USA, in Philadelphia, Raleigh, DC and South Florida, in partnership with 20+ Maccabi FunRuns in Europe, Israel and South Africa, as part of the global Maccabi FLF Movement. Visit www.MaccabiUSAFLF.com for more information.
The Maccabi FunRun is the largest, international Jewish Sports, Community and Charity Day. Visit www.MaccabiFunRun.org for more information.
To get involved with the FunRun, help with sponsorship, marketing, partnerships or volunteering day-of, please contact Maccabi USA Raleigh FLF Chair, Stephanie Musinsky @ Smusinsky96@gmail.com.
Maccabi USA FLF is one of the Young Leadership Development Programs of Maccabi USA, in partnership with the European Maccabi Confederation (EMC).
Maccabi USA, a 501(c)(3) not-for-profit organization, endeavors, through sports, to perpetuate and preserve the American Jewish community by encouraging Jewish pride, strengthening Jewish bonds and by creating a heightened awareness of Israel and Jewish identity. The organization seeks to enrich the lives of Jewish youth in the United States, Israel and the Diaspora through athletic, cultural and educational programs. To learn more about Maccabi USA, please visit www.maccabiusa.com.
#MaccabiUSA #MaccabiUSAFLF #MaccabiFLF #MaccabiFunRun #MaccabiFunRun2019
**REFUND POLICY**
We will be happy to refund tickets bought before Friday, June 21st @ 12PM EST.