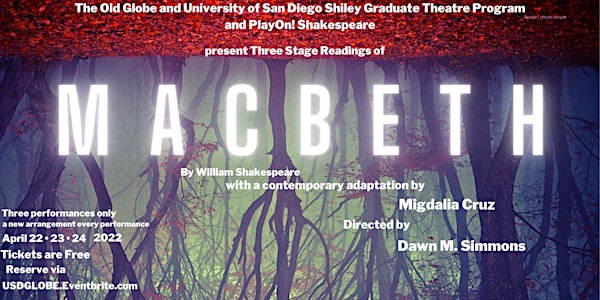 Macbeth with Play On Shakespeare
Macbeth By William Shakespeare. In a modern verse translation by Migdalia Cruz. Directed by Dawn M. Simmons.
When and where
Location
Studio Theatre at the University of San Diego 5998 Alcala Park San Diego, CA 92110
About this event
COVID POLICY UPDATE:
Policy for those planning or attending indoor meetings on campus:
Every attendee must wear a face covering.
No attendee is required to provide proof of vaccination status.
Shakespeare's classic gets a contemporary adaptation by Migdalia Cruz in a staged reading with a rotating cast every night!
In Migdalia Cruz's Macbeth, the Witches run the world. The Macbeths live out a dark cautionary tale of love, greed, and power, falling from glory into calamity as the Witches spin their fate. Translating Shakespeare's language for a modern audience, Nuyorican playwright Migdalia Cruz rewrites Macbeth with all the passion of the Bronx.
Please join us for any and all performances as this rotating cast of actors explore identity and power from all perspectives.
Each performance has a different rotating cast.
April 22 7:30pm
Maggie Walters - Macbeth
Jeffrey Rashad - Lady Macbeth
Bernadette Sefic - Banquo
Jude Tibeau - Macduff | Witch 1
Becca Lustgarten - Witch 2
Camilla Leonard - Malcolm | Witch 3
April 23 7:30pm
Bernadette Sefic - Macbeth
Becca Lustgarten - Lady Macbeth
Jeffrey Rashad - Banquo
Camilla Leonard - Macduff | Witch 1
Maggie Walters - Witch 2
Jude Tibeau - Malcolm | Witch 3
April 24 2pm
Jude Tibeau - Macbeth
Camilla Leonard - Lady Macbeth
Maggie Walters - Banquo
Becca Lustgarten - Macduff | Witch 1
Jeffrey Rashad - Witch 2
Bernadette Sefic - Malcolm | Witch 3