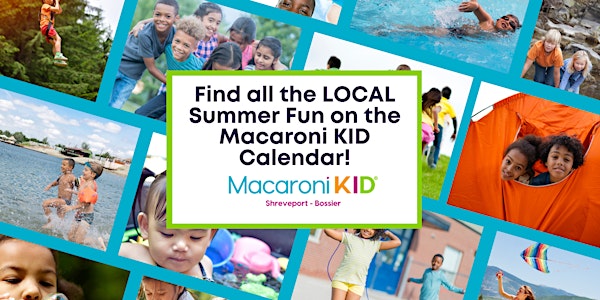 Macaroni Kid Crafts & Activities Fun Book FREE Download
Macaroni KID Crafts & Activities Fun Book FREE Download Crafts & Activities For Kids
About this event
At Macaroni KID Shreveport Bossier we want to make it easy for you to plan family time, whether you're on-the-go or at home. That's why we are so excited to share this Fun Book with you.
It's perfect for those days you just want to spend at home –whether you are looking for something to fill the time on a rainy afternoon, a project to share with friends during a play date, or a new holiday-themed creation.
Macaroni KID Publishers from across the country have shared their favorite projects and we've compiled them here into one, easy-to-use book.
Each craft includes pictures and step-by-step instructions, making it a breeze for you and your kids to recreate each one.
As an added bonus, most are made with easy-to-find, inexpensive supplies, many of which you probably already have at home!
And even though you can complete any of these crafts at any time, we've categorized them into seasons -"Anytime," "Winter," "Spring," "Summer," and "Fall."
So what are you waiting for? Gather up the supplies, collect your kids and get crafting –because sometimes the best family times happen right around the kitchen table!
For a complete PDF copy of our Fun Book, complete the form HERE.
Note: you must be a subscriber to download the Fun Book.
Macaroni KID strives to keep families active in our local community by offering a free calendar of kid-friendly events on our site. If you are not an insider on what's going on in and around the Shreveport-Bossier area, we'd love for you to join us. Click HERE.
Please LIKE us on Facebook. Follow us on Instagram and Twitter.