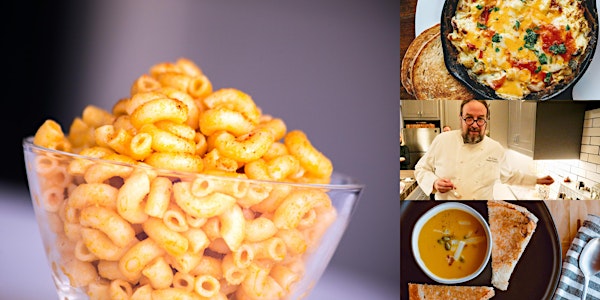 Mac & Cheese Cooking Demo and Tasting @ Essex Market
New York Adventure Club | www.adventureclub.com
When and where
Location
Essex Market (Essex Kitchen on Mezzanine Level) 88 Essex Street New York, NY 10002
About this event
Looking to see how some of those mouth-watering macaroni & cheese dishes served by your favorite restaurants are made? With the help of a celebrated local chef with over 25 years of experience, it's time to become the toast of both your friends — and taste buds — by learning how to make high-quality mac & cheese classics in one of New York's most historic culinary landmarks.
Join New York Adventure Club as we embark on a cooking demonstration and tasting of macaroni and cheese at the historic Essex Market on Manhattan's Lower East Side, which has served as a culinary gathering place for generations of New Yorkers.
Led by Culinary Institute of America-trained chef Jon Lovitch — a former Executive Chef at prestigious venues including the Plaza and Algonquin hotels who's gained international recognition for his annual Gingerbread Lane holiday exhibition — our experience on how to make classic mac & cheese dishes will include:
Cooking demonstrations by Chef Jon on how to make béchamel — one of the classic mother sauces — and how to break it down into different cheese sauces
How to make pan fried shrimp macaroni and cheese, smoked turkey bacon and gouda macaroni and cheese, and buffalo chicken macaroni and cheese
A quick demonstration on how to take cheese sauce and turn it into basic soups like broccoli cheddar and cheesy corn
Step-by-step instruction on how to pan fry meats such as chicken and bacon, and how to incorporate them into cheese sauce
A tutorial on how to make a quick bread Italian focaccia to accompany the macaroni and cheese
The opportunity to taste each macaroni and cheese as soon as they're done
A take-home recipe list featuring expert tips and techniques, which will help you recreate the perfect comfort mac and cheese from the comfort of your own home
Afterward, we'll open up the floor for a Q&A with Chef Jon so you can ask any and all questions you ever had about mac & cheese!
See you there!
*This cooking demonstration is a mostly stationary experience with opportunities to taste
**Food and beverages served for this experience cannot be altered for individual dietary needs
About Jon
Jon Lovitch is a chef and the creator of Gingerbread Lane, an annual display of homemade and handmade gingerbread houses that he drafts, designs, bakes, plans, builds, and decorates for an entire year.
Originally hailing from Kansas City, Missouri, Jon was inspired by a local pastry chef by the name of Chuck Conroy and a mutual chef friend by the name of Joe Evano to create this elaborate holiday treat that has grown from just 12 houses in 1994 to 1,251 this year, all made from 100% edible materials. No fake snow or cardboard stands even!
A former executive chef turned self-taught gingerbread baker, Jon has the chops to bring his baked brand of joy to the public-at-large. He graduated with a degree from the Culinary Institute of America in New York, has over 25 years of experience in the restaurant business under his belt, and has been the Executive Chef in prestigious spots such as the Plaza and the Algonquin in NYC, and even worked across the street from the White House at the Hay Adams. He gave all of that up in 2015 to pursue his dream of making GingerBread Lane, his once-hobby, full-time labor of love, and dream come true.
Read more on his website.
Disclaimer
By attending a New York Adventure Club experience, you accept our terms of service.
Photo Credit: Main Photo - Hermes Rivera, Bottom Right - Tina Witherspoon, Top Right - Eaters Collective
Categories: In-Person, Food & Drink