MABE 4th Southern New England Annual Conference for Dual Language Programs 2015

Saturday, March 21, 2015 from 8:00 AM to 4:00 PM (EDT)
Event Details
**School Visits Registration Now Open!**
scroll to the botton for participating schools and schedule
The Massachusetts Association for Bilingual Education
(MABE) sponsors the Fourth
Southern New England Region Conference for Dual Language Programs 
"Making Connections -  Assessment Across Two Languages"
The Massachusetts Association for Bilingual Education, along with Dual Language Programs in Connecticut, and Rhode Island, is delighted to host this fourth conference for teachers, school and district leaders, support staff, and all those interested in and dedicated to Dual Language Education.
THEME: Assessment Across Two Languages
Conference Opening Keynote Speaker:
OLIVIA RUIZ-FIGUEROA, Literacy Squared &
co-author of the text Biliteracy from the Start
OLIVIA RUIZ-FIGUEROA worked with the Tucson Unified School District for 27 years. During that time, she participated in the development and implementation of bilingual education materials from assessment and evaluation, to content and curriculum. As a Reading Recovery Teacher Leader, she is one of the original authors of Decubriendo La Lectura, the reconstruction of Reading Recovery in Spanish, and El Instrumento de Observación, the Spanish Observation Survey. She began the national training of teachers and teacher leaders nationally for the Program. With the support of Dr. Marie Clay, she presented Descubriendo la lectura at the International World Congress of Reading in Buenos Aires, Argentina. She worked with Pearson for 15 years supporting the development of Spanish materials. During this time, she co-authored the EDL2, Evaluación del desarrollo de la lectura and is presently involved in developing a Spanish Word Analysis. Together with her colleagues from the University of Colorado, Boulder, she has been involved with Literacy Squared since its inception. She continues to work with the project as well as an independent educational consultant. 
Conference Closing Keynote Speaker:
 ROSI AMADOR, voiceover actor
 Amador Bilingual VoiceOvers
 ROSI AMADOR is a Latina of Puerto Rican and Argentine descent.  She is an award-winning professional English/Spanish voiceover actor for children's books, eLearning, animated characters and other forums with her company, Amador Bilingual Voiceovers.  Rosi is also the lead singer and co-founder (with her husband, guitarist/composer Brian Amador) of three-time Boston Music Award winning touring Latin band, Sol y Canto.
 Rosi's biculturalism and bilingualism infuse her life personally and professionally.  As a parent, Rosi maintained her strong bilingual identity, and passed it on to her children.  Her twin daughters, now 18, are also in the family business as bilingual voice actors, enjoying professional advantages as a result of their bilingual skills and talent. Rosi is an inspirational speaker who will present on how celebrating her bicultural roots and harnessing her innate bilingual communication skills have been key to a purposeful family life and successful career.  Her story reflects the benefits of being bilingual. This presentation will begin and end with bilingual music. Be prepared for an enjoyable and active session! 
Conference Details 
 The purpose of the conference is...
1.     Networking (breaking the isolation) of Dual Language Program Teachers
2.     Community Advocacy
3.     Professional Development for Teachers of Dual Language Programs
4.     Encouraging the Creation of NEW Dual Language Programs
 Date: Saturday, March 21, 2015
 Time: 8:00 am to 4:00 pm
 Location: Chandler Magnet School, 525 Chandler Street, Worcester, MA 01609 (http://chandlermagnet.worcesterschools.org)
 Intended Audience: School and district leaders, classroom teachers and support staff (reading specialist, curriculum specialist, special educators, etc.) working in Dual Language programs
 Registration Fee: $120.00 (General). Discounted rated for presenters, parents, and students. Payment accepted by check, purchase order, or credit card.  
DISTRICT/ SCHOOL SPECIAL - for every 5 school professionals registered (general or presenter), received a free parent registration. Valid for group purchases via PO or school credit card only. Complimentary parent registration does not include annual membership, which can be purchased at an additional cost of $40.
Paying by Purchase Order as a group from one district?
New PO procedure
Purchase Order or Supervisor Authorization (SA) letter is now required prior to registration. The SA may be from the program director, principal, district Bilingual Service director, or whoever has signing authorization on the funds that will be used towards registration. In the event that you are the supervisor, please note "self". The SA should be on letterhead and must include date and title of event and names and type of membership/ registration for each individual. It can be e-mailed to carissa.massmabe@gmail.com with "Conference- SA" in the subject line and must be received before individuals can register. Registrants who select the PO/ invoice option who don't have SA will be contacted and removed from registration if SA is not received within 24 hours.
How to register once SA is received
MABE will process SA (usually within 48 hours)

Open eventbrite conference registration

Select registration type. 

If you select the SPECIALGROUP registration, one person will need to complete the registration. Individual forms are available by contacting carissa.massmabe@gmail.com to give and collect from participants before the point person completes the registration.

Select quantity of tickets

Scroll down below the big green "REGISTER" button and look for "show other payment options" located below. Click "show other payment options". Click on the "Pay Offline" button – This brings you to the registration form where personal information on each person must be entered. At the end of the form, click on "Send Invoice". This is the term used by the site and means the same as purchase order.
Original PO is still required and must be mailed (and received at least 3 business days prior to the event) to MABE, c/o Carissa Rutkauskas, 171 Mt Hope Rd, Mansfield Center, CT, 06250. E-mailed copies of PO will be accepted only to expedite invoice processing (carissa.massmabe@gmail.com; subject line "Purchase Order - Conference"). POs must include a PO number and a list of all the teachers and associated registration cost under that purchase order. -Invoice will be via US mail (and e-mailed if an e-mail contact is provided) within 48 hours upon PO receipt.
New PO procedures will be strictly enforced. Thanks in advance for your cooperation and attention to detail.
Onsite/ walkin registration will not be accepted.  Please note that the registration for this event will close on March 16, 2015.
Tentative Format:  
8:00 AM Check-in and Continental Breakfast
8:45 AM Welcome
9:00 AM Keynote Address: Olivia Ruiz-Figueroa
10:00 AM Transition
10:10 AM Breakout Session I (60 min.)
11:15 AM Breakout Session II (60 min.)
12:20 PM Lunch and Publishers Exhibit
12:35 PM Networking Lunchtime Talk Sessions (40 min.)
1:45 PM Breakout Session III (60 min.)
2:45 PM Transition
2:50 PM – 4:00 PM Awards Ceremony, Keynote Address: Rosi Amador
Check-in begins at 8:00 am
Breakfast and Lunch will be served.
Certificates of Attendance will be provided (PDP's).
Parking is available in a small lot on the side of the school or a large lot behind the school, next to the cafeteria. 
Hotels in the area:  MABE has reserved a block of rooms at Courtyard by Marriott, Worcester.  The block rate is available until 2/20/15 at a rate of $109.00. Reservations can be made directly by calling the hotel at 508-363-0300 and referencing "Massachusetts Association for Bilingual Education (MABE)" or by following this link: Book your group rate: Massachusetts Association for Bilingual Education (MABE) >>


SNOW DATE: Saturday, March 28, 2015
School Visits Registration Now Open!
Your school registration will allow you to select as many tours as you'd like. If you register and have a change of plans, please let us know so we can contact members on the waiting list.
Tour start times are followed by debriefing times (in parenthesis), description of class, and /maximum number of participants.
To register, please select the "School Visit Registration" above and select the schools you'd like to visit.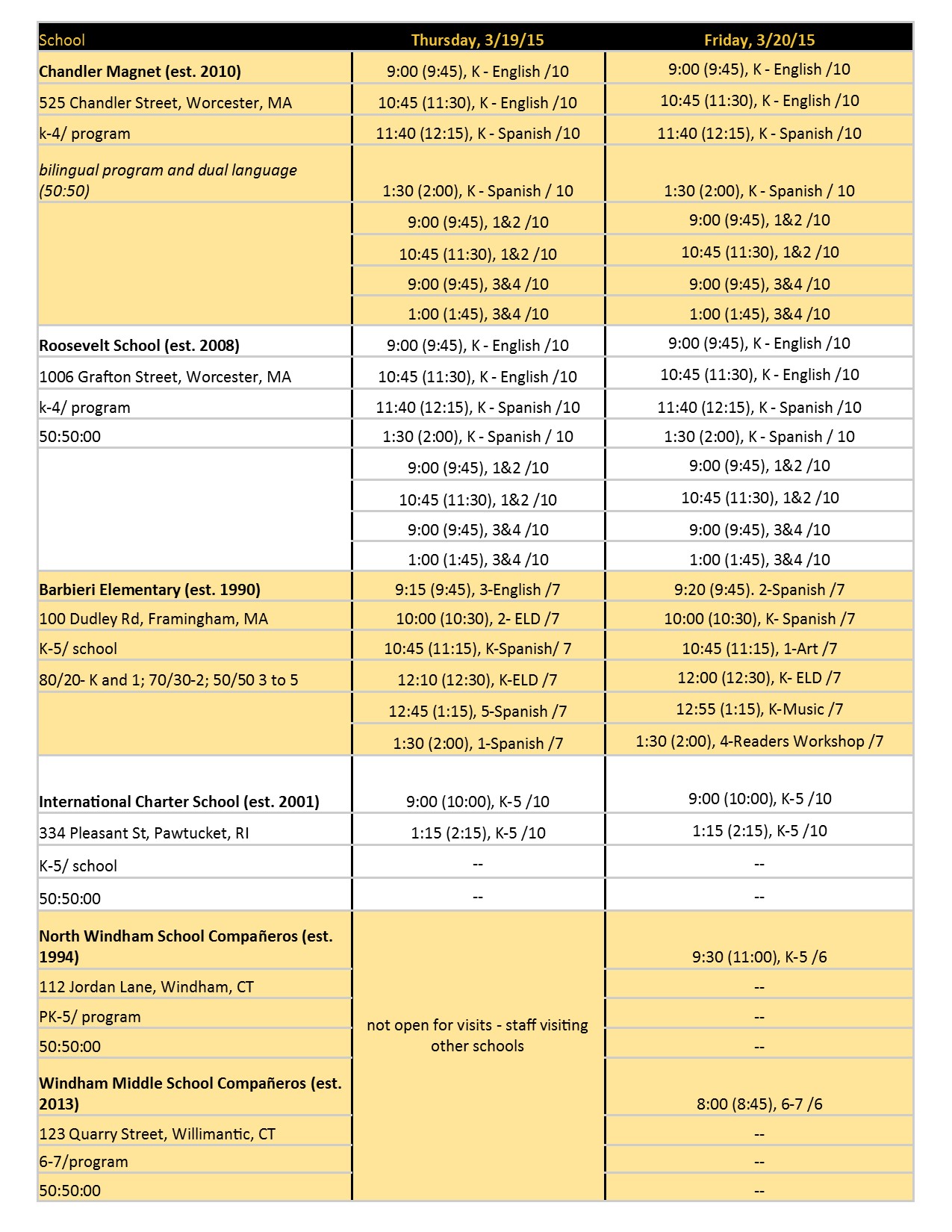 FAQs
 Can I update my registration information?
Yes. You can also contact us to help you with any changes to your registration.
 Do I have to bring my printed ticket to the event?
Yes.  Registration will go faster when you bring your printed ticket.
 The name on the registration/ticket doesn't match the attendee. Is that okay?
No. Please correct the information or ask for assistance with this.
When does registration close?
Event registration closes at 9 AM on Tuesday, March 17.
What is your refund policy?
Refund requests should be made via MassMABE@gmail.com. Refund requests on event registration will be honored, with a 25% administrative fee deducted from total cost, at least 2 weeks prior to event. Refund requests received 2 weeks – 3 days prior to event, with a 25% administrative fee deducted from total cost, will be considered only if there is a waitlist. Refunds on annual general membership are not granted.
Attendee List
Sort by:

Date

|

First Name

|

Last Name
When & Where

Chandler Magnet School
525 Chandler Street
Worcester, MA 01609


Saturday, March 21, 2015 from 8:00 AM to 4:00 PM (EDT)
Add to my calendar
Organizer
Massachusetts Association for Bilingual Education (MABE)
Vision
Bilingualism and multiculturalism are assets that provide cognitive, social, emotional, educational, and employment advantages for all students.
 Mission
We identify, promote and disseminate research-based programs and practices that support bilingualism and multiculturalism for educational success.
 Visit www.massmabe.org and learn more about Dual Language Programs  
 MABE Membership Rate: $40.00
www.massmabe.org
A nonprofit organization for  educators, families, and policy makers supporting bilingualism and multiculturalism for educational success.
MABE 4th Southern New England Annual Conference for Dual Language Programs 2015