Multiple Dates
MAARKAH NEW YORK FASHION WEEK (NYFW18)
Description
Witness an elite selection of international celebrity designers from across the world as they present their exquisite new collections of haute couture and modest wear.
SEPTEMBER 9, 2018
SOLD OUT

6:00PM - DOORS OPEN
6:30pm -

FTL MODA Opening Show – Bereshift, Commune Bonum, Archana Kochar

7:00pm - DOORS OPEN FOR SHOWS

7:30PM- Arwa Al Almmari (Saudi Arabia), Fashion Star Arabia Winner, Kacem Sahl (Morocco), Ziana Kouture (Belgium), Simran Theti (Australia), Jalial Nayil (Saudi Arabia), Eman Idil (Somalia), Anna Garbuzova (Russia), Lamia Latrous (Tunis)
September 10, 2018
LIMITED TICKETS STILL AVAILABLE
Modesty in Fashion Influencers | Modest Fashion Runway
6:00PM - DOORS OPEN For Runway Presentations
6:30pm -

Ibtihaj Muhammad, Olympic Medalist, Entrepreneur and Activist presents her line, "Louella",

Jacques LaGrange (South Africa), Anna Garbuzova for Annie Couture (Russia), Wedad Amiri (Canada/Lebanon) for Afflatus-Hijab, Fllumae
MODESTY IN FASHION INFLUENCERS
Mariah Idrissi: World's first model to wear a hijab in a major international fashion campaign. Featured in numerous noted publications, including CNN, BBC, and the New York Times, all of which have recognized her status as a leading authority in Modest Fashion.
Eila Mell: One of the book industry's go-to entertainment and fashion authors. Tapped for her expertise on the fashion industry, she has been featured on over 100 television and radios shows. she is a contributor for many of the top-rated fashion websites including Tyra Banks', Typef.com, Runway magazine, and many more.
Arwa Al Ammari: Fashion Star Arabia Winner from among 11 Arab countries, with judge and host Reem Acra and founder of fashion label, ArAm. Ambassador of the Arab Fashion Council, largets non-profit association supporting the fashion industry in the Middle East.
Industry/Media/Press - Free: Verification Required - Must email credentials to pr@maarkah.com for registration.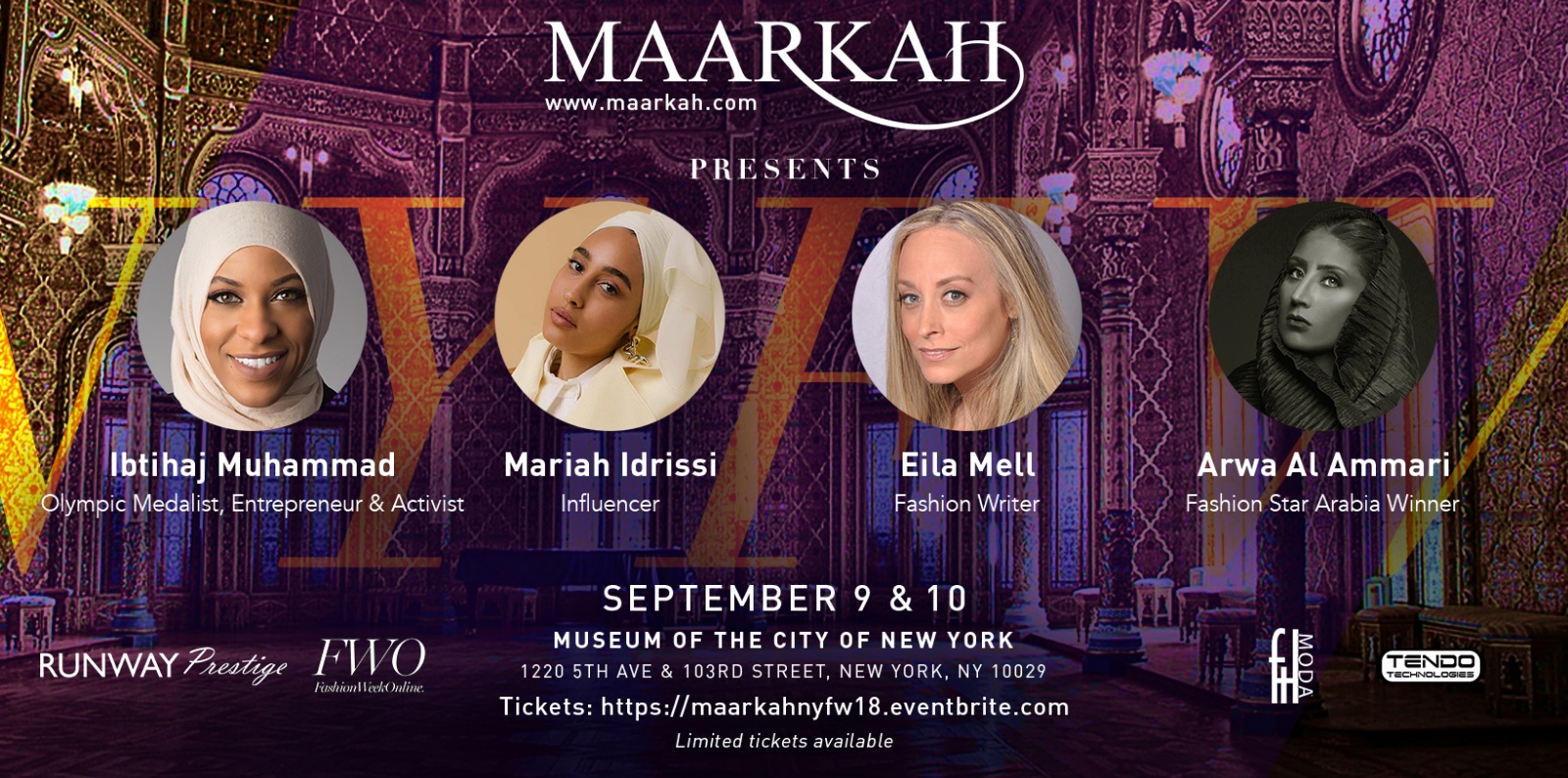 Don't forget to get your tickets for our high profile "Modesty in Fashion Influencer Panel" taking place, September 10, 3:30pm, before the shows.
---
EVENT HIGHLIGHTS
Olympic Medalist, Entrepreneur and Activist: Ibtihaj Muhammad presenting a modest collection from her line "Louella"
Fashion Star Arabia Winner: Saudi Arabian designer, Arwa Al-Ammari
---
Maarkah, meaning "brand" in numerous languages provides opportunity for established and emerging international brands to showcase their talents during New York Fashion Week.
---
IMPORTANT NOTES:
Media/Press/Bloggers: FREE – must provide credentials
Media Entrance:

5:45pm (Media ONLY) ALL personnel must request access by emailing credentials to

pr@maarkah.com
PR

please email

pr@maarkah.com

for special VIP requests (influencers, celebs etc.)
Special invited guests arriving 15 minutes to showtime will NOT be guaranteed a front row seat due to ongoing production and photography.
MUST present printed receipt for entry
TICKETS are NON-REFUNDABE and NON-TRANSFERRABLE
ENTRY WILL NOT BE ALLOWED DURING SHOW COMMENCEMENT
PLEASE ARRIVE ON TIME
Produced by Runway Prestige and Rabab Abdalla in association with FTL Moda and Ilaria Niccolini.