Description
The Michigan AfterSchool Association Leadership Symposium 2017 is for leaders who work in, and with, the out-of-school time sector. The purpose of this Leadership Symposium is to equip leaders to create policies, programs, and practices that ensure all youth to reach their full potential. This is an opportunity for leaders at all levels, including youth, to engage with national and state thought leaders to gain new perspectives and skills to create high-quality OST learning opportunities for all youth in Michigan.
The Michigan AfterSchool Association Leadership Symposium will draw approximately 300 youth development professionals from across the state of Michigan. The conference will be held Friday, September 29, at the Crowne Plaza-West hotel in Lansing, Michigan.
Presenters will focus on how leaders from different levels can work together to create high-quality learning environments that reduce disparities among youth. MAA understands that the out-of-school time sector must provide different types of supports to different youth (urban, rural, suburban) in order to ensure all youth are successful in school and in life.
MAA has identified these NAA core competencies as priorities for the Leadership Symposium:
Cultural competency;
Program planning and development;
Professional development/leadership; and
Family, school, and community relations.
Other priority areas include:
Getting to equity through high-quality OST programming;
Creating a culture of social-emotional learning (SEL);
Creating trauma-informed organizations and programs.
---
---
MAA Leadership Symposium Preliminary Brochure
---
---
Ways to attend the Leadership Symposium:
$85 MAA Member

Have your membership discount promo code? Click on the green "Tickets" button above and click on the "Enter Promotional Code" link.
Don't have a Promo Code? Log into your MAA Member account to access the Eventbrite promo code: www.miafterschoolassociation.org
$95 Leadership Symposium Register by clicking on the green "Tickets" button above.
$145 Leadership Symposium PLUS MAA Membership. Become a member at www.miafterschoolassociation.org and then visit the private Member Registration page to get your discount code!
---
---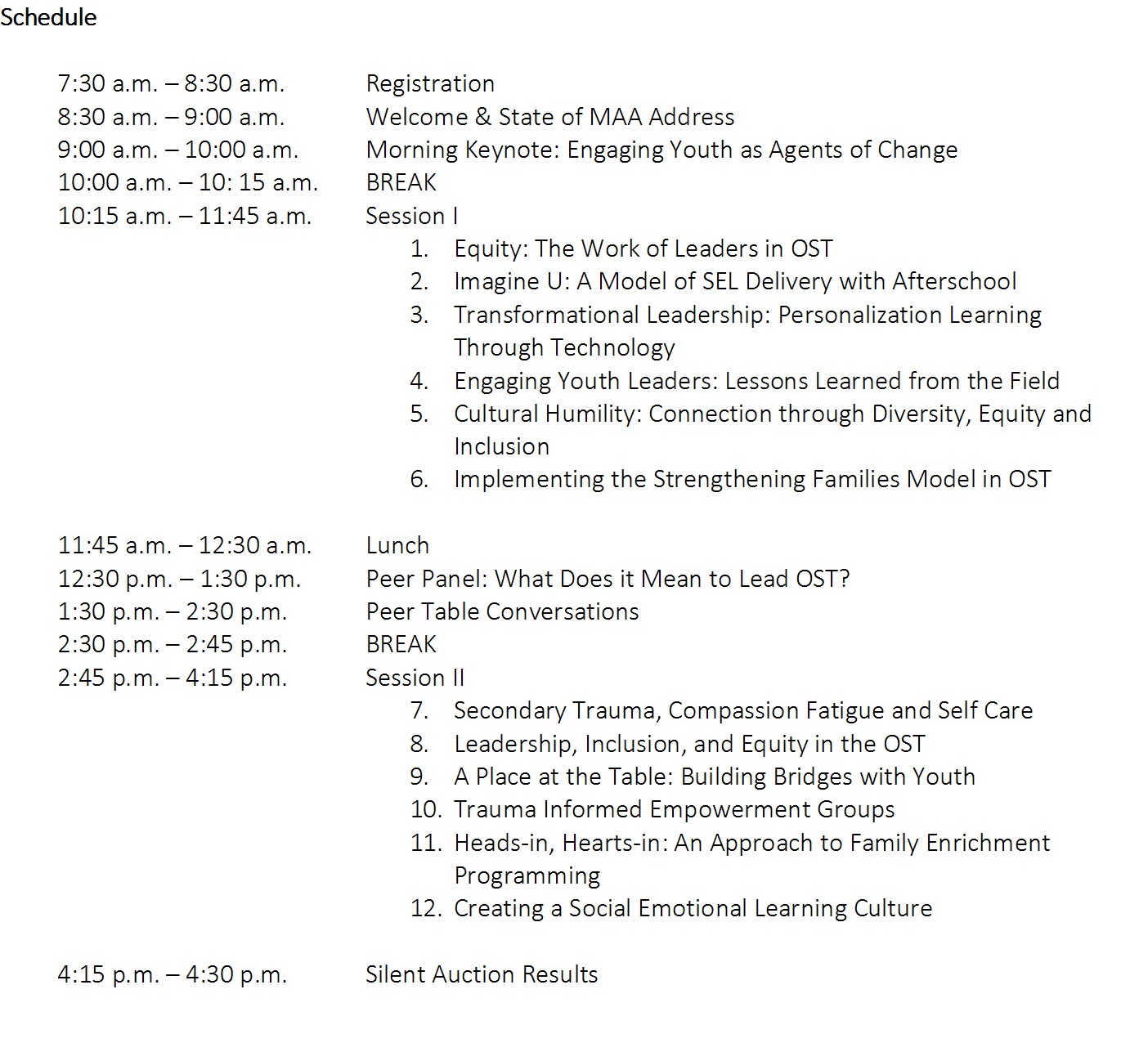 ---
---
Keynote: Engaging Youth as Agents of Change
The success of the future leaders of the world greatly depends on the efforts made today. All over the world, nations and communities are preparing for an uncertain future. In this very challenging time, it is critical to develop the next generation of leaders and activists to combat poverty, violence, and global issues that will shape their lives. This effort requires radical approaches to analyzing and developing solutions. So, how do we, as out-of-school time leaders and practitioners, influence tomorrow's leaders? We must begin by meaningfully engaging young people as partners, empower them as change agents, and inspire our future leaders to make a lasting difference. As adult leaders and decision makers, we must be prepared to adapt our strategies, challenge our biases, and shift the attitudes of our society to value youth input and invest in their success.
Keynote Speaker: Fausto A. López
Fausto A. López is a bilingual, Spanish speaking, afterschool and expanded learning specialist at American Institutes for Research. López is a youth development advocate and he provides comprehensive technical assistance, training, and professional development to diverse audiences in the education and out-of-school time sectors. López works with new and emerging afterschool and education systems to design resources and tools that support programs in the development, implementation, and evaluation of quality youth programs. López specializes in U.S. Department of Education, Every Student Succeeds Act (21st Century Community Learning Centers [21st CCLC], Gaining Early Awareness for Undergraduate Programming [Gear Up], and Upward Bound).
López is native to Chicago where he has led and organized youth programs for 15 years, engaging youth in art based service projects, community organizing, and civic leadership. Most recently, he led the development of an expanded learning guide and training model for afterschool programs in Latin America (Mexico and Argentina) and contributed to the Beyond the Bell Toolkit-4th edition. He is a nationally recognized presenter on education and afterschool topics (e.g., youth development, social and emotional learning, college and career readiness) and facilitates national, regional, and statewide educational workshops that connect research and practice. His areas of expertise include Educational Psychology, Youth Participatory Action Research, Structured Youth Sports, Participatory Planning, and Youth Organizing/Civic Engagement. López holds a master's degree in education psychology and youth development from the University of Illinois at Chicago.