Dear School Owner/Manager: Join us in sharing and growing our schools in our communities. 3 sections: Instructor, Manager, Owner. Go Grow!
About this event
Dear School Owner/Manager:
I would like to personally invite you to join me in sharing and growing our schools in our communities.
The MA1st TEAM Workshop is a Martial Arts business & planning meeting for you , Key staff and Instructors.
Saturday, Sept. 11, 2021 2:00 PM - 8:30 PM
 2:00 PM - Instructor Training this is for the young Leadership Member to the Master Instructor. Takeaways for all.
 4:15 PM - Program Director and Manager Management
 6:30 PM - Owner's Only Meeting
 I strongly believe that Martial Art School Owners should be my best friends, not my competition. We have the same interests and goals in common. Like the saying "A rising tide lifts all ships." If we work and learn together we can help make Martial Arts a positive word in our communities.
Looking forward to working with you,
Kyoshi F. DePalma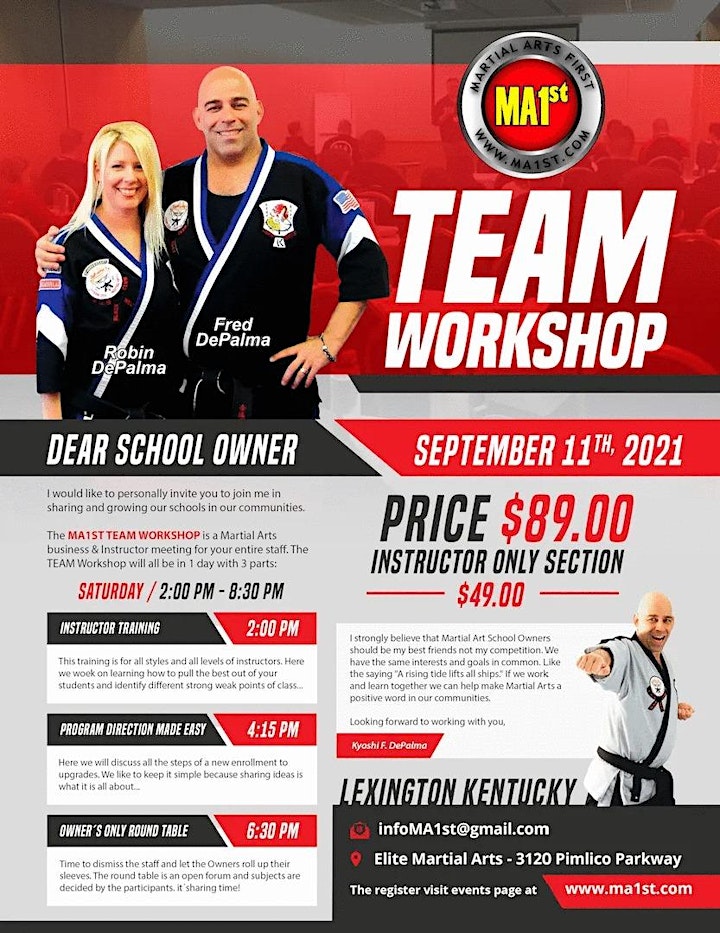 Organizer of MA1st TEAM Workshop (for your entire Martial Arts TEAM)
Our goal is to teach and share the values and principles taught to students in Martial Art Classes of all styles and live them ourselves. We strive to be more than just a consulting group.
We are Martial Artist of different styles and different size schools. We are currently running our own schools and the subjects we discuss are real-live-interactive and important to us and to you.
Also, besides going over the numbers and promoting your school in a positive way to your community. MA1 is also going to have instructor training for you and your staff. So we can share and teach how to get the most out of your student's training and to also give them the best of you.