We're in LA people. Brunch Season Neverrrrrrr gets old!!!
About this event
"BRUNCH IN LA NEVER GET'S OLD 🍾🥂"
We welcome everyone to come enjoy our latest edition of our new "Black is beautiful brunch"
Black is Beautiful brunch is a special bi weekly Saturday fellowship.
"With a special focus on bringing black professionals together to connect, network and vibe" .
To set the vibes high. We've curated a special music playlist full of NEW SCHOOL & OLD SCHOOL HIP HOP & RNB HITS !
YOUR PAID EVENTBRITE TICKET RESERVES YOUR TABLE RESERVATION FOR YOUR GROUP ONLY. THIS TICKET DOES NOT INCLUDE YOUR FOOD. LIMITED TICKETS & TABLE RESERVATIONS!
PLEASE ARRIVE ON TIME FOR YOUR RESERVATION. EACH RESERVATION WILL BE A TWO HOUR MAX.
BLACK IS BEAUTIFUL BRUNCH SPECIAL:
1 BRUNCH ENTREE + BOTTOMLESS MIMOSAS ALL FOR THE PRICE OF $25. THIS IS THE PRICE YOU WILL PAY AT THE BRUNCH FOR YOUR FOOD AND MIMOSAS . ONCE AGAIN, YOUR FOOD AND DRINK COST ARE SEPARATE FROM YOUR TICKET COST.
THIS RATE DOES NOT INCLUDE TAX & TIP 😊
Brunch will be plated & Sold Separately!
BRUNCH MENU BELOW.
LETS ROLL – (2) CINNAMON ROLLS SMOTHERED IN VANILLA GLAZE $8
TO THE BRIM - CHOBANI YOGURT WITH FRESH BERRIES, HOMEMADE GRANOLA & CHOCOLATE CHIPS $7
GOOD MORNING, BURRITO! – FLOUR TORTILLA STUFFED WITH SCRAMBLED EGGS WITH SAUSAGE, CHEESE, SPANISH RICE & SALSA ~ SERVED WITH TATER-TOTS $13
MCO BURGER – PRETZEL BUN STACKED WITH BACON, BEEF PATTY, OVER-EASY EGG, CHEDDAR CHEESE & BLACK PEPPER AIOLI ~ SERVED WITH FRIES $16
THE ANCIENT ONE – QUINOA FILLED WITH TONS OF VEGGIES, TOSSED WITH SPINACH & SUNFLOWER SEEDS & FINISHED WITH AN OVER-EASY EGG $14
THE STANDARD – (2) EGGS YOUR CHOICE, BACON, TOAST & TATER-TOTS $12
EGGHEAD – PRETZEL BUN STUFFED WITH ARUGULA, TOMATO, OVER-EASY EGG, CHEDDAR & BLACK
PEPPER AIOLI ~ SERVED WITH FRIES $11
NACHOS!! – CRISPY CORN TORTILLA CHIPS, HOUSE-MADE CHEESE SAUCE, BACON PIECES, SCRAMBLED EGGS & SOUR CREAM $11
HAM & CHEESE – OUR HOUSE GRILLED CHEESE STUFFED WITH BLACK FORREST HAM,
TOPPED WITH CHICKEN GRAVY & OVER-EASY EGG $13
*LUNCH MENU *
https://www.opentable.com/r/the-federal-bar-noho-north-hollywood
Please alert your server to any food related allergies
ALL CDC GUIDELINES WILL BE REGULATED.
GUEST MUST WEAR MASK DURING ENTRY OF THE OUTDOOR PATIO.
ALL GUEST WILL BE SEATED & 6 ft SOCIAL DISTANCING WILL BE ENFORCED.
$25 BRUNCH + BOTTOMLESS MIMOSA + ENTRY SPECIAL LAST ALL DAY!!
NO REFUNDS. TICKETS ARE TRANSFERABLE TO FUTURE EVENTS.
GRAB YOUR TICKETS NOW. THIS EVENT IS TICKETED ONLY & Will 1000% SELL OUT.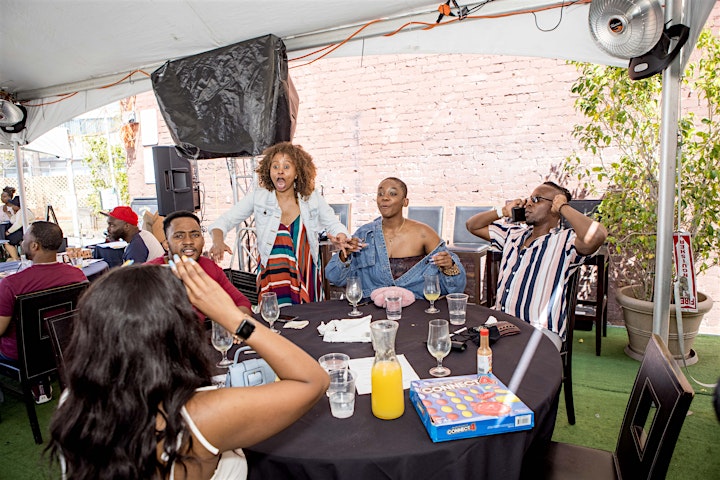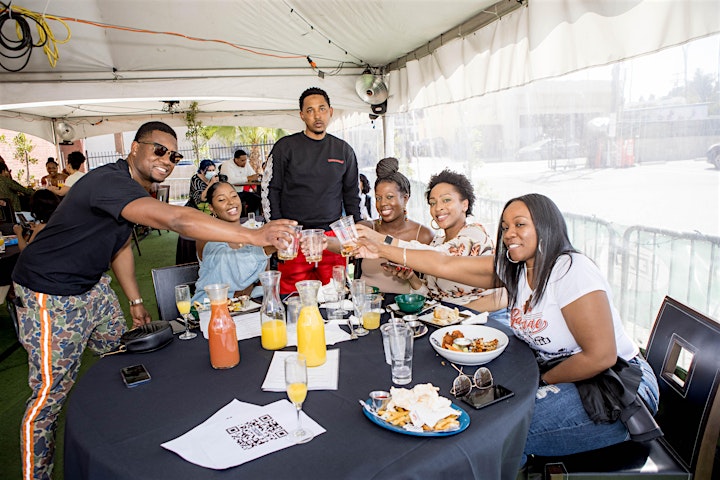 Organizer of MA HOST: "BLACK IS BEAUTIFUL BRUNCH" "HIP HOP VS RNB WARS" EDITION
Click here to subscribe to our text messages.
Millennium Age is a premiere Lifestyle Event Production Agency. The Millennium Age priority consist of producing high quality silent party events of all magnitudes.

The Millennium Age team possesses a group of dedicated individuals who work endlessly to ensure that the vibes are right and that attendees have the time of their life while they're dancing at at silent party.
Millennium Age continues to grow in our homebase Los Angeles, California. We're taking over many new cities such as Seattle, Milwuakee, Columbus, and Orlando, West Palm & Tampa! Keep an eye out for Millennium Age Silent Parties! There's a Silent Party coming to a city near you!