Description
IMPORTANT: YES, tickets will be sold at the door, however if you prefer not to wait in line, buy
It has been said that music heals the universe. Puerto Rico desperately needs our help and healing after the devastation of Hurricane Maria. Se ha dicho que la música sana el universo. Tras la devastaciéon del Huracán María, Puerto Rico nos necesita más que nunca para sanar. Juntémonos a cantar las canciones de Puerto Rico y otras partes de Latinoamérica con Rosi & Brian Amador - fundadores de Sol y Canto, su hija Alisa Amador, y Christian Figueroa. All proceeds will go to Massachusetts United for Puerto Rico/ Massachusetts Unido por Puerto Rico https://www.tbf.org/puertorico (see bottom for details).
Let's come together to sing some of the most cherished songs of Puerto Rico and more with the founders of Latin band Sol y Canto's Puerto Rican lead vocalist Rosi Amador and her husband, New Mexican guitarist/composer Brian Amador. Featuring rich harmony vocals and sumptuous Spanish guitar, their joyful originals and beloved classics in a variety of Latin rhythms have enchanted audiences since 1984 with themes of love, hope and social justice. From Boston's Symphony Hall, the Kennedy Center and the Getty Museum in Los Angeles to Puerto Rico's Teatro Raul Juliá, Sol y Canto's mission has been to give performances that move, delight, excite and connect - connect the audience to the richness of Latin American culture; connect individuals, Hispanic and non-Hispanic, to each other through shared experience of music, poetry, humor and a joyful, playful vibe; and connect us all to our hopes and visions of a better world. www.solycanto.com

The Amadors' 21-year old daughter Alisa Amador is one of the most raved-about young singer-songwriters in New England, growing a devoted following with her breathtaking singing and finely crafted songs. Alisa's voice has been compared to Nora Jones and Joni Mitchell, among others. Alisa will share some of her own compositions in English and Spanish, and will join her parents on some of their repertoire as well. The Amador Family trio have been delighting audiences wherever they tour with their gorgeous, rich three-part harmony vocals. Come join the Amadors - sing along, dance along, or do whatever your spirit moves you to do to help the people of Puerto Rico. www.facebook.com/alisaamador
Just wait until you hear Alisa, Rosi and Brian's glorious family harmonies!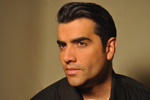 ALSO - Featuring Special Guest Christian Figueroa!
Puerto Rican singer and actor Christian Figueroa has delighted audiences with his unique combination of vocal and dramatic skills in performances ranging from the stage, television, movies, to the recital hall. He has been profiled on CNN's Career Connections and on the People En Español Website. Christian was recently named by "El Planeta" Newspaper of Boston as one of the "100 Most Influential People for the Hispanic Community of Massachusetts" Power Meter List. He recently returned from NYC where he was recording & performing as vocalist at Carnegie Hall in The Orchestra Moves, The Orchestra Rocks, & The Orchestra Sings concerts. He returns to Carnegie Hall May 2017 for The Orchestra Swings! www.christianfigueroamusic.com
FAQs
Ticket prices are reflective of how much you want to contribute. Choose your level.
What are my transportation/parking options for getting to and from the event?
The church is located at 66 Marlborough St., Boston, MA 02116, on the corner of Berkeley and Marlborough Streets, a short walk from the Arlington St. or Copley Sq. T Stops on the Green Line. The building is fully handicap accessible with ramps, an elevator, handicap bathrooms and designated parking spots.
PARKING:
Boston Common Parking, Clarendon Street Garage and limited street parking.
Website: http://www.firstchurchboston.org
How can I contact the organizer with any questions?
Call IBA daytime only at (617) 927-1707 or Elsa Mosquera, Director of Arts Programs at (617) 927-1737.
Alternate Contact: Sol y Canto office: 617-492-1515 (daytime only)