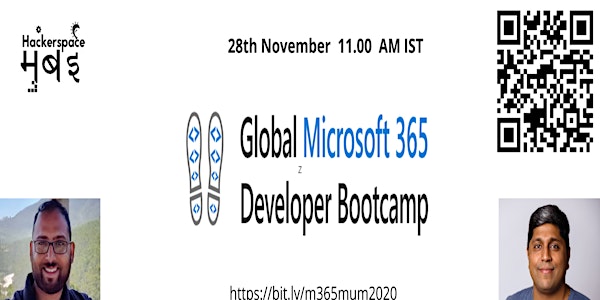 M365 Bootcamp 2020 - Mumbai- Virtual
Welcome to the 2020 edition of M365 Bootcamp - Mumbai.
About this event
Join us for the 4th annual Global Microsoft 365 Developer Bootcamp for free hands-on training. Developers worldwide are invited to attend to learn the latest on Microsoft 365 platform including Microsoft Teams, Microsoft Graph, SharePoint Framework and apply what you learn to your future projects.
This is a hands-on, developer focused event that involves learning M365 Development. Each developer must bring their own laptop and have a Office 365 Developer Site tenant [we will provide a link for you to receive this for free] and have prior exposure/experience with Microsoft Business app
================================================================
Time: 11.30 am - 1.00 pm
Workshop 1
Title : Build a prototype App using the Microsoft 365 APIs
With this workshop we build a Microsoft Teams App that enables us to use diagrams and charts for effective communication and as a tool for visual decision making using the rich collaboration and discussion capabilities built into Teams.
In this session we make a prototype for basic flowcharts which can be extended to other types of diagrams.
We will start with a new app package & look into the manifest file details etc. and move on to create a custom tab which will be a single page Web application as our visual canvas to be embedded in Teams. We shall use some awesome .js libraries along the way and explore the Teams Client SDK , Message Extensions, Cards and the Graph API.
2. Proctor: Tushar Laad
3. Bio: Tushar has 6+ years of experience developing Business Applications on the Microsoft Ecosystem. He is passionate about solving problems using new Tech and innovative solutions.
===========================================================================
Time: 2.15 pm - 5.30 pm
Workshop 2:
1. Title : Build an Emergency Response solution with Teams and SharePoint
In this workshop you will build collaborative applications that tailor Microsoft Teams to the needs of an emergency response team. The team will be able to track supply needs and plot trouble spots on a map while staying in constant communication in a Teams channel. You'll learn to use SharePoint pages, lists, and web parts to build solutions quickly. You'll also learn how to use the Microsoft Graph to notify users in a Teams channel and access data in SharePoint lists.
2. Proctor: Augustine Correa
3. Bio: Microsoft MVP
===========================================================================