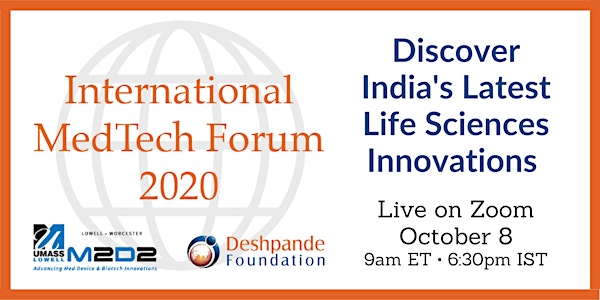 M2D2 International MedTech Forum 2020
Discover breakthrough life sciences innovations straight out of India! See six Finalists pitch their ideas to a panel of leading investors.
About this event
Life sciences innovation knows no borders—and the first M2D2 International MedTech Forum, sponsored by the Deshpande Foundation, will amplify six groundbreaking and life-saving ideas from India-based researchers. Tickets are free, so please join us on October 8 for this virtual event.
On the agenda: disruptive medical innovations from India
If you attended last year's M2D2 $200K Challenge, you saw three Finalist teams from India present ideas that stretched the boundaries of what we've seen in previous years. One team was named a Challenge winner and another has set up shop in the Boston/Cambridge life sciences innovation ecosystem.
The pandemic halted Deshpande Foundation's plans to bring more Finalist teams to Massachusetts for the 2020 Challenge. So we've created a virtual forum for them to make their pitches. Join us to see their eye-opening ideas!
Meet Our International MedTech Forum Finalists:
These six teams were chosen from among the 250 entries we received this winter for the 2020 $200K Challenge. They represent incubators including Indian Institute of Technology Madras/HTIC Chennai; NCL Innovation Park, Pune; and Indian Institute of Science, Bengaluru; as well as a private, Bengaluru-based firm.
ChemBio—Plasmonic fiberoptic absorbance biosensor (P-FAB) technique
Cygenica—Oncology targeted delivery
Elchem—Electro-Chemo Therapy (ECT) treatment for tumor cells
Fast Sense—Portable diagnostic kits for complex diseases
Mimyk—AR/VR and robotics for surgical training
Nesa—Procedure to treat symptomatic uterine fibroids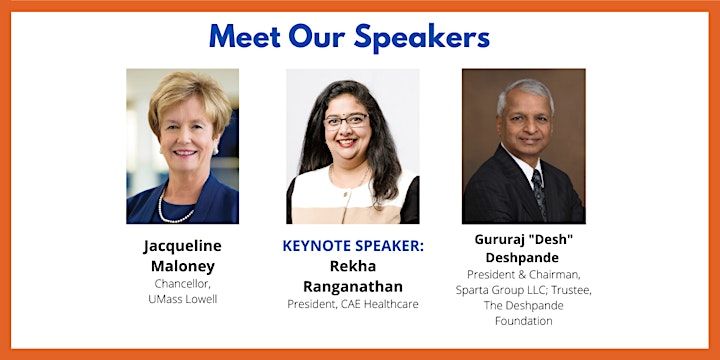 KEYNOTE SPEAKER:
Rekha Ranganathan - President, CAE Healthcare
Rekha is a proven global business leader with over 20 years of experience in general management, business P&L, Sales & Marketing, Strategy, Business Development in healthcare and technology in several geographies. Prior to CAE, Rekha was Vice President and Global General Manager for a business in Computed Tomography and Advanced Molecular Imaging within the Diagnostic imaging group at Philips Healthtech. Meet Rekha on LinkedIn.
Jacqueline Maloney - Chancellor, UMass Lowell
Jacquie Moloney is a national leader in innovation in higher education. In her more than 30 years with UMass Lowell, Moloney has served in a number of roles including professor, researcher, dean and executive vice chancellor. She is the first woman to lead the university since its founding in 1894. In 2017 Moloney was recognized as one of seven prominent "Women Who Mean Business" by the Boston Business Journal and UMass Lowell was ranked number four in the Top 100 Women-Led Businesses in Massachusetts by the Boston Globe Magazine and Commonwealth Institute. For the last three years UMass Lowell has been named as one of the top 10 fastest growing public research universities in the country by the Chronicle of Higher Education. Meet Jacquie on LinkedIn.
Gururaj "Desh" Deshpande - President and Chairman, Sparta Group LLC; Trustee, The Deshpande Foundation
Dr. Deshpande has pursued an entrepreneurial career for the last three decades. He is involved either as the founder, a founding investor or chairman of several companies including Cascade Communications, Sycamore Networks, Coral Networks, Tejas Networks, Cimaron, Webdialogs, Airvana, Sandstone Capital, A123 Systems and Curata. Dr. Deshpande serves as a life-member of the MIT Corporation, and his support has made possible MIT's Deshpande Center for Technological Innovation. Meet Desh on LinkedIn.
Meet Our Judges:
Our international panel of industry influencers represent the investment, scientific, and medical innovation communities.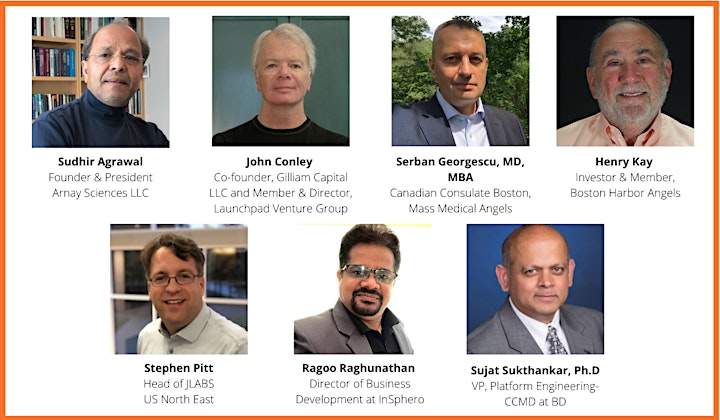 Sudhir Agrawal - Founder & President of Arnay Sciences LLC.
Sudhir is currently serving as Visiting Professor in the Department of Medicine, University of Massachusetts Medical School and as a Business Advisor, Harvard's Initiative on RNA Medicine, and as a member of the scientific advisory board of several biotechnology companies. He is also co-founder of Idera Pharmaceuticals, served as Chairman, CEO and Chief Scientific officer until 2017. His research interest is in the field of nucleic acid therapeutics. Conducted pioneering work in antisense technology with Paul Zamecnik. Antisense technology, including gapmer chemistry and modulation of splicing, developed in his lab is being widely used by the industry and academia and recently drugs have been approved. Meet Sudhir on LinkedIn.
John Conley - Co-founder, Gilliam Capital LLC and Member & Director, Launchpad Venture Group
In addition to his roles with Gilliam Capital and Launchpad Venture, John is a board member for three healthcare startups and works with a variety of social enterprises. He has been the Chief Operating Officer of Entrepreneurship for All, a nonprofit that is accelerating economic and social impact through fostering entrepreneurship in mid-sized cities. Meet John on LinkedIn.
Serban Georgescu, MD, MBA – Canadian Consulate Boston, Mass Medical Angels
Serban is a physician entrepreneur with extensive experience in healthcare innovation and leads the Massachusetts Medical Angels due diligence and screening process for early stage life science companies. He manages the Canadian Technology Accelerator and the Digital Health sector for the Canadian General Consulate in Boston and serves as a board member, advisor, and consultant to several start-up and early stage ventures. Meet Serban on LinkedIn.
Henry Kay - Investor & Member, Boston Harbor Angels
Henry Kay currently serves on the boards of directors of several Life science companies in the US and Canada. He is an Active Angel Investor and Member of Boston Harbor Angels and Sky Venture Group. He has 40 years of experience in the medical industry in roles which include R&D, International Marketing, Regulatory Affairs, and Strategic Planning for major pharmaceutical companies, including Schering-Plough, American Home Products, Sterling Drug and Allergan. Meet Henry on LinkedIn.
Stephen Pitt - Head of JLABS @ US North East
Stephen Pitt, Ph.D. is the Head of Johnson & Johnson Innovation, JLABS US North East which includes the JLABS @ NYC, JPOD @ Boston, JLABS @ LabCentral, JLABS @ M2D2 and JPOD @ Philadelphia. He is responsible for external engagement, innovation sourcing, company onboarding, portfolio management, operational excellence, educational programming and P&L. He catalyzes and supports the translation of science and technology into valuable solutions for patients and consumers across the pharmaceutical, medical device, consumer and healthtech sectors.
Ragoo Raghunathan - Director of Business Development at InSphero
Ragoo is passionate about science and the arts. Originally from Mysore, India, he got his Ph.D in Animal Sciences (neuroscience focus) from University of Hyderabad. His studies focused on studying DNA-binding proteins in rat brain followed by a brief neuroscience postdoc at Wesleyan University in Connecticut. He completed a second postdoc at the Dept of Genetics at Yale University where studying immune-system related genes/proteins. In his free time can be found advising budding entrepreneurs at start-up biotech companies, coaching postdocs and scientists in their career transitions. He is also on the Executive Board of a local non-profit Indian Society of Worcester and STEMPeers (a non-profit career support group). Meet Ragoo on LinkedIn.
Sujat Sukthankar - Vice President, Platform Engineering - CCMD at BD
Sujat is a veteran of the medical device industry with a career that includes R&D and GM leadership roles in prominent MedTech companies such as Boston Scientific and BD. Currently, he serves as the head of Engineering for the $1.7Bln Catheter Care Medication Delivery platform within Becton Dickinson. Prior roles include VP, R&D at Boston Scientific – Urology & Pelvic Health & Endo Pharmaceuticals, General Manager of multiple divisions within Best Medical International (BMI) including Nomos, Theratronics, and Huestis Medical. He was the co-founder of Rosses Medical Systems – a company focused on developing treatment planning & guidance systems for radiation therapy. Sujat graduated with a B.E. in Biomedical Engineering from the Univ. of Mumbai, India, a M.S. & Ph.D. in Biomedical Engineering from the Univ. of Akron, Ohio, and an MBA from Georgetown Univ. McDonough School of Business in Washington DC. Meet Sujat on LinkedIn.