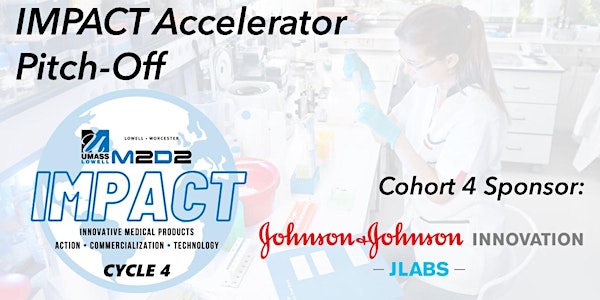 M2D2 IMPACT Cycle 4 Accelerator Pitch-Off
Hear twelve medical device startups selected for the IMPACT Accelerator Program pitch their innovation to a panel of industry experts.
When and where
Location
UMass Lowell iHub @ 110 Canal St, 3rd Floor 110 Canal Street Lowell, MA 01852
About this event
Calling all Investors, Medical Device Innovators, Biotech Entrepreneurs, and Life Sciences Industry Professionals:
Join the Massachusetts life sciences community as the startups from the Cycle 4 Cohort pitch their medical device solution to a panel of judges. These startups are working with M2D2 to advance the commercialization of their technology through the IMPACT Accelerator Program, sponsored by Johnson & Johnson Innovation.
AGENDA:
4:00 Registration and networking
5:00 Event start/pitches
7:00 Networking (+ Prize announcements)
8:00 Program close
What is IMPACT?
The M2D2 IMPACT program is a 12-week accelerator program that will run for 6 cycles. The program aims to advance early-stage companies looking to reshape the future of healthcare. Selected companies will have the opportunity to engage with our sponsors' specialized research calls to help advance their business.
Each IMPACT Cycle closes with an IMPACT Accelerator Pitch-Off. The startups involved in the current cycle will pitch their technology to a panel of experts and innovators on medical device development.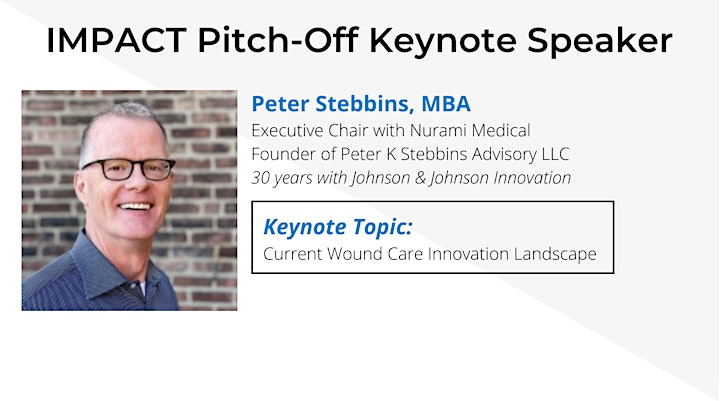 Learn more about the IMPACT Cycle 4 keynote speaker Peter Stebbins, and his decades of experience in Wound Care Innovation.

Learn more about the judges:
Adiuvo Diagnostics: Illuminate® is a novel imaging device that combines optics, electronics and AI to aid in rapid label free wound bioburden assessment and monitoring to bring down the rate of amputation and improve antibiotic stewardship.
Amsel Medical: Amsel offers an innovative approach to current occlusion, stapling, and suturing methods overcoming key inherent limitations. The SCureClamp interdigitation mechanical tissue clamping attaches tissue in a minimally invasive atraumatic manner.
Bioprex Medical: Bioprex Medical develops a fixed antimicrobial coating technology for medical devices aimed at reducing medical device associated infections.
bTECH: bTECH's patent-pending Halcyon SMART Patch (HSP) uses far infrared wavelengths beneath the surface of the skin to promote rapid tissue healing and strengthening.
Gel4Med: Gel4Med is an early-stage regenerative medicine company focused on developing our Therapeutic Materials Platform to address unmet clinical needs in soft tissue regeneration.
Hero Medical Technologies: Hero Medical Technologies is developing wearables & data-driven solutions to expedite the care of head injury and other trauma patients throughout the patient journey.
Inochi Care: Inochi Care has technology based solutions for advance wound care and management
Limax Biosciences: Limax Biosciences is developing a strong and flexible hydrogel adhesive for wounds inside and outside the body.
Novaurum Biosciences: Novaurum Biosciences is developing NanoTech cell-based coatings to prevent infections associated with medical devices.
O2 RegenTech: O2 RegenTech is commercializing cost-effective, easy-to-use wound care solutions based on novel oxygenating biopolymer technology.
ParaNano Wound Care: ParaNano Would Care is a pre-clinical trial company from Oklahoma City, OK developing a platform medical device for wound care: The Nanosheet™ Biosensor.
Theromics: Theromics has developed a biopolymer gel to make Image-Guided Thermal Ablation a better cancer treatment by augmenting the transfer of thermal energy in human tissue.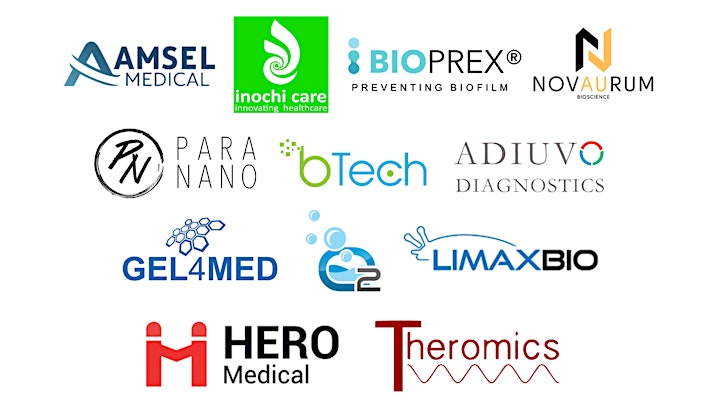 Meet the Prize Sponsors:
Upteaming, a networking platform that connects users with 3-4 peers at their experience level, is providing IMPACT companies with 3 months of on-demand platform access to level up their network. Because when there's no playbook for growth, there are only two ways forward: by making your own mistakes, or learning from someone else's. Founders match up on similar challenges, team up to share experiences, and level up in private peer forums.
Steve DeVries is a Certified FocalPoint Business and Executive Coach who works with technology-based OEM's and their suppliers to maximize the performance of their business. He will select and provide a month (4 sessions) of one-on-one business coaching support to one IMPACT business, including a DiSC communication & behavior assessment for the leader of that company. Steve is your trusted advisor in matters of team and leadership development, time management, strategic planning, and profitability.
Life Science Nation is a global partnering ecosystem for early-stage life science startups and investors. Join them at our upcoming RESI conferences. The first day of RESI San Francisco will consist of in-person partnering, pitch sessions, investor-led panels, and workshops, followed by the last two days of entirely virtual partnering.
They are pleased to award RESI San Francisco registration to a startup of the M2D2 IMPACT Cycle 4 Cohort. Originally valued at $3995, the award includes a 3-day registration with the premier partnering upgrade and a guaranteed spot to pitch at the Innovator's Pitch Challenge (IPC). RESI is the hub for early-stage life science companies to connect with investors and strategic partners who are a fit for them.
RedCrow is a crowdfunding platform dedicated exclusively to healthcare. They are advancing healthcare innovation through the power of the crowd - connecting stories with people, products with investors, and providing support that goes well beyond the fundraise. They will give 1 month of free placement on the Discover side of their platform to all the startups and the 3 months of free placement to a select startup.
The IMPACT Innovator Prize offers emerging start-ups in the current, wound care-focused Cohort, one year usage of M2D2's state-of-the-art shared lab facility in Lowell, Massachusetts, combined with access to UMass Lowell's Core Research Facilities, and support from M2D2's subject matter experts and business leaders.
MPR Associates, a specialty engineering and management services firm delivering value to clients around the globe, is excited to award $5K in in-kind services to one IMPACT startup.
Alira Health, an international advisory firm providing integrated strategy, execution and innovation services for healthcare and life science companies, will award one startup in-kind services worth $5,000.