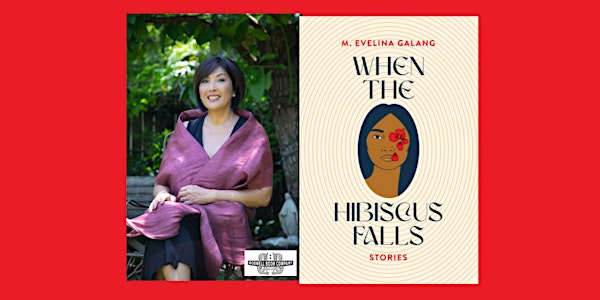 M Evelina Galang, author of WHEN THE HIBISCUS FALLS - a Boswell event
M Evelina Galang, author of WHEN THE HIBISCUS FALLS - an in-person Boswell event
Date and time
Starts on Tuesday, August 8 · 6:30pm CDT
Location
Boswell Book Company 2559 North Downer Avenue Milwaukee, WI 53211
About this event
Boswell Book Company presents an evening with M Evelina Galang, author of When the Hibiscus Falls. In conversation with Joy Bach.
Moving from small Philippine villages of the past to the hurricane-beaten coast of near-future Florida, When the Hibiscus Falls examines the triumphs and sorrows that connect generations of women. Daughters, sisters, mothers, aunties, cousins, and lolas commune with their ancestors and their descendants, mourning what is lost when an older generation dies, celebrating what is gained when we safeguard their legacy for those who come after us. Featuring figures familiar from M Evelina Galang's other acclaimed and richly imagined novels and stories, When the Hibiscus Falls dwells within the complexity of family, community, and Filipino American identity. Each story is an offering, a bloom that unfurls its petals and holds space in the sun.
From the starred Publishers Weekly review: "Galang's masterly latest takes on xenophobia, racism, and other ills via stories of strong Filipino women. . . . What makes these stories so powerful and poignant are the inner lives of the characters, a complex blend of nostalgia, desire for assimilation, and defiance. This is a winner."
M. Evelina Galang is the author of a previous story collection, Her Wild American Self (1996), two novels, One Tribe (2006) and Angel De La Luna and the Fifth Glorious Mystery (2013), and the nonfiction book Lola's House: Filipino Women Living with War (2017). She edited the anthology Screaming Monkeys: Critiques of Asian American Images (2003). Galang directed the Creative Writing Program at the University of Miami from 2009-2019 and served as VONA Board President from 2018-2023.
Click here to order your copy of When the Hibiscus Falls from Boswell. Signed copies and personalization available on pre-orders. Please note that signed copies will not be shipped until after the event.