Description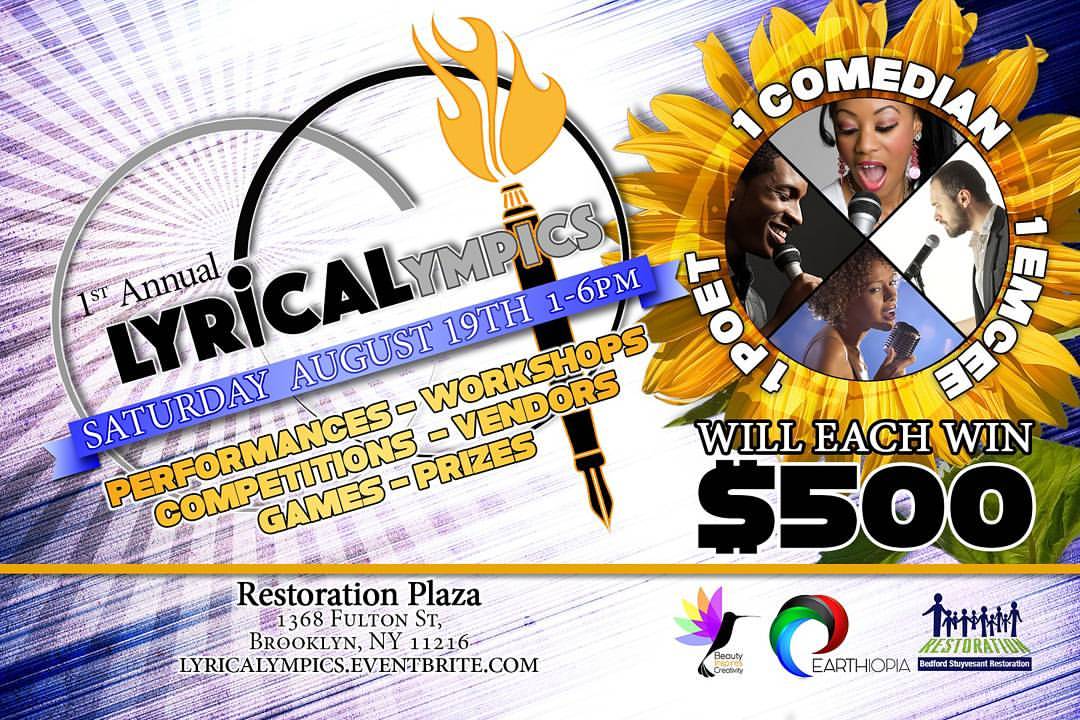 WELCOME TO BROOKLYN'S 1ST LYRICAL ARTS FESTIVAL!
What is the Lyricalympics?
Brooklyn's 1st lyrical festival where vocal artists compete in individual categories to receive a grand prize.
Beauty Inspires Creativity & Earthiopia Works have collaborated to present its 1st Annual Lyricalympics Summer Festival. The focus of all the activities will be language based.
Come out and celebrate community and communication with us!
We'll have workshops, local community partners, sponsors & vendors to engage with, a live marching band & a live finale show with the 'Road To The Lyricalympics' competition semi-finalist in our poetry, hip-hop and comedy rounds!
>>>>>> ALL POETS, EMCEES, COMEDIANS - SIGN UP FOR THE WILD CARD ENTRY <<<<<<<<<<<<

ALL attendees MUST have a ticket in order to enter the festival grounds.
Minors must be accompanied by an adult with a ticket in order to enter the festival grounds. Each adult is allowed 1 minor under 17 per entry.
Prices for adult entry will be higher ON-SITE- It is HIGHLY recommended to pre-purchase all tickets online!
~ Be a part of the journey to the Lyricalympics ~