Description
LYRICAL ACADEMY: HOMECOMING
---
You are formally invited to Lyrical Academy's Homecoming of artivists that aim for the betterment of institutions and higher learning. All without compromising or selling out the artistic tools chosen to do it through. Come witness a cypher of artistic expressions that range from spoken word, acoustic, soul and more. Come support the next generation of performers and their educators as they share a stage together to promote the growth, progress, and the future of systemic change and social awareness of our communities.
---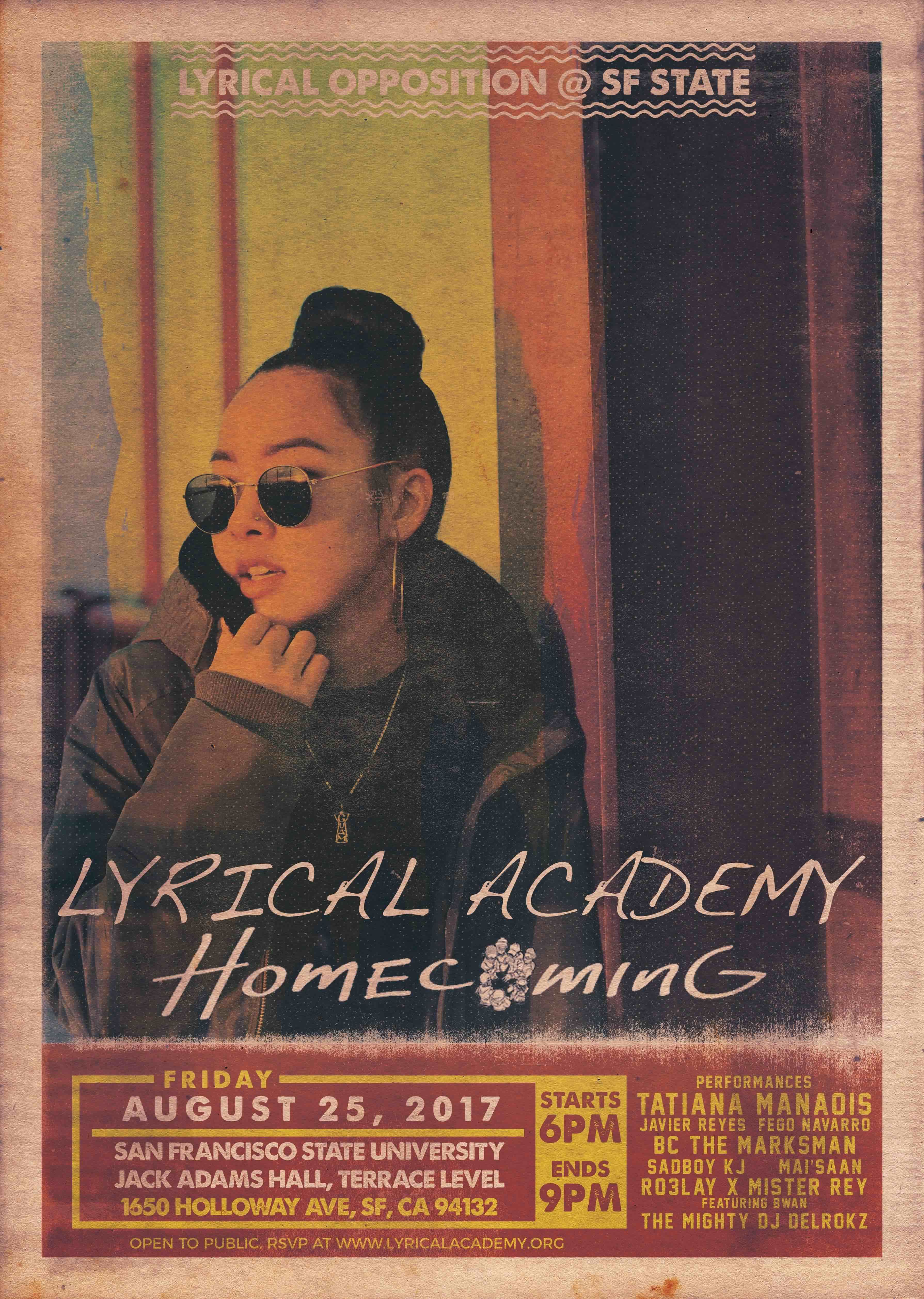 PERFORMANCES:
Tatiana Manaois (@itstatianam)
BC the Marksman (@bcthemarksman)
Javier Reyes (@improvjav)
Fego Navarro (@fegonavarro)
Ro3lay (@ro3lay)
Mister Rey (@reyalidad415)
Bwan (@bwanifacio)
Sadboy KJ (@sadboykj)
Mai'saan (@_maisaan)
Vasileia (@vasileiaofficial)
---
DJ SET:
The Mighty DJ Delrokz (@delrokz)
---
MC/HOSTED BY
O.D. (@odthewordsmith) of Lyrical Opposition
S.V. (@uce_sv1) of Lyrical Opposition
---
FREE ADMISSION // OPEN TO THE PUBLIC
---
San Francisco State University
Cesar Chavez Student Center
Jack Adams Hall, Terrace Level
1650 Holloway Ave
San Francisco, CA 94132
_________________________________________________
LYRICAL OPPOSITION
Website: http://www.lyricalopposition.org
Contact: info@lyricalopposition.org
Booking: booking@lyricalopposition.org
Public Relations: pr@lyricalopposition.org
Management: mgmt@lyricalopposition.org
Submissions: submit@lyricalopposition.org
LYRICAL OPPOSITION | SOCIAL + COMMUNITY
Facebook: https://www.facebook.com/lyricalopposition
Google: https://www.google.com/+lyricalopposition
Instagram: https://www.instagram.com/lyricalops
Twitter: https://www.twitter.com/lyricalops
Medium: https://medium.com/@lyricalops
Meetup: http://www.meetup.com/lyricalopposition
Snapchat: https://www.snapchat.com/add/lyricalops
LYRICAL OPPOSITION | MUSIC + VIDEO
Noisetrade: https://www.noisetrade.com/lyricalopposition
Snapchat: https://www.snapchat.com/add/lyricalops
Soundcloud: https://www.soundcloud.com/lyricalopposition
VEVO: http://www.vevo.com/artist/lyrical-opposition
Vimeo: https://www.vimeo.com/lyricalopposition
YouTube: https://www.youtube.com/lyricalopposition

_________________________________________________
ABOUT LYRICAL OPPOSITION:
Lyrical Opposition is a creative collective & community organization that cultivates lyrical artists to oppose injustice through social awareness & systemic change.