Lynn Taylor:
'The Right Person in the Right Seat'

Multiple Dates
Event Details
For CEOs, Presidents and Business Owners
Nationally recognized
Lynn Taylor
-creator of the Core Value Index-
Presents
RIGHT PEOPLE IN THE RIGHT SEAT:
Thinking differently for performance and profit
September 26th or October 4th
7:30 am - 11:00 am
Master Builders Association
335 - 116th Avenue SE
Bellevue, WA 98004
Complimentary Taylor Protocol
Core Value Assessment
provided with your RSVP

Most business leaders believe that putting the right person in the right seat is a real advantage in developing optimum business results.  We just haven't known how to do this effectively and consistently.
This presentation calls upon research by Gallup, HR Executive Magazine, and Forrester Reports to illustrate the magnitude of opportunity when we learn how to put every person in the right seat in our companies.
Participants will be challenged in various exercises to perform evaluations and assessments of their own companies.
Taylor pulls from his twenty years of small and mid-sized business turn-around management projects to illustrate the negative and positive effects of seat assignment in all kinds of companies.
A new Science of Employment Pre-Selection is described and the Taylor Protocols proven methodology with actual multiple company results are presented.
Prior to the event, all individuals are provided a Core Values Index to complete online in less than 10 minutes.
Watch the short video and get a sample of Lynn Taylor in this keynote address:
Wednesday, September 26th  7:30 am - 11:00 am  
    * catered breakfast served
or
Thursday, October 4th         7:30 am - 11:00 am   
    *catered breakfast served
Event Agenda

7:30 am

Arrival and Breakfast

8:00 am

Peer and Business Introductions

8:45 am

Lynn Taylor Presents: Right People in the Right Seats

10:00 am

Peer Interaction and Exchange: Facilitated Discussion

10:50 am

Continued Group Experience

11:00 am

 Adjourn

 

 

 

About Lynn Taylor:
Lynn Taylor is president of Taylor Protocols, Inc. He created the Core Values Index™, the first human assessment that characterizes and quantifies the innate unchanging human nature of a person.
Abraham Maslow identified this innate nature in his seminal book, The Psychology of Being, as the key to understanding who a person is and where he fits best in the world.
Mr. Taylor's Core Values Index is now being used in hundreds of companies around the world. Lynn's book, The Core Values Handbook is available at Amazon.com and at www.TaylorProtocols.com.
Taylor has performed more than 200 successful turn-around projects over the past twenty years. He and his Core Values Index have been employed to increase human productivity and to increase the leadership performance in hundreds of companies large and small.
At Taylor Protocols, Lynn uses this scientific approach to develop Top Performer Profiles™ which are used to pre-select future top performers for any position in any company - the new Science of Employment Pre-selection™.
His speeches, seminars and workshops are unique. Taylor delves deeply into business strategies and tactics and into an understanding and mastery of each person's individual core nature. The combination of these two diverse subjects brings a new level of personal and business mastery within the reach of all participants.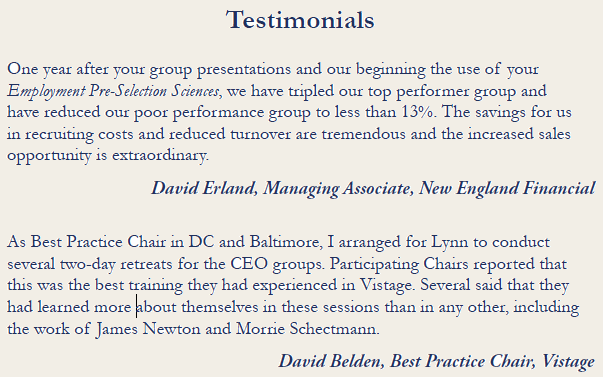 Taylor Protocols, Inc. Client List (Partial)
ALCOA
Merrill Lynch
RBC Dain Rauscher
HOK (world's largest architectural firm)
Weidner Investments
New England Financial
Kvichak Marine
PWI
Prudential Real Estate
Computer Associates
McKenna Engineering
H&AI
Peninsula Oil
Knight Transport
Carlson Logistics

Where

Master Builders Association Building
335 116th Ave SE
Bellevue, WA 98004


Multiple Dates
Add to my calendar
Organizer
Beyond the Benchmark
Ron Kranz
Master facilitator and leaders of the Peer Leadership Exchange - peer advisory boards for CEOs, business owners, top executives, and practice builders. Executive business coach and strategic thinker. Referred to by clients as "thought provoker". Read more: About Ron

The Peer Leadership Exchange
The only peer advisory group that combines a business and leadership development curriculum with the power of a think tank. A monthly membership experience of learning, sharing, and solving with your peers. A safe and fun environment to create business relationships unlike any others.
Business Builders Group: For CEOs, Presidents, and Owners with annual revenue of $1M to $10 companies.
Future Leaders Group: For top executives and managers in companies with annual revenues of $10M and $200M.

Beyond the Benchmark
A business consultancy serving small to mid-size businesses to achieve different results beyond their current level of performance.
Talents include: benchmarking, executive coaching, operational performance, leadership development, and strategic planning. Read more: Talents
Lynn Taylor:
'The Right Person in the Right Seat'