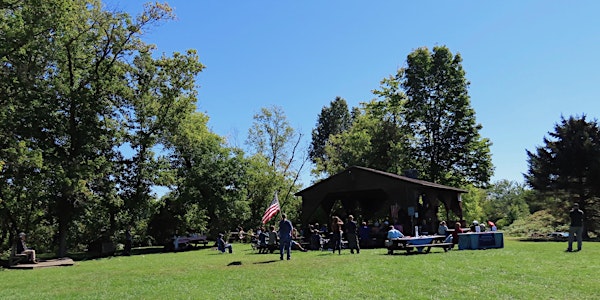 Lyndon Vets Town Hall 2022
Veterans are invited to speak, unscripted, about what their service means to them. Non-veterans are encouraged to attend and listen.
When and where
Location
Moore Community Room, NVU Northern Vermont University-Lyndon 1001 College Rd Lyndonville, VT 05851
About this event
All are invited to a Vets Town Hall in the Moore Community Room on the Northern Vermont University-Lyndon campus. Veterans of any era who served in any capacity are invited to stand before their community and speak for up to ten minutes about what it was like to serve their country. Non-veterans are encouraged to attend and listen.
This event is non-political, and all perspectives are valued. There will be no debate on American foreign policy.
There will be a question-and-answer period with some of the speakers at the end of the event.
This event will take place indoors. RSVPs are encouraged, but optional.
For speakers: Tell us what your service means to you. Please tell us about your own experiences, whatever they may be, rather than speaking broadly about an issue or organization. You're a member of our community, and it's your stories, reflections, and insights that we're anxious to hear.
Each veteran will be given up to 10 minutes to speak. Veterans who would like to speak can contact kristen.eaton@gmail.com, or mark that preference when registering on eventbrite. If you're considering speaking but prefer not to register, we encourage you to attend. After pre-registered speakers go, the host will take speakers from the floor, time permitting. The goal is for every veteran who would like to speak to have a chance to do so.
Of course, veterans (and all community members) are also welcome to simply attend and listen.
For all attendees: All community members are invited to this event. Only veterans will speak, but non-veterans are encouraged to attend and listen. Throughout the event, you may hear something you agree or disagree with. You may have a question. Or you may want to say encouraging words with the intention to help. However, we ask that you please refrain from responding. We are simply here to listen and learn about what it was like to serve in the wars that this nation has chosen to fight.
Parents: Your children are welcome to attend with you, but when deciding whether or not to bring them, please be aware that speakers will address serious topics and that this is not a rehearsed event. 
For organizations: There won't be any tabling at the event, in order to make sure the focus is clearly on the speakers and the experiences being shared. Of course, it's important to share information about resources as well, so there will be a table with literature from various organizations. Please don't hesitate to bring some fliers for this table. Representatives from Veterans Service Organizations are also welcome to bring business cards and share those. If your organization has representatives who are veterans, they are welcome to speak – but we ask that they speak as individuals, not on behalf of the organization.
Marty McMahon will host the event. After a period of service in the Air Force as a medic, Marty McMahon returned to academic studies in literature, language, and rhetoric, receiving an MA and an MLitt from Middlebury College. Marty has worked as a high school teacher, a chimney sweep, and a field technician in alternative energy (including working as a contractor and crew chief on the Navy TACTS program, installing wind and solar systems on their off-shore platforms). He has taught at CCV, Vermont College, and Norwich (supervising cadets while teaching Military Literature to Special Ops personnel in their Strategic Studies and Defense Analysis online program). For five years at CCV he served as a Veteran & Military Resource Advisor while also facilitating Veteran Reading Group for the Vermont Humanities Council.
Do I have to RSVP? Do I have to bring my printed ticket to the event? RSVPs are encouraged, because it helps us plan for this event, and helps get in touch with you about any updates or changes (e.g. a rain date in case of severe weather). However, RSVPs are optional, and we will be happy to see you at the town hall whether or not you've registered.  Since this event is unticketed, there is no need to print a ticket. Seating is first come, first served.
How can I contact the organizer and/or learn more about these events? Please email vermont@vetstownhall.org with any questions. There's also more information at at www.vtvetstownhall.org
Thank you to: Marty McMahon for hosting, Northern Vermont University Student Veterans Association for sponsoring the venue and refreshments, Vermont Veterans Outreach Program for attending and being available to provide peer support, and the many other individuals and organizations who have offered advice and support.